Fintech platform Cake DeFi is partnering with FACEIT to host weekly free-to-enter tournaments both in APAC and India, beginning on July 24 and ending on September 11, featuring a total prize pool of more than $9,000 in crypto prizes.
The Cake DeFi Weekly Crypto Tournament, featuring a total prize pool of more than $9,000, will start its inaugural week on July 24 with $695 in DFI cryptocurrency up for grabs. The partnership between these two giant companies saw yet another investment made to strengthen and elevate the Asian CS:GO scene, where they will routinely organize weekly and bi-weekly tournaments throughout the entire Q3 of 2022.
"Gamers have a natural affinity with crypto, and they can now join us on the DeFi movement. Cake DeFi's partnership with FACEIT will allow players to earn crypto while they game, and further earn returns on their crypto through our platform. In 2021, we paid out $230 million in rewards to our customers. So it's a win-win-win for FACEIT gamers," said Julian Hosp, Chief Executive Officer and Co-Founder of Cake DeFi.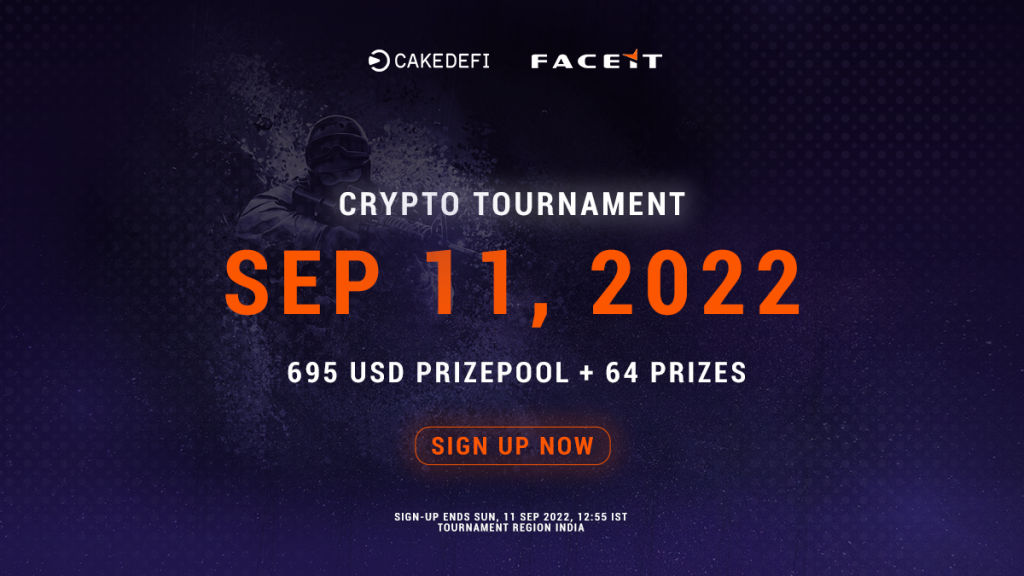 Cake DeFi, a Singapore-based crypto fintech platform, is a fully transparent, highly innovative, and regulated fintech platform dedicated to providing access to decentralized financial services and applications by enabling users to generate returns from their crypto and digital assets.
FACEIT and Cake DeFi announced in May a multi-million dollar agreement that marks Cake DeFi's first entry into the gaming and esports market. The company wants to offer players a unique chance to earn actual crypto prizes while doing their favorite thing: playing.
Furthermore, through Cake DeFi's platform and access to decentralized finance applications, players can compound their winnings and earn returns on their crypto. The brand will be hosting weekly tournaments on FACEIT for over a year and distributing a total of $500,000 in crypto across all major regions, including APAC, India, Europe, CIS, and North America.
ALSO READ: CAL Season 46 – Bring The Heat!
Starting today, FACEIT and Cake DeFi have opened registration for the Cake DeFi Weekly Crypto Tournament. The inaugural tournament will run on July 24, awarding a total of $695 in crypto prizes to the top 64 teams. It is worth noting that players need to register for a Cake DeFi account to redeem the prizes they earn.
The dates for the Cake DeFi Weekly Crypto Tournament are as follows:
Registration for APAC and India will close on D-Day at 12:55 PM SGT and IST, respectively
All tournaments will be played on the FACEIT platform and feature a single-elimination bracket with best-of-one clashes, running as bi-weekly tournaments for APAC and weekly for the India region. Winners will secure the grand prize of $20 in DFI crypto.
Additional information about the tournament can be found on Cake DeFi's hub page on FACEIT.
---
For more insights on the Asian CS:GO scene and upcoming content like this, be sure to subscribe to our newsletter. Don't forget to follow CSGO2ASIA on Facebook, Twitter & YouTube.
---