After letting the cat out of the bag in the first part of our exclusive interview, NG Esports captain now talks about the team's journey so far and ROG Masters' regional issues.
ImpressioN's journey in Valve's Counter-Strike: Global Offensive did not stop there just because of this kind of trouble, in which professional players tend to experience the same struggle, especially in an underdeveloped scene such as the Asian scene. Prize money delays, unpaid salaries, and lousy management – these things are everyday situations ImpressioN has experienced in his Counter-Strike career of six-years.
READ MORE: Anthony "ImpressioN" Lim on RMB90,000 Unpaid Salaries at BTRG
Every cloud has a silver lining. Five days following his departure from Big Time Regal Gaming (BTRG), ImpressioN found a new home by joining NG Esports, a rebranded Thai-based organization, previously known as NoName Gaming. NG Esports took a risky step by creating their roster from scratch. There is a particular reason why Anthony was the first person on the roster. As an in-game leader, his decision regarding who will play alongside him in this new lineup is crucial.
"I guess the best way to put it was that the NG roster was created by a shared consensus of the team; we suggested to each other about the players we agreed on, and reached out to the right people. It was pretty simple; pool experience, skill together in a team and then grind it out together."
The following week saw NG Esports sign Hyun-pyo "XigN" Lee, an ex-BTRG player who played alongside Anthony for nine months. Later on, it was announced that cbbke and erkaSt will be joining the roster, with Kevin "xccurate" Susanto as the final piece to complete the puzzle.
So far, ImpressioN and friends have garnered promising results. This includes being the winners of 5E Arena Open Season 1 Southeast Asia Playoffs and being the runner-up at ESEA Season 36 Open APAC Group Stage.
ROG Masters Controversy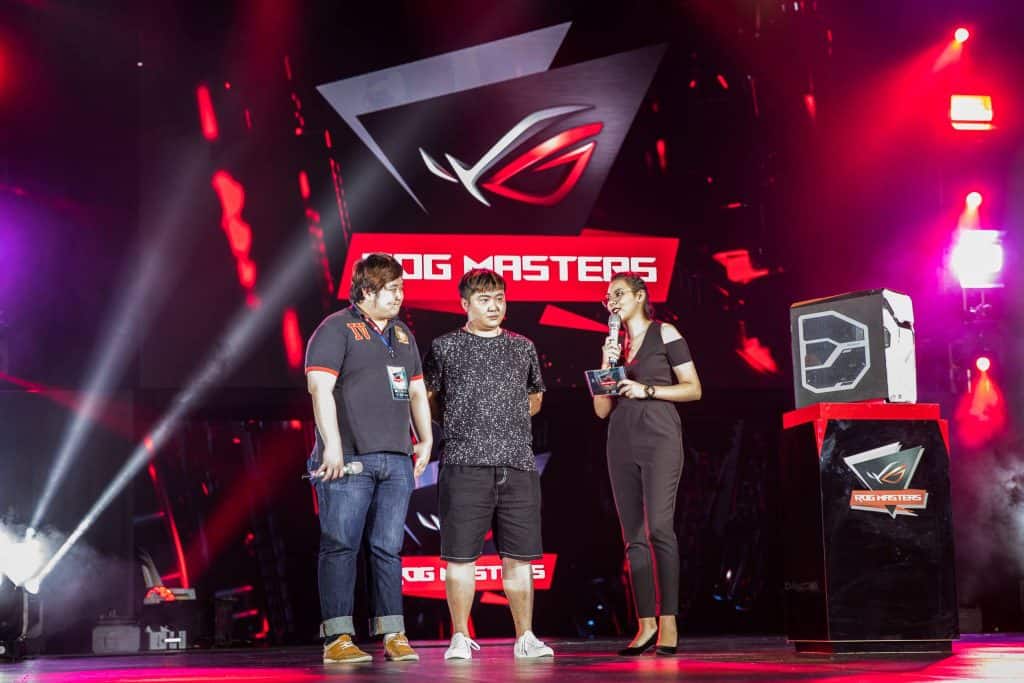 If we are talking about one of the largest tournaments held in all parts of Asia-Pacific, ROG Masters would be one of the events mentioned. Returning to the scene following three years of absence, it was supposed to be another circuit for NG Esports to prove their capability against all of the best teams across Asia. Unfortunately, things went unexpectedly ugly for them. ROG Masters denied NG Esports to participate as the roster did not have a majority (core three) based on a single-nationality that could be used to assign the team to a regional qualifier.
"ROG Masters is hosting their tournament without prior study into the region and its competitive ecosystem, and thus, in my opinion, as a player is entirely unacceptable.

The multi-slot allocation to countries with no professional teams excludes important APAC countries that host some of the very best teams in the region with specific rules not to allow citizens of those excluded nations to play even in other national qualifiers.

The ruleset, rulebook, and format created are basically insane to look at. There are so many cases of problems it causes for rosters with mix nationalities; one of which is of my friend being Bruneian and part of a Malaysian squad and him not being eligible to play, another would be my teammate erkaSt not being able to play at all because Mongolia is not included in an APAC tournament; weird considering the very first iteration of ROG Masters was won by a Mongolian team."

– Anthony "ImpressioN" Lim
This year, ROG Masters allocated 32 spots for teams in the final. However, the allocation is limited to certain countries to participate. Three slots were allocated to Indonesia, while Malaysia and the Philippines had at least one active professional team with only two slots each. Asian tournament administrators would have anticipated this move because it was common sense to give more slots to a more developed country in terms of the professional team's pool.
"It seems to me that ROG Masters is handling their own tournament when they should be handling matters such as slot allocation, region lock rules, and others to a proper tournament organizer that could advise them.
The ROG Masters team are hosting it according to their own standards and wishes. It is basically just giving our region the finger and spoiling their own reputation as a top-tier esports event in Asia. They basically do not care about the esports ecosystem here and are just hosting a tournament, probably due to some marketing reasons or what-not."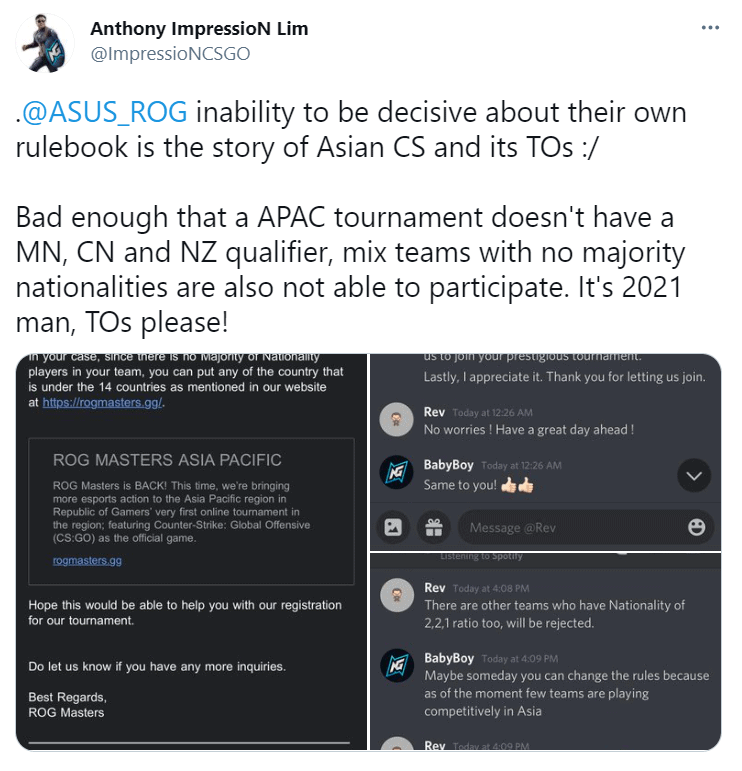 NG Esports was redirected to compete through the South Korea qualifier by the representative. However, they were told later to form a majority lineup on their roster if the squad wanted to proceed.
"Honestly, I am not sure either. For a moment, they said that we are allowed to compete for any of the qualifiers under the same nationalities that our players are comprised of. Thus, we decided to go for the Korean qualifier because it is most likely that the Korean qualifier would use a Hong-Kong server as opposed to the Thai, Singaporean, Indonesian, or the non-existent Mongolian qualifier.
A while later, they said we are not allowed to register; it feels like the person in charge of talking to us basically has no say whatsoever regarding the rules and is just listening to the person in charge, we basically have no clue on who's actually in charge despite so much correspondence with them already.
"We hear you, and appreciate the community's feedback. In light of today's situation, we'll be instilling a new rule that will require teams to field a majority of players from the country that they are qualifying for in their playing lineup. This rule will be in immediate effect and all previous results will still stand with no changes to any of the games that have happened thus far."

– ROG Masters Official Statement, March 28
Different Treatment for Asian Tournament Rules
Anthony emphasizes the standard that tournament organizers have to put in the region not to repeat the same mistake. Asian competitions should not be standardized with North American or European qualifier rules and conditions, considering Asia is subdivided into 49 countries.
ROG Masters 2017 have implemented the most excellent qualifier system so far, so every team could move up in the ladder faster without getting stomped by a top-ranked team in the first round of the qualifier. The 2017 iteration came with 14 country open qualifiers, including the open qualifier, closed qualifiers, finals, and global finals.
"I think most tournament organizers nowadays do not really put in nationality restrictions and are very communicative about their tournaments, putting clear lines of communication to TO etc. Esports has such a high industry standard nowadays, and I hope to see it standardize in the Asian region."
A heavy burden of "Asian FaZe" expectation
When asked about his teammates, ImpressioN talked about the team's friendly and understanding atmosphere. This year will be the second year of him playing for an overseas team, with so far two trophies in that period. The Singaporean player is looking forward to a better start this year, with RMR tournaments and an all-year-long Funspark ULTI 2021 around the corner.
"I am glad to be a part of NG, a team filled with capable, yet humble, and understanding players. Our goal is to qualify for as many events as possible as a start and then work on it one by one. We know we have the mettle. We just have to test it and prove it to everyone else now.
I personally have been swamped as of late as I recently got engaged, and I am lucky to have such great teammates, brothers who understand and help me out when necessary.
I look forward to a great future ahead with them; just gotta get into some tournament servers now!"
CSGO2ASIA: To close it out, do you have anything else to say to your fans?
ImpressioN: To all the fans, friends, and family of NG Esports and its players. I can only express gratitude for your love and support. To the ones that are waiting with anticipation for us to do great things, we look forward to making you proud!
Special shoutouts to my personal fans who are like family to me, my own family members for their support, and of course my beautiful Fiancee for being a pillar in my career. And last but not least, big thanks to CSGO2ASIA for having me, always fun to speak to you guys. Much love!
Keep Track of NG Esports' Official Matches on CSGO2ASIA.com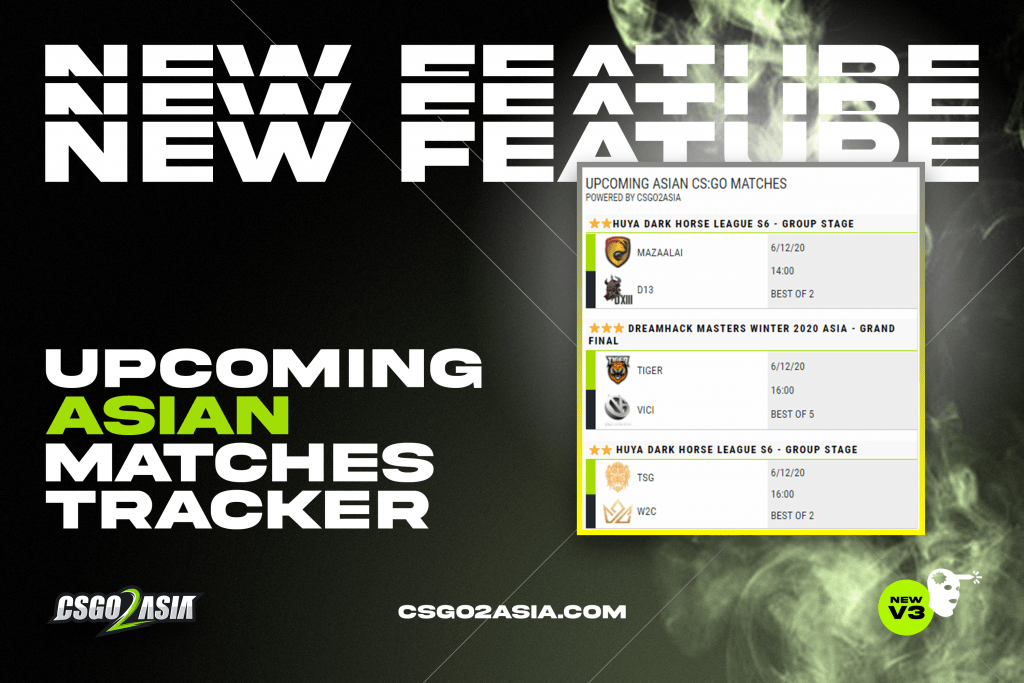 CSGO2ASIA.com offers a real-time match ticker, updated daily across all major matches to watch. We categorize the match from one to three stars according to both team's lineup, tournament rounds, and the tournament's prestige. You can always join the euphoria and watch your favorite team play by clicking on the match, and you will be directed to the live stream of the match. Just to remember that we use Singaporean Time (UTC+8) for all of the schedules. Check it out right now on the right side of our website for Desktop, or below if you are using Mobile!
---
For more insights on the Asian CS:GO scene and upcoming content like this, be sure to subscribe to our newsletter. Don't forget to follow CSGO2ASIA on Facebook, Twitter & YouTube.
Photo cover by HLTV.org
---