Renewal have bested NG Esports in a three-map series in the grand final of ESEA Season 36 Open APAC Playoffs. The Mongolian squad will also grab a lion's share of the US$9,000 prize pool.
With the results, Yesuntumur "nin9" Gantulgahave and co. have earned their first trophy under Team Renewal's banner, where they have constantly hammered all of the teams in the ESEA Season 36 Open APAC Playoffs, only dropping one map against Team LZ on Overpass.
ESEA Season 36 Open APAC had a total of 28 teams in attendance with more than 14 different nationalities statistically. In the group stage, NG Esports led the scoreboard with 14 wins and two defeats, followed closely by Checkmate and Expendables (ex-Bren) in the second and third place, respectively.
The playoffs featured the top twelve teams in the standings, which saw several new faces such as Absolute Vatreni and AskingQuestions.
ARAVT, Born in the East, Absolute Vatreni, and AskingQuestions instantly dropped out in the Round-of-12 after getting knocked out by The Black Company, BL4ZE Esports, Team LZ, and Renewal, respectively. There were not many upsets that happened in the process. NG Esports went into the grand final after beating ZIGMA in the semi-final. While Renewal split maps with Team LZ before securing the final map and their spot in the big finale.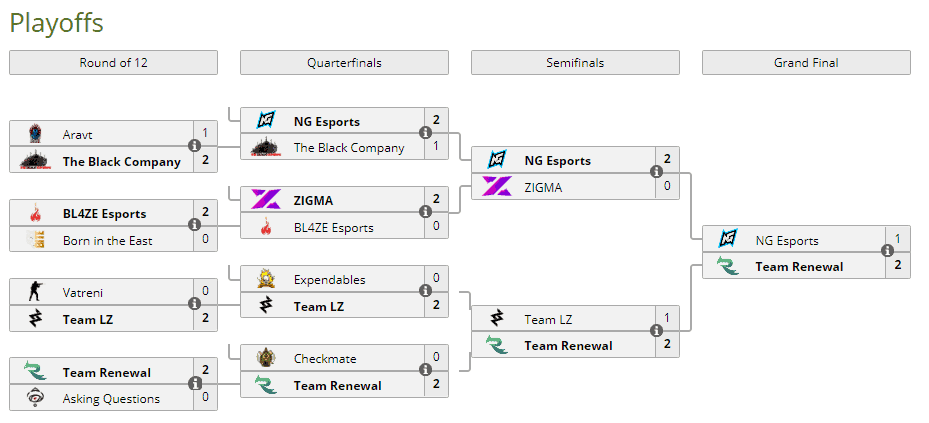 The Grand Final – Renewal vs NG Esports
NG Esports opened their pick of Dust2 with a pistol round win before Renewal were forced to buy guns in the second round and take the lead by five rounds. The seventh-round was the only round that Kevin "xccurate" Susanto and co. got before they saw Renewal put in a spectacular show with a dominant performance to take the map 16-2. All of Renewal's players posted positive KDs, with Batbayar "kabal" Bat-Enkh at the top of the board, with a 1.77 HLTV rating.
The match moved on to Overpass, NG Esports' map pick. A reverse scenario from the last map occurred with Renewal winning the pistol round and traded back late by NG Esports, after deciding to force buy guns. Rounds were constantly traded back-and-forth, with neither team being able to put momentum in the game. It ended up with NG Esports leading in the first half with a 9-6 lead.
SEE MORE: Renewal seek assistant coach
More rounds were traded back-and-forth until Renewal obtained the stability with their strong economy, to reach 13-11 lead. A smooth victory was expected for the Mongolian, but Renewal's constant blunders in the late game cost them too much, alongside the additional pressure on them. The "Asian Super Team" quickly cut their deficit and overwhelm the Mongolian squad to force a decider map.
Anthony "ImpressioN" Lim's men stumbled upon Nuke's attacking side, getting the first two rounds before being overwhelmed by Renewal's defense. Renewal carried their momentum in the first map, with NG Esports only securing three rounds as Renewal took complete control on the the CT. Renewal showed no signs of slowing down, switching to the T side with a commanding 12-3 lead. Having lost the first three rounds in the first half, NG Esports displayed an extremely late comeback by denying Renewal's match point. Eventually, their efforts were denied as the Mongolian's high economy allowed them to re-buy and eliminate XigN's side easily from the event, 16-4.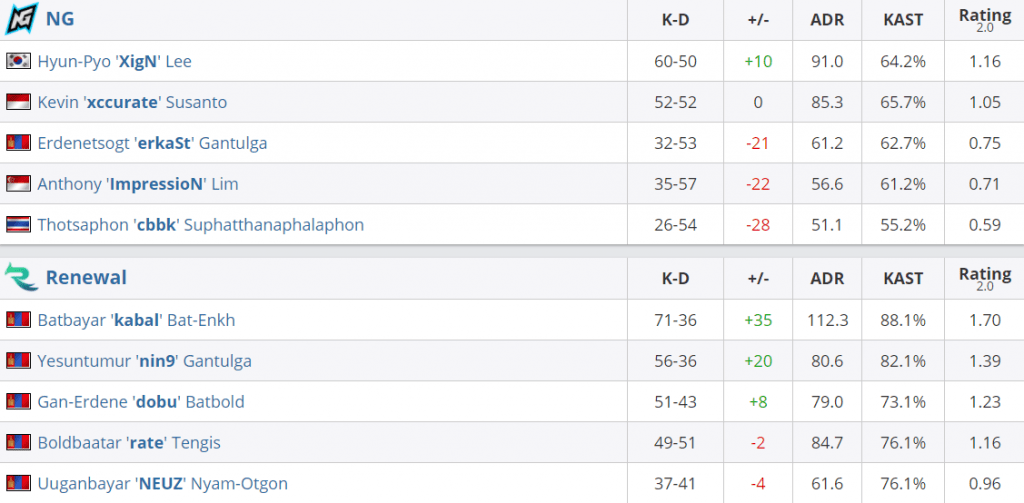 ESEA Season 36 Open APAC Playoffs final standings:
| | | |
| --- | --- | --- |
| Place | Team | Prize |
| 1st | 🇲🇳 Renewal | US$4,000 |
| 2nd | 🌏 NG Esports | US$2,500 |
| 3rd-4th | 🇹🇭 ZIGMA | US$1,500 |
| 3rd-4th | 🇹🇭 Team LZ | US$1,500 |
| 5th-8th | 🇲🇳 The Black Company | – |
| 5th-8th | 🇮🇳 BL4ZE Esports | – |
| 5th-8th | 🇵🇭 Expendables (ex-Bren) | – |
| 5th-8th | 🇲🇳 Checkmate | – |
| 9th-12th | 🇲🇳 ARAVT | – |
| 9th-12th | 🇷🇺 Born in the East | – |
| 9th-12th | 🇮🇩 Absolute Vatreni | – |
| 9th-12th | 🇮🇳 Asking Questions | – |
---
For more insights on the Asian CS:GO scene and upcoming content like this, be sure to subscribe to our newsletter. Don't forget to follow CSGO2ASIA on Facebook, Twitter & YouTube.
Cover photo by ESL
---