It's a hot and humid Friday in Singapore. The Covid-19 pandemic has just forced Singapore into its second nation-wide lockdown and mandate work-from-home as the default for at least the next few months.
Gad "Psychrbbt" Tan is packing up his workstation and getting ready to move his gear back home. A Leopold FC750R Black Case TKL with custom PBT keycaps, a Logitech G302 mouse, a first edition Icemat (now known as SteelSeries) glass mousepad, and a MacBook Air. "I only use the Mac to get work done because if not I'll end up playing Apex with Nikhil all day!" he says.
Gad grew up in Singapore but has lived and worked in Sydney, Australia for nearly a decade where he graduated from the College of Fine Art. With over 15 years of advertising and brand experience, Gad oversees the visual direction for IMPLS Entertainment and its network of products. He also works on the "Special Projects" unit, where he lends his strength in aesthetics and design to work on delivering broadcast work such as the ZOWIE eXTREMESLAND Festival 2020 and the VALO2ASIA Launch Invitational 2021.
In a pre-Covid world, he traveled around the region, often to Hong Kong, Jakarta, Kuala Lumpur, Penang, and Taipei to attend design conferences and other trade shows. Today he connects with the region differently—through the fast-moving, meme-making, editorial, and graphic work at CSGO2ASIA and its evil twin, VALO2ASIA.
CSGO2ASIA: What do you do at CSGO2ASIA?
Gad: On most days, I drink at least 2 cups of coffee and oversee the creation of all the visual assets for IMPLS Entertainment Products: CSGO2ASIA, VALO2ASIA, and Paper Rex. That means anything that involves graphics, typography, and has a visual component, my team and I are usually involved in it. I'm also deployed onto the Special Projects team where we work with our commercial partners like Dreamcore and BENQ/ZOWIE. On some rare days, you'll find me just sitting here in the office, drinking coffee.
CSGO2ASIA: Where do you draw inspiration from?
Gad: I think it's been a combination of real-life juxtaposition, game knowledge, and just a sprinkle of memes. Combining these few things usually leads to some interesting ideas.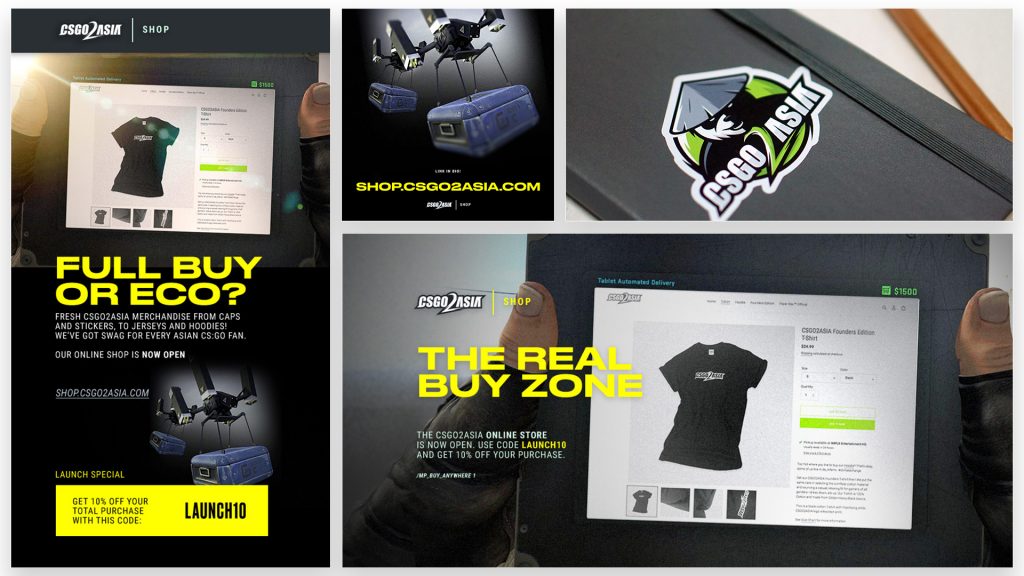 CSGO2ASIA: Can you elaborate more on one of our products, The Grassroots Cup, from the creative perspective?
Gad: The Grassroots Cups are one of the most fun projects we work on because it's entirely for the community. The self-organizing theme of the tiny tournament gives us a lot of room to play. Right now, the running joke is that the name Grassroots Cup alludes to a small community prize pool and scrappy teams getting together for a weekend fight club. So the visual language we developed has been around cheap cup-like food and drink (e.g. Cup Noodle, Cup of Bubble Tea, Coffee Cup).
CSGO2ASIA: Why food for GRC?
Gad: I think it started with the first GRC, during the finals in Twitch Chat it was memed that the winning team, GMCC, was actually connected to a hawker food stall that sold Fried Carrot Cake. Someone suggested that we should ask them to sponsor the next GRC and it would be a great idea to watch GRC on stream and order Carrot Cake delivery. So from that series onward, we were like, "what kind of food or drink would we like to have while watching the live stream?"
CSGO2ASIA: So err… should we get in touch with GMCC soon?
Gad: Well, we haven't reached out to GMCC yet, so if the owner is reading this, contact us and let's work something out and we'll pump you for the next GRC!
CSGO2ASIA: How has the artwork and visuals changed for CAL?
Gad: I think it started sometime toward the end of 2019 where Nikhil "nikh" Hathiramani and I sat down for a 3-hour coffee session and decided the look of CAL (then called APL) was getting stale and needed a fresh new look. So for those who have been following us since Season 13, you would have been here for the gradual transformation of the look of CSGO2ASIA League. Then came Covid, and the lockdowns, and we were all like, "I wish we could all travel or meet up and play at a LAN again". The visuals of CAL responded to that by becoming these virtual lanyards – LAN-yards (?) – that had 2 distinct tiers. The idea was if we couldn't participate in physical LANs, let's just play online and keep the community going.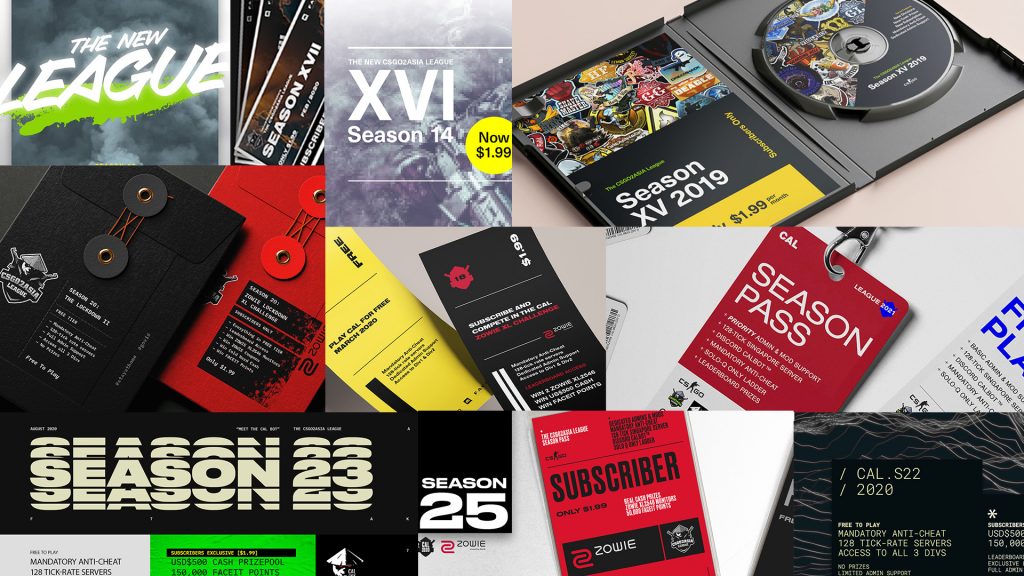 CSGO2ASIA: Since your first journey with us, what's your personal favorite piece?
Gad: This is a tough one, we produce so much content and try to keep everything looking good that it's hard to pin down one particular campaign that really stands out.
However, if I have to choose one, I'd say that the "CAL x Dreamcore x Cyberpunk 2077" special campaign we worked on was one of the most visually impactful—and successful designs. We had to conceptualize something that worked for CAL, Dreamcore (a custom PC builder), and Cyberpunk 2077. It's like we were using this game (CS:GO) to promote a PC builder by promoting a much-anticipated game that would run well on said PC builder's products. Also, I really love the cyberpunk colors of purple and neon yellow hues.
CSGO2ASIA: What were some of the most challenging projects you have ever encountered?
Gad: Tournaments. Many people don't know that CSGO2ASIA works behind the scenes with many TOs and produces a lot of graphic content for them. One of the more recent ones is the BENQ ZOWIE Extremesland Festival. This one was one of the most tricky ones because there were so many parties involved. Not only did we do all the on-screen visuals, but we also had to build and custom the audience overlays for the stream.
Audience overlays are like all that stuff that people expect on a stream that you take for granted, like the UI that shows player names, HP, economy, weapons, ammunition, KDA, all that stuff needs to be designed and programmed by someone.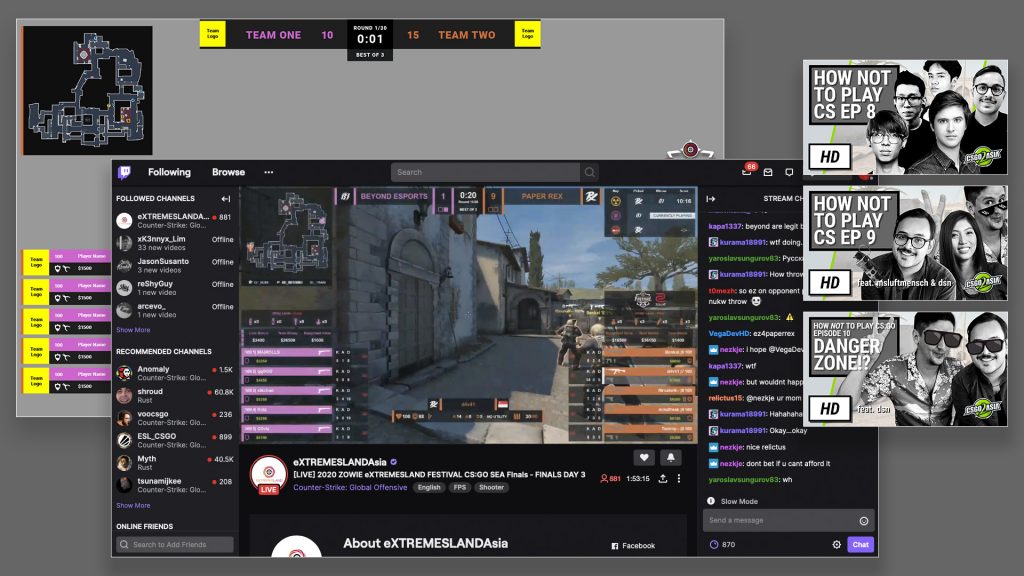 CSGO2ASIA: Is it that complicated?
Gad: It's more tedious, a lot of work goes into aligning the elements so that we don't obscure vital information on-screen. I mean, at the end of the day, you still wanna see people shoot other people on screen right?
CSGO2ASIA: Any advice for our readers who are looking to get into the design?
Gad: If you look at the spectrum of work we produce: Stream Overlays, Player Photography, Videos, the Merchandise Store, the CAL, all of these things need graphics and visuals, and they need to be made by someone who is not only good at the fundamentals of design, but also has a sense of clever wit or humor, and just a little bit toxic.
Like, let's say you're among the best Twitch or Discord Emote makers, or the ultimate TikTok meme lord out there, I would happily interview you to see if we can hire you. I don't care where you're from.
That said, these days you can't just be good at making pretty graphics or videos. You gotta think about context and be able to write a little bit. It's all about content creation today, especially in our world of esports media.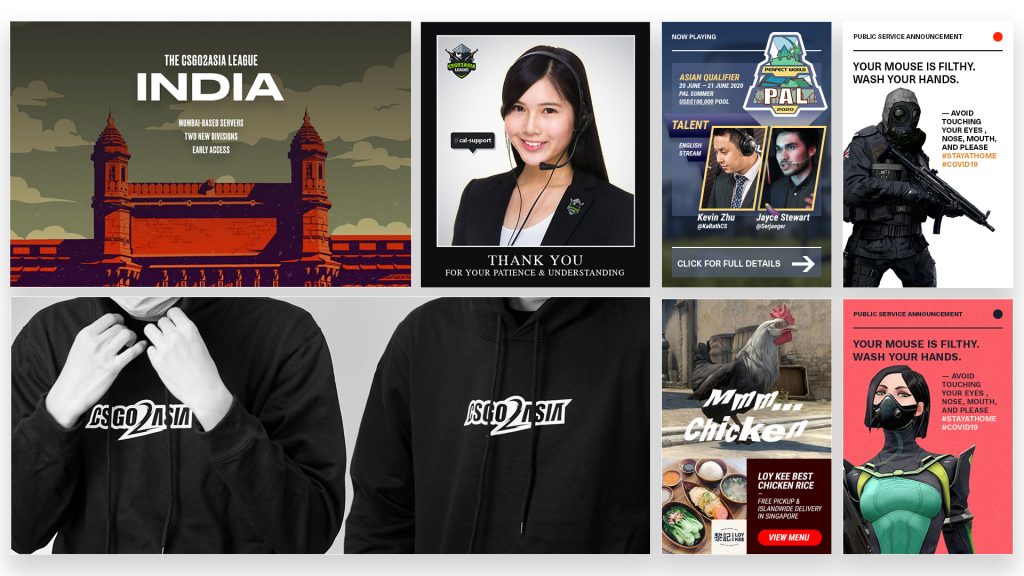 CSGO2ASIA: Are you planning to expand the design team soon?
Gad: Yup, and in fact, we are! So if you know anyone who wants to join our team, reach out to us.
CSGO2ASIA: What's next for you and the creative team?
Gad: Haha, you should know, you're on it. As you know we just wrapped up our VALO2ASIA Launch Invitational 2021, we made a whole bunch of visuals for that. The VALORANT community is a lot more active right now and Riot has really set the bar for visual aesthetics super high. It's on us to make things exciting to keep up with them, and just (maybe) exceed our community's expectations.
The visual language of VALORANT and the community is very different from CS:GO. It's very slick and futuristic, designed for a new breed of tactical FPS players.
We've also been planning new merchandise, our current CSGO2ASIA Founders Edition hoodies and t-shirts have been very popular—a big shout out to the community for supporting us. We don't make much money from it but your support and purchase feed our souls.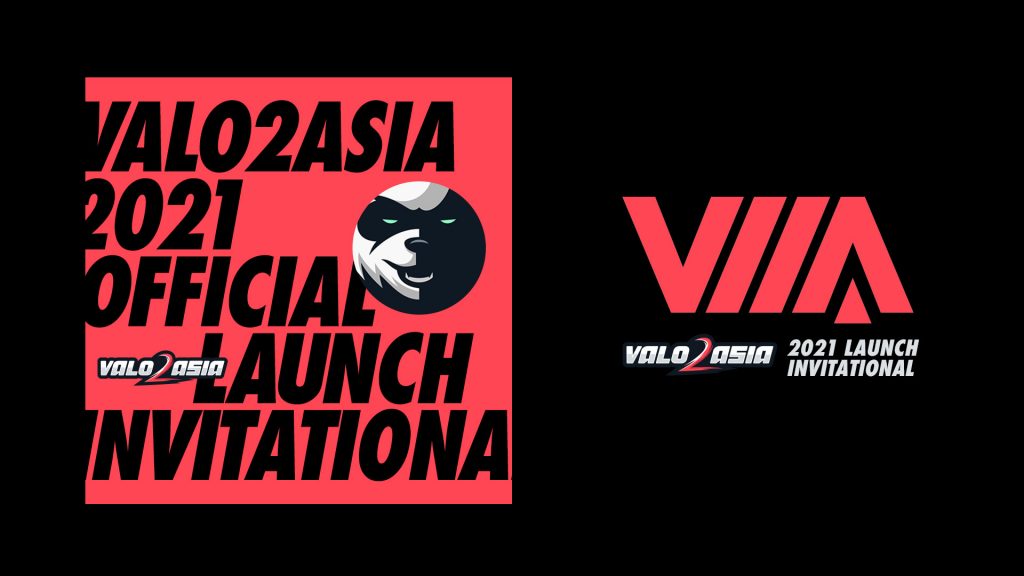 CSGO2ASIA: You're not giving up on CSGO2ASIA, right?
Gad: Hell no, I love Half-life, CS:GO, and CSGO2ASIA. We've got plenty of exciting ideas in the pipeline like CAL India coming really soon. It's more like we are aggressively expanding our team to power both CS:GO and VALORANT media. It's going to be a wild ride.
CSGO2ASIA: Sounds great, any parting words before we wrap up?
Gad: Well, as you know we are working on a lot of new and exciting projects and things are getting pretty busy—so we're hiring. Doesn't matter where you are from, we are a new kind of company operating in a strange new world with remote working becoming the norm. If you want to join our family and work in this crazy fast world of esports media, send us your portfolio and CV!
CSGO2ASIA and VALO2ASIA wants your talent. We are currently looking for a Graphic Designer with a passion for gaming and a skilled eye for design to join our family. Our team is open to remote work and you can be from anywhere in the world but you must be able to communicate in English. Part-time and Full-time arrangements negotiable. Send your CV and Portfolios to

[email protected]

with the subject "HIRE ME PLS".
---