The sole remaining professional Thai team have decided to take on a new challenge in the Riot's first-person shooter.
The lineup has officially stepped back from Counter-Strike: Global Offensive but will remain under ZIGMA's banner as a part of its VALORANT roster. The move was initially discovered on ESL's website, where ZIGMA has registered with the same five players for the VCT Thailand Stage 3 Challengers 3 Open Qualifier. The organization announced the news to the public through its Facebook page a few hours later.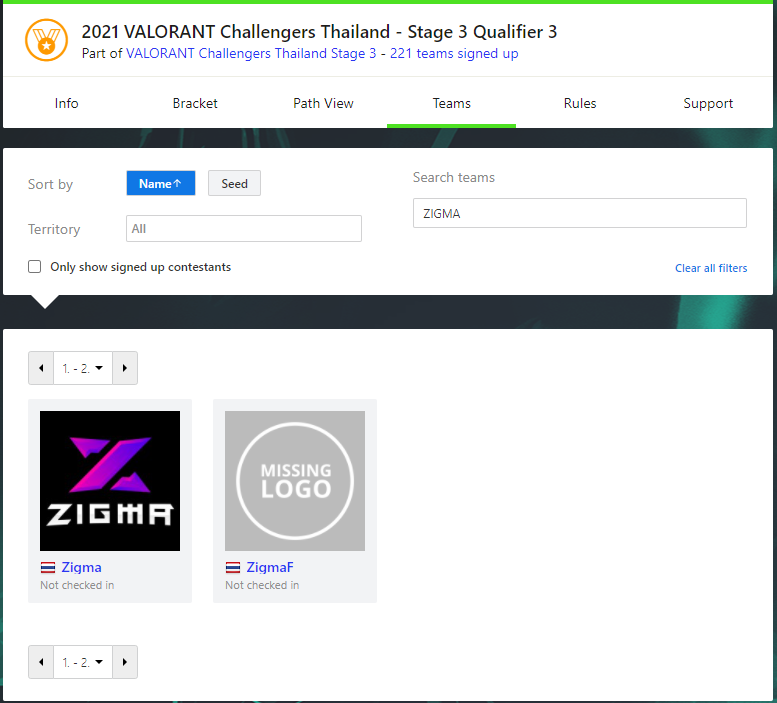 ZIGMA's existence can be dated back to 2017, with the current core players joining in 2018 under various identities, Team Maple and Maple Club, before being rebranded to ZIGMA.
The Thai squad rose through the ranks in the Asian scene in the past two years, particularly after Lucid Dream dissolved in mid-2020, leaving Manutsawat "Reality" Sangphadung and co. as the only surviving Thai team in the Asian tier-one scene. Asian Legend Challenge League 2020 and ROG Masters Asia-Pacific 2021 are among their accomplishments, as well as various runner-up finishes, most notably in GeForce Cup Pacific and NEX Play From Home.

With the move, the roster will be in the same field as the others that have moved earlier to the game, including FULL SENSE's JohnOlsen and PTC, ViperDemon, X10's foxz, and their former teammate, PPOverdose, who is now playing for Foxy Araikordai.
Asian CS:GO has been in dire straits over the last year, with a significant amount of pro players moving to Riot's VALORANT. Paper Rex, Absolute (now ZETA DIVISION), ex-Beyond, and ex-Bren (now South Built Esports) are among teams who have successfully transitioned their complete roster from CS:GO to VALORANT and handled the transition well by qualifying for the main event of VALORANT Champions Tour Stage 3 Challengers of their respective regions.
ALSO READ: Renewal beat ZIGMA to win ESEA Season 37 Open APAC Playoffs
While ZIGMA has ceased its operation in CS:GO, interest in competing for CS:GO professionally remains strong by the other teams across Asia, as shown by the fact that 65 teams have registered for the next ESEA Season 38 Open APAC and the continued presence of Asking Questions, ARTiSAN Esports, Team NKT, and other promising teams.
ZIGMA's roster are as follows:
🇹🇭 Patiphan "CigaretteS" Posri
🇹🇭 Tuchpong "JUSTCAUSE" Pongthanadechakit
🇹🇭 Manutsawat "Reality" Sangphadung
🇹🇭 Kritthee "Geniuss" Sawatmuang
🇹🇭 Warittorn "RoLEX" Kalanukarn

* Correction: An earlier version of this article still listed Patcharapon "NIFFY" Junman as a player. Patiphan "CigaretteS" Posri has replaced NIFFY since May and will continue to do so.
---
For more insights on the Asian CS:GO scene and upcoming content like this, be sure to subscribe to our newsletter. Don't forget to follow CSGO2ASIA on Facebook, Twitter & YouTube.
Cover photo courtesy of FPSThailand
---