Counter-Strike: Global Offensive is undeniably one of the biggest online games played worldwide. With Valve Server's availability worldwide, people are just one click away to queue a match to play. However, just like any online game, it cannot be separated from problems either from the client or server sides. With this in mind, CSGO2ASIA.com has prepared a guide to check CS:GO server status in realtime.
There are several third-party services to allow you to see the details of Steam as well as CS:GO services in every region. Some of the favorites are Steamstat.us and CS:GO OVH Status.
Visit either Steamstat.us or CSGO.Steam.OVH
Keep in mind that if these indicators were colored red (Down) or orange (Delayed), it would affect almost all-region:

CS:GO Game Coordinator
CS:GO Sessions Logon
CS:GO Player Inventories
CS:GO Matchmaking Scheduler

For Regional Status, it may vary for every region. In general, you need to look for your country or the nearest region to your location.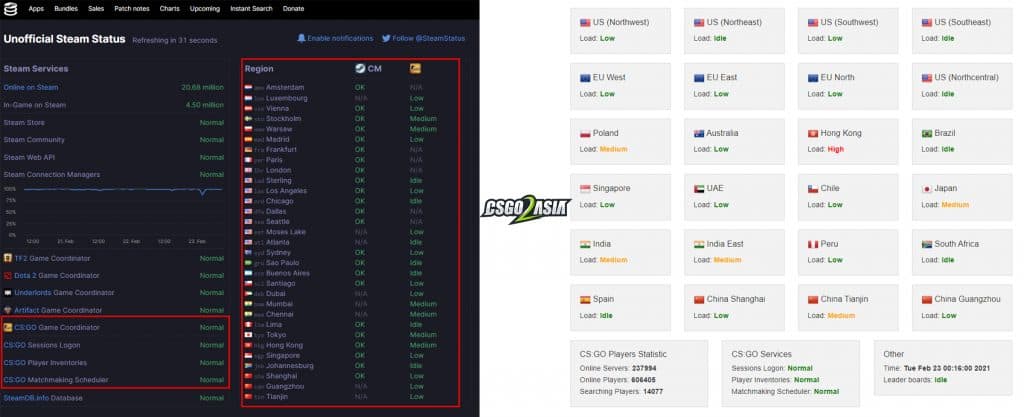 What if CS:GO is not down, but you are still having trouble with the connection?
Most likely, the problem comes from your side. Make sure to check your connection by visiting a website (like www.CSGO2ASIA.com) and connecting to the Official Valve Deathmatch server or community server. If those steps work, most likely, it is your connection problem with the Valve server. Some troubleshooting you can do:
1. Restart your router and your PC – Classic, but sometimes work

2. Run Windows Network Diagnostics (Windows) or Wireless Diagnostics (macOS)
Windows:
a. Open Control Panel
b. Choose Network and Internet, and then Network and Sharing Center
c. Click Troubleshoot Problems
d. In the "Find and Fix Other Problems" section, Click "Network Adapter" and Run the troubleshooter. Windows will do the rest for you
macOS:
a. Hold down your Option key and click the Wi-Fi icon in the status menu at the top of your screen
b. Click Open Wireless Diagnostics
c. Select "Monitor my Wi-Fi Connection" and then click 'Continue'
d. The system will try to identify any problem and run you through it on how to fix it.

3. If the problem persists, one of the things you can do is to verify the game files. It is worth a try.
a. Head to your Steam client and choose Library
b. Right-click on Counter-Strike: Global Offensive and choose Properties.
c. Click Local Files and then choose Verify Integrity of Game Files.
d. It will take approximately five to ten minutes to complete depending on your computer and connection.
If you have done all the troubleshooting tips, it might be a specific problem within your computer or connection. You may want to ask for a friend's help or discuss it with the CSGO2ASIA Community. Click on the link below to join our community in the Discord group or your country group on Facebook.
---
This is a guide brought to you by CSGO2ASIA to help elevate the Asian CS:GO scene. For upcoming content like this, be sure to subscribe to our newsletter. Don't forget to follow CSGO2ASIA on Facebook, Twitter & YouTube.
Photo Credit: Steam/AlekseyAlekseev
---