We spoke with Khalish "d4v41" Rusyaidee and Alexandre "alecks" Sallé following their team's victory over ZIGMA at eXTREMESLAND CS:GO Festival 2020 Southeast Asia, which marked the first trophy since their founding in February last year.
Despite a rough start in the first year of its formation by facing occasional defeats and a couple of roster changes, Paper Rex's international lineup showed an impressive performance in the latest edition of eXTREMESLAND. The results proved that the Kumaresan "Tommy" Ramani-led team is a championship-caliber team in the Southeast Asia region.
To hear about what the team had changed to be crowned eXTREMESLAND 2020 Southeast Asia champion, and their focus going into 2021 season, we had a chance to sit down and talk with d4v41 and Paper Rex coach, alecks.
---
CSGO2ASIA: How do you guys feel after securing Paper Rex's victory at the Southeast Asia playoffs? What is the feeling of managing to get your first significant team achievement?
d4v41: To be honest, I have lost some of my motivation to play CS in recent months since we could not achieve the results we wanted in 2020. I feel that this win is an excellent start for me. I am sure that my teammates feel the same way about the victory since everyone puts extra effort into the preparation side.
alecks: It feels great after a disappointing year of crashing out in various group stages, losing to TIGER a couple of times, and throwing away big leads. It has been a tough year for the team, and I am super glad the team can start the year with a title. The first title is important for sure as it sets the tone and expectations for the rest of the year and gives us confidence that we are on the right track.
CSGO2ASIA: What was the expectation like for the team going into the playoffs?
d4v41: Our goal is to grab the champion title for sure. Although at the same time, we did not put too much pressure on our shoulders. I would say the mindset for us was just to play our game, do things that we used to do in scrims, and do more team play rather than individual play on the server.
alecks: After we saw our previous results, it was not something spectacular. During the previous tournaments we attended, we had the mindset that we always want to win and believes we can win. However, in this tournament, the expectation was just to focus on each game one at a time and see what happens. For once, we did not feel any pressure. We showed up pretty locked in and focused from round one and never let ourselves lose concentration. To be honest, this is the first time that we were this focused.
READ MORE: Paper Rex win eXTREMESLAND CS:GO Festival Asia 2020 – Southeast Asia
CSGO2ASIA: Personally, who was the hardest to compete with among the teams you met in the playoffs? And why?
d4v41: Personally for me, I would say the Thai teams. Their individual consistency makes them the most challenging opponent to beat. There is a lot of dry peeks involved in their plays too, so it is quite annoying to deal with.
CSGO2ASIA: Going back to 2020, how was the journey with the team? Are you guys satisfied with the overall results?
alecks: Our results sucked. None of us were happy and our bosses were not particularly pleased with our performances either. We started the year bright, qualified on our first try for the Asian Minor Closed Qualifier, and then it just suddenly went downhill from there. We kept losing crucial rounds, crucial games, lost in the group stages to teams we should not lose to, lost to teams in ESEA, and simply lost to everyone. Our training results were just as bad. We did not feel like we were improving until Benkai finally got out of the army around September last year and could put in more time. At the end of the year, we were satisfied with our training regime, it felt like we were moving in the right direction, and I guess it affected our performance in a better way better at eXTREMESLAND. But all in all, 2020 is by far my worst year in my CS:GO career, and I intend to forget it entirely. COVID-19 and bad results, yeah, 2020 never happened. Lost year. Never happened.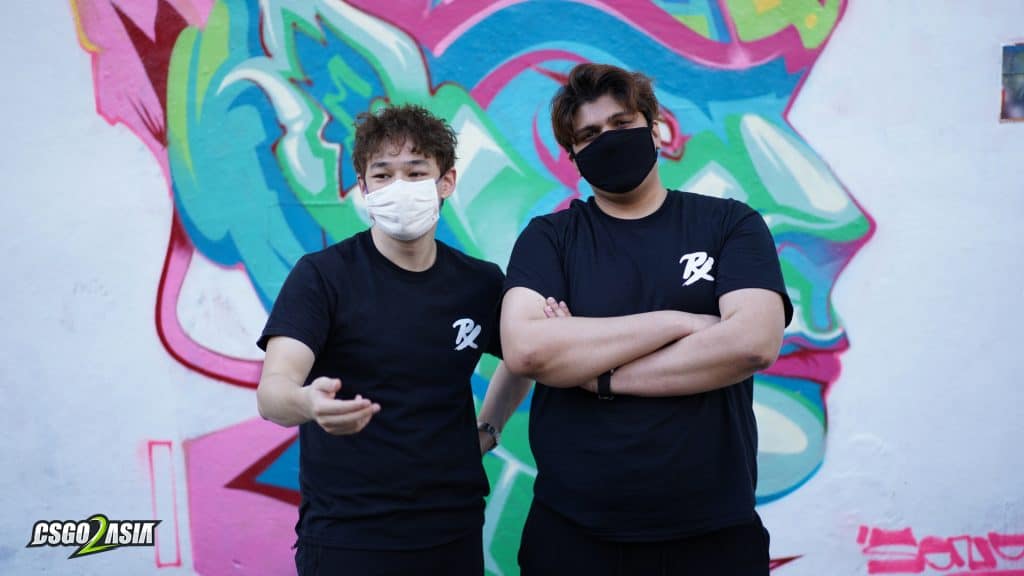 CSGO2ASIA: I wanted to get your thoughts on f0rsakeN and Tommy, which just got signed around 4 months ago. What has their addition done to improve the team?
d4v41: I would say adding these two boosted Paper Rex's performance, especially in terms of firepower. Jason is an amazingly talented player and has always been good with the rifle. As we needed an anchor for the team, his role fits well within our team. Last but not least is Tommy, which he also fits the entry fragger role that we needed. Another important factor is that he is the cheer-up kind of guy for the team whenever we face a hard time during the tournament.
Alecks: I always played Tommy's T roles in any team, so he is just a straight-up better player than me, an easy upgrade to speak, plug and play, and we are instantly better. He is also a hard worker and comes from another Singaporean team, so he brought some different experiences to contribute to our game. Right now, he is the captain of the team and the oldest head around, so people look at him to be the responsible big brother, and I think he does an excellent job of that.
f0rsaken is so good. I think we got to see what Jason can do in this tournament – it was something special. For a person his age, he is surprisingly mature. He works hard, plays non-stop, has excellent communication, is not afraid to take charge, and tells people what to do to win the round; the praise does not stop coming. He is the real deal. He is also everyone's little bro, so we all look out for him; he helped make the team's atmosphere lighter!
"He (Tommy) is the captain of the team and the oldest head around, so people look at him to be the responsible big brother, and I think he does an excellent job of that. On the other hand, f0rsakeN is everyone's little bro, so we all look out for him; he helped make the team's atmosphere lighter!"

– Alexandre "alecks" Sallé, Coach of Paper Rex
CSGO2ASIA: Is it finally safe to say that you guys took the #1 place in the Southeast Asia rankings?
d4v41: I do not think so. Winning just one tournament does not make us the number one team in SEA right away. If we win a few of the next upcoming tournaments, then I guess we can claim the SEA title. For me, it is a 'no' for the time being.
CSGO2ASIA: Since you guys have topped the game in SEA, the next 'level' will be Asia, which we have seen, with more and more Mongolian and Chinese teams expected to compete within the scene. How confident are you guys going into the 2021 season? What's the goal?
d4v41: Since we just won eXTREMESLAND 2020 SEA, it has definitely boosted our confidence as a team. The first goal that we strive for 2021 is to be the best SEA team, and then to be the best team in all of Asia. We are also looking forward to face TIGER in the upcoming tournaments!
Alecks: We topped the game once at SEA level at the start of the year, hahaha. It's too soon to say we are outright the best team around; we still need to get better as there is still so much room to grow. I hope we can get more regional tournaments (SEA) in the future. It was a lot of fun to play with only the regional teams for once instead of the whole of Asia. For now, the goal is to work our butts off and do our best to get to the top three in Asia. For that to happen, we need to win an Asian tournament. ZIGMA has done it in December, HuatZai has come close like 2-3 times, Bren Esports has played themselves into the playoffs of an RMR tournament, we have not done anything of the sort yet. We need to beat TIGER too, that's like our biggest bogey team at the moment. That being said, I trust the boys in the team. I think they really wanted to win, and they will show this year that they are good enough to hang with the best in Asia.
CSGO2ASIA: Is there anything else you'd like us to know?
d4v41: Thank you to the fans that are supporting Paper Rex! #PPRX
Alecks: Shoutouts to the whole Paper Rex organization. They stuck with us even though we were showing them no indication that we would get any better. I am thankful that we got the opportunity to show them that we are not that bad after all. Big thanks to Harley "dsn" Örwall for standing in, you were a bit heavy for a former world champ but definitely gave us a sense of calm while we were playing. And for the PPRX boys, job well done!
---
CSGO2ASIA is an official Global Media Partner for the ZOWIE eXTREMESLAND CS:GO Festival 2020.
For more insights on the Asian CS:GO scene and upcoming content like this, be sure to subscribe to our newsletter. Don't forget to follow CSGO2ASIA on Facebook, Twitter & YouTube.
---