The ROG Masters 2021 APAC Finals trophy is ZIGMA's first tournament win with Kritthee "Geniuss" Sawatmuang, who entered the team earlier this year.
After a lengthy journey that began on March 25, the ROG Masters 2021 APAC Finals culminated last night with ZIGMA defeating Expendables 2-0 (Overpass 16-10, Mirage 14-16, Inferno 16-9). Throughout the playoffs, Thailand's current top team did not lose a single map en route to winning the top prize of US$10,800.
ROG Masters 2021 APAC was revealed in early February of this year, bringing a US$32,600 total prize pool on the table for teams across 15 countries to compete for. While receiving criticism from many professional players for limiting the participation of many nations, including China, Mongolia, and others, it was one of the largest events in terms of the prize pool offered so far this year.
SEE MORE: ImpressioN on ROG Masters' Unprofessional Tournament Management, and NG Esports
The playoffs saw several notable teams competing, including Australia's Paradox Esports, 2ez Gaming, ZIGMA, Huat Zai, and Expendables (ex-Bren). In the process, Team ForteZ from Indonesia upset Paradox Esports in the quarter-finals. 2ez also did not see it coming as they were taken by surprise when Random5 from Singapore crushed them. The semi-finals round left Huat Zai, ZIGMA, Expendables, and 100Ping to prove themselves on the giant stage.
ZIGMA defeated Huat Zai, while Expendables overcame 100Ping to earn a place each in the grand final. Huat Zai takes third spot, having met 100Ping in the process.
Overpass was the first map of the final, and it was here that ZIGMA gained an upper-hand advantage, since they began on the CT side. The Thai side was strong in the early stages, but later struggled to find a rhythm as the Expendables won rounds after rounds thanks to a dominant defense. However, ZIGMA regained late game dominance, and they went on to win the series 16-10 a couple of rounds later.
Mirage was a whole different story. Starting on a CT side once again thanks to their knife round win, ZIGMA successfully won the pistol round once again but got denied in the third round. After that, the game tempo was completely changed, resulting in a back-and-forth rounds by both teams. The Thai side, however, was able to expand their lead once hit the double-digit round until 14 round before Expendables turn the table around to 16-14 to tie the series 1-1.
SEE MORE: PWL CS:GO Season 1 Stage 1 Match Results and Standings
Mirage, on the other hand, was a whole different matter. Beginning on a CT side yet again as a result of their knife round victory, ZIGMA claimed the pistol round but was denied in the third round. Following that, the game's pace was drastically altered, culminating in back-and-forth rounds between the two teams. Expendables could not do much in the middle game after ZIGMA claimed the double-digit round and extend their gap. However, the 24th round proved decisive, as the Filipino teams regained their trust and eventually closed the gap to 16-14, tying the series 1-1.
On Inferno, Expendables initially took over as a T team, but that did not last long as ZIGMA bolstered their CT side, winning the first half 9-6. The second half was all ZIGMA, as Papichulo and co. were unable to capitalize, with the game finishing 16-9 as well as the series 2-1 for the ROG Masters 2021 champion, ZIGMA.
ROG Masters 2021 APAC Finals standings:
| | | |
| --- | --- | --- |
| Place | Team | Prize |
| 1st | 🇹🇭 ZIGMA | US$10,800 |
| 2nd | 🇵🇭 Expendables | US$4,300 |
| 3rd | 🇸🇬 Huat Zai | US$2,300 |
| 4th | 🇭🇰 100Ping | US$800 |
| 5th-8th | 🇸🇬 Random5 | US$400 |
| 5th-8th | 🇮🇩 Team ForteZ | US$400 |
| 5th-8th | 🇮🇩 4Sehat 5Sempurna | US$800 |
| 5th-8th | 🇮🇳 Headshot Esports | US$400 |
| 9th-16th | 🇮🇳 Wicked Gaming | US$800 |
| 9th-16th | 🇮🇳 2ez Gaming | US$200 |
| 9th-16th | 🇲🇾 Team LZ | US$800 |
| 9th-16th | 🇦🇺 Paradox Esports | US$800 |
| 9th-16th | 🇭🇰 Teletubbies | US$400 |
| 9th-16th | 🇸🇬 Alpha Black | US$200 |
| 9th-16th | 🇹🇭 ALERNATIVE.FXII | US$400 |
| 9th-16th | 🇰🇭 AG Esports | US$800 |
| 17th-32nd | 🇦🇺 Trident Esports | US$400 |
| 17th-32nd | 🇧🇩 Red ViperZ | US$800 |
| 17th-32nd | 🇻🇳 ilovefifa | US$400 |
| 17th-32nd | 🇯🇵 5Entry | US$800 |
| 17th-32nd | 🇰🇷 4Seasons Gaming | US$800 |
| 17th-32nd | 🇰🇭 Team A Point | US$400 |
| 17th-32nd | 🇻🇳 Gru Gru Team | – |
| 17th-32nd | 🇵🇭 Team Kwak | US$400 |
| 17th-32nd | 🇮🇳 Wasted Potential | US$100 |
| 17th-32nd | 🇱🇰 ZeGg Esports | US$800 |
| 17th-32nd | 🇻🇳 5Hunters | US$200 |
| 17th-32nd | 🇮🇩 Vatreni | US$200 |
| 17th-32nd | 🇧🇩 MCM Light | US$400 |
| 17th-32nd | 🇲🇾 Expired Esports | US$400 |
| 17th-32nd | 🇭🇰 Do Not Disturb La | US$200 |
| 17th-32nd | 🇹🇭 ZUl0o | US$200 |
Keep Track of All Asian Upcoming Matches on CSGO2ASIA.com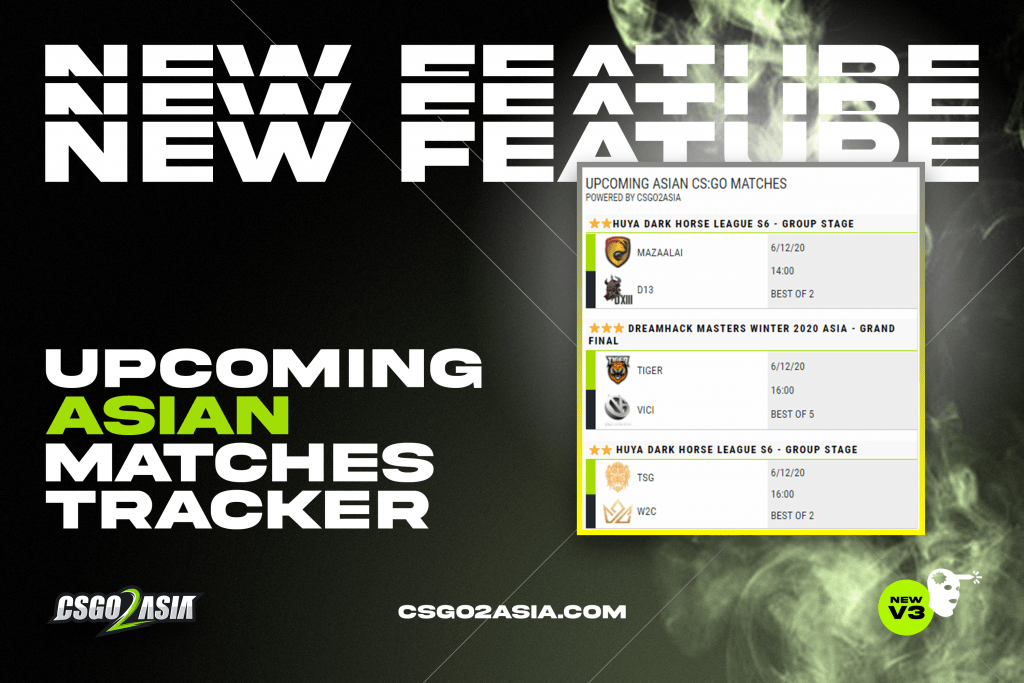 CSGO2ASIA.com offers a real-time match ticker, updated daily across all major matches to watch. We categorize the match from one to three stars according to both team's lineup, tournament rounds, and the tournament's prestige. You can always join the euphoria and watch your favorite team play by clicking on the match, and you will be directed to the live stream of the match. Just to remember that we use Singaporean Time (UTC+8) for all of the schedules. Check it out right now on the right side of our website for Desktop, or below if you are using Mobile!
---
For more insights on the Asian CS:GO scene and upcoming content like this, be sure to subscribe to our newsletter. Don't forget to follow CSGO2ASIA on Facebook, Twitter & YouTube.