The DreamHack Open June playoffs are taking off for Asia soon. Here's all you need to know about teams, format, prize pool, and where to watch the competition.
DreamHack Open June 2021: Asia will be held on June 30-July 3. Four teams will compete for US$30,000 in prize money and a spot in the IEM Fall 2021 event. Aside from that, the top three will earn ESL Pro Tour Points, a circuit system that connects over twenty ESL and DreamHack events and leagues into one narrative that builds towards two Masters Championships each year: IEM Katowice and IEM Cologne.
The team will aim to advance through a best-of-three format in a double-elimination bracket. The grand final will feature a best-of-five (BO5) competition, with one map advantage to the upper-bracket team.
ALSO READ: Bart4k joins Checkmate, bench ROUX
The playoffs feature four teams from the highest-echelons of Asian CS: D13 Esports, LVG, Checkmate, and Renewal. D13 Esports and Lynn Vision Gaming (LVG) were invited based on their ESL World Ranking, having attended a number of high-profile tournaments in recent months, including the Hyperion x OEL CS:GO Launch, Wuxi ProHouse Villa Cup Season 2, and Funspark ULTI 2021.
While Mongolian teams Checkmate and Renewal came all the way through the first and second open qualifier, respectively, beating the likes of Team NKT and Huat Zai, who were invited to the closed qualifier. The tournament will be attended entirely by East Asian teams, mostly from Mongolia, with China coming in second with one representative.
Following is the full schedule for the event:
Wednesday, June 30
16.00 – 🇨🇳 LVG vs 🇲🇳 Renewal | BO3
19.15 – 🇲🇳 D13 Esports vs 🇲🇳 Checkmate | BO3
Thursday, July 1
16.00 – Upper Bracket Final | BO3
19.15 – Lower Bracket Final Round 1 | BO3
Friday, July 2
19.15 – Lower Bracket Final | BO3
Saturday, July 3
19.15 – Grand Final | BO5
Hosting the tournament will be familiar faces of Asian CS:GO. Jordan "Elfishguy" Mays with James "jimNeso" Cowan will bring live coverage of matches as well as insight for pre and post-match segments. The full talent list for DreamHack Open June 2021: Asia is the following:
Lastly, the $30,000 prize will be distributed as follows:
| | | |
| --- | --- | --- |
| Place | Prize | ESL Pro Tour Points |
| 🥇 1st | US$16,000 + IEM Fall 2021 spot | 60 pts |
| 🥈 2nd | US$8,000 | 40 pts |
| 🥉 3rd | US$4,000 | 20 pts |
| 🏅 4th | US$2,000 | – |
How to Keep Updated With All of the Matches?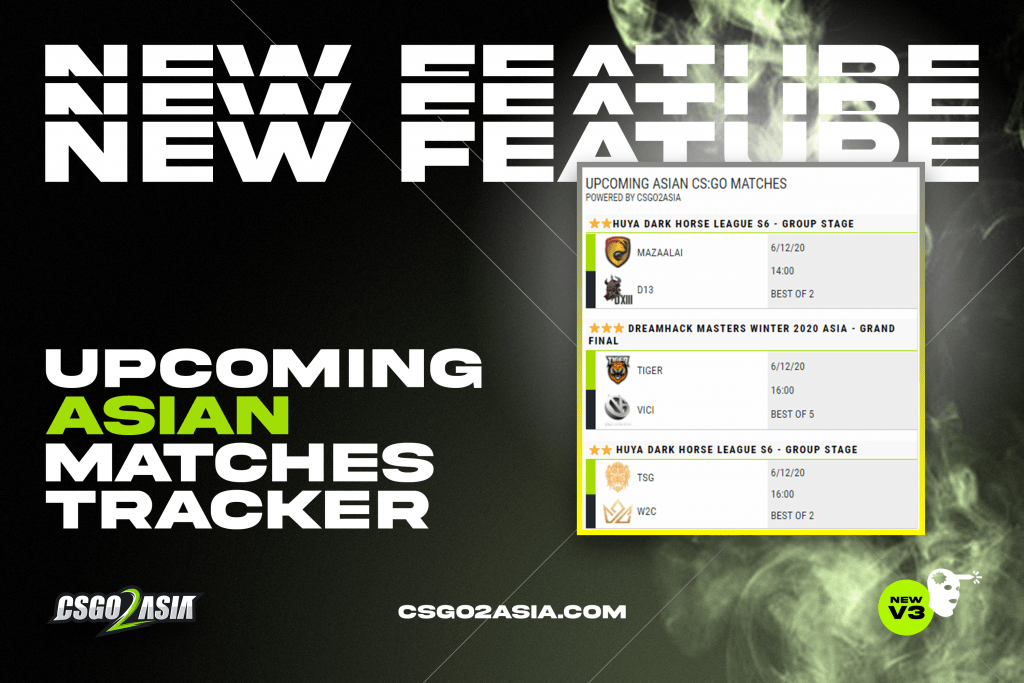 CSGO2ASIA.com offers a real-time match ticker, updated daily across all major matches to watch. We categorize the match from one to three stars according to both team's lineup, tournament rounds, and the tournament's prestige. You can always join the euphoria and watch your favorite team play by clicking on the match, and you will be directed to the live stream of the match. Just to remember that we use Singaporean Time (UTC+8) for all of the schedules. Check it out right now on the right side of our website!
---
For more insights on the Asian CS:GO scene and upcoming content like this, be sure to subscribe to our newsletter. Don't forget to follow CSGO2ASIA on Facebook, Twitter & YouTube.
Cover photo courtesy of DreamHack/Flickr
---