ESEA Season 34 will feature $180,000 in prizes; out of this, $4,500 will be set aside for the Asia-Pacific Open. $3,000 will be awarded to 1st place and $1,500 to 2nd. 

The playoffs will be an interesting one to watch as both old and new teams will make an appearance; familiar teams like Beyond Esports, TIGER, and Mazaalai are set to enter the fray. Newer teams like Huat Zai and Paper Rex will have to prove their mettle in the coming days. 

The playoffs will consist of a single-elimination bracket with BO3 matches. Unlike the previous seasons of ESEA, this season will not feature a spot for the MDL Global Challenge as previously mentioned in an announcement by ESEA.
Details on the bracket and matchups can be found here. As far as we know, no known streams have been set for the playoffs, but GOTV addresses are available for all matches by checking the official match pages on ESEA.
---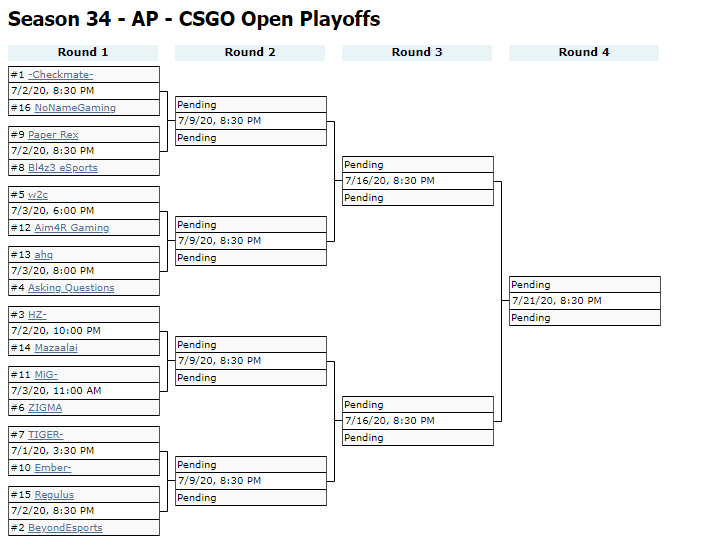 ---
Here are the teams participating:
🇲🇳 CHECKMATE
🇹🇭 Beyond Esports
🇸🇬 Huat Zai
🇸🇬 Asking Questions
🇲🇳 w2c
🇹🇭 ZIGMA
🇲🇳 TIGER
🇮🇳 BL4ZE Esports
🌏 Paper Rex
🇹🇭 Ember
🇲🇾 Mistaken Gaming
🇲🇳 Aim4R Gaming
🇹🇼 Ahq e-Sports Club
🇲🇳 Mazaalai
🇸🇬 Regulus
🇹🇭 NoName.Newgen
The total prize of US$4,500 will be split among the top two teams:
US$ 3,000
US$ 1,500
---