The ESEA League APAC Open has always been the event to prove a team's existence in the Asian scene. To equip you for this season, we prepared an overview of the crucial information about the 35th edition of the ESEA APAC Open.
This season, 10 teams will be playing in the online playoffs for their share of the $11,000 prize pool and the title of ESEA Season 35 APAC Open Champion. The first place spot was initially granted an invite to the ESEA MDL Global Challenge, an offline event that was canceled due to the global health emergency:
"Earlier this year, ESEA began the current season of the Mountain Dew League with the optimistic intent of running a global event with participating teams from four different regions across the world: Asia, Australia, North America & Europe. However, with the still ongoing global health situation, rising cases across the globe and iconic physical sporting organisations unable to avoid postponing matches, we find it not feasible to have an MDL Global Challenge with participating teams from four different regions in the world. As a result, we will be restructuring this MDL Season to be played entirely online."

ESEA MDL Global Challenge Update – esea.net – 29/10/20
With the removal of the MDL Global Challenge spot for Asia, teams in Asia and Oceania no longer have a direct path to qualify for the ESL Pro League. Instead, ESEA announced that they "will be working with ESL as they plan their 2021 calendar to identify potential future events/qualifiers that the Asia and Australia winners of the previous qualifying season and this current season could be invited to due to their performance in these respective tournaments."
---
Regular Season Summary
*Several teams received automatic disqualification due to inactivity and/or association with the wave of false VAC bans in early October.
---
ESEA S35 Playoffs: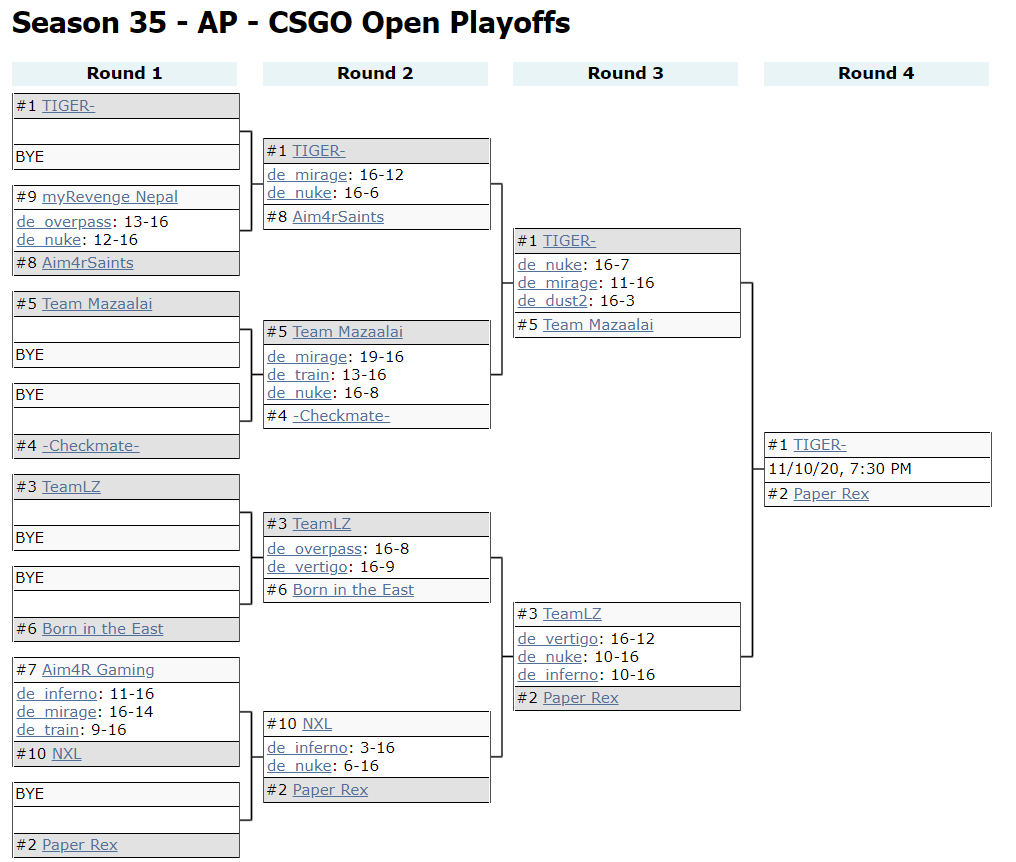 ---
Full Schedule:
The ESEA S35 APAC playoffs will use a best-of-three (BO3), single-elimination bracket. We have yet to find a broadcaster that will broadcast the matches live. However, if found, we will update this page. Matches commenced on Wednesday, November 4. All times in SGT (UTC +8):
Wednesday, November 4 – Round 1
Thursday, November 5 – Round 2
Friday, November 6 – Round 2
Sunday, November 8
Sunday, November 8
Grand Finals – Wednesday, November 11
---
Finally, the prize distribution for the ESEA S35 APAC Open is as follows:
US$10,000
US$1,000
---
For upcoming content like this, be sure to subscribe to our newsletter. Don't forget to follow CSGO2ASIA on Facebook, Twitter & YouTube.