ZOWIE eXTREMESLAND will return with its fifth edition starting on December 21 to February 14. Spanning across five Asia-Pacific regional divisions, the 8-week long event will feature open qualifiers and weekend playoffs.
ZOWIE eXTREMESLAND CS:GO Festival 2020 will have a quite different atmosphere from the last four iterations, with the competition divided into 5 APAC regional divisions, including Oceania, South East Asia, East Asia, Middle East, and South Asia.
eXTREMESLAND expressed that hosting the 2020 edition of eXTREMESLAND CS:GO was a hard thing to decide. "It was a challenge for us to decide on whether to host eXTREMESLAND this year. However, considering the health crisis, safety was and remains a primary concern."
Hundreds of teams will battle for a US$6,000 prize pot split equally between 4 out of 5 regions. First place will be US$1,000, and second place is US$500. However, East Asia Region will be prized with ZOWIE's XL2546K and XL2540K due to the currency restrictions in the region. Full details on the region & countries can be found below:
Region
Organizer
Countries
East Asia
B5 CSGO
China, Japan, Korea,
Mongolia, Taiwan, Hong Kong, Macau
South-East Asia
HYPE
Singapore, Malaysia, Indonesia,
Thailand, Vietnam, Philippines,
Brunei, Laos, Cambodia, Myanmar
South Asia
AFK Gaming
India, Sri Lanka, Nepal,
Bangladesh, Bhutan, Maldives
Oceania
InstaFrag
Australia, New Zealand
Middle East
TBA
UAE, Saudi Arabia, Turkey,
Pakistan, Lebanon
Each region will feature an open qualifier, culminating in an eight-team playoff. The total prize pool is US$6,000 and each region will stand a chance to win US$1,500. Four invited teams for each region will be announced soon, and be directly seeded into the playoffs.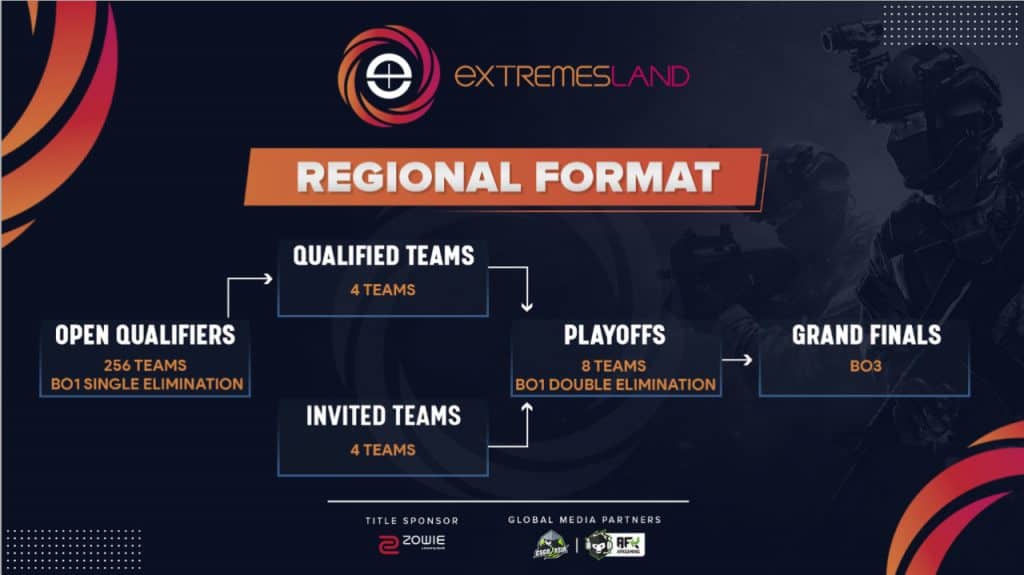 Starting from open qualifiers, the top 4 teams will proceed to the playoffs stage with 4 other invited teams in a best-of-one (BO1) double elimination system. The grand final itself will be using a best-of-three (BO3) format to determine the best team from that region.
The qualifiers will kick off with Oceania on 12th December. For South-East Asia, taking place on December 21-27 with the closed qualifier on January 7. Meanwhile, East Asia will take place on January 2-10. The Middle East open qualifiers will start on February 5-7, and finally for South Asia qualifiers will start from January 16-24. The full schedules can be found below: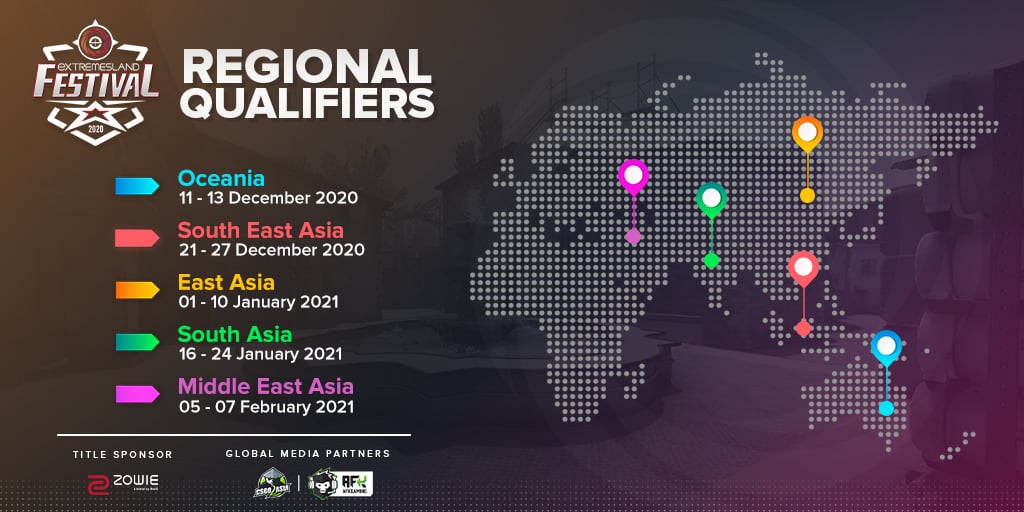 All regional qualifiers will be featured on eXTREMESLAND channels starting with the open qualifier semi-finals up to the playoffs. The on-air team for the event also has not been announced. More information about the live stream links will be announced shortly.
CSGO2ASIA is proud to be a media partner once again and will bring you all the relevant updates and key information, as well as exclusive interviews, highlights, and content around the event.
SOUTH ASIA: Registration Link
MIDDLE EAST: Registration Link
EAST ASIA: Download Perfect Battle Platform
OCEANIA: Finished, Check out the results here
SOUTHEAST ASIA: Finished, Check out the results here
eXTREMESLAND Support Hub: Discord
---
CSGO2ASIA is an official Global Media Partner for the ZOWIE eXTREMESLAND CS:GO Festival 2020.
For more insights on the Asian CS:GO scene and upcoming content like this, be sure to subscribe to our newsletter. Don't forget to follow CSGO2ASIA on Facebook, Twitter & YouTube.
---