ViCi have picked up their second title in 2020 after defeating TYLOO 3-0 (Default 1-0, Train 16-12, Inferno 16-12) in the grand final of IEM Beijing-Haidian 2020 Asia and collect the top prize of US$8,000.
The tournament featured four teams, which were played out using a double-elimination bracket with a best-of-three (BO3) system across all of the matches, with the grand final being played on a best-of-five (BO5). US$15,000 was up for grabs, with the prize pool distributed for all teams that compete.
ViCi booked their place in the grand final of the tournament by taking down Invictus Gaming (16-5 on Mirage, 16-11 on Train), and TYLOO (19-17 on Overpass, 16-14 on Inferno). They ended up with a rematch with YuLun "Summer" Cai's troops in the grand final. ViCi successfully dispatched their Chinese compatriots in two maps with great individual performances from all of five players.
READ ALSO: Kaze – "[JamYoung] definitely has the potential to be the next best player in Asia."
Proceeding from the upper bracket, ViCi benefited with one map advantage over TYLOO. The second map began on Train where TYLOO was able to gain momentum in early rounds as they racked up a 7-2 score before ViCi managed to overcome and close out the gap to 8-7. Haowen "somebody" Xu and friends stepped up and were able to get their pistol round on the second half, but they struggled to find any consistency, seeing ViCi victorious 16-12.
Next up was Inferno, ViCi responded in a keenly-contested game to take the series, which turned out to be a very similar story to Train. In the first half, they're overwhelmed by the attacking side with TYLOO taking 9 rounds over, but they managed to recover and only to give TYLOO three rounds in the entire second half. With no room for error, ViCi held strong and came out with the victory 16-12.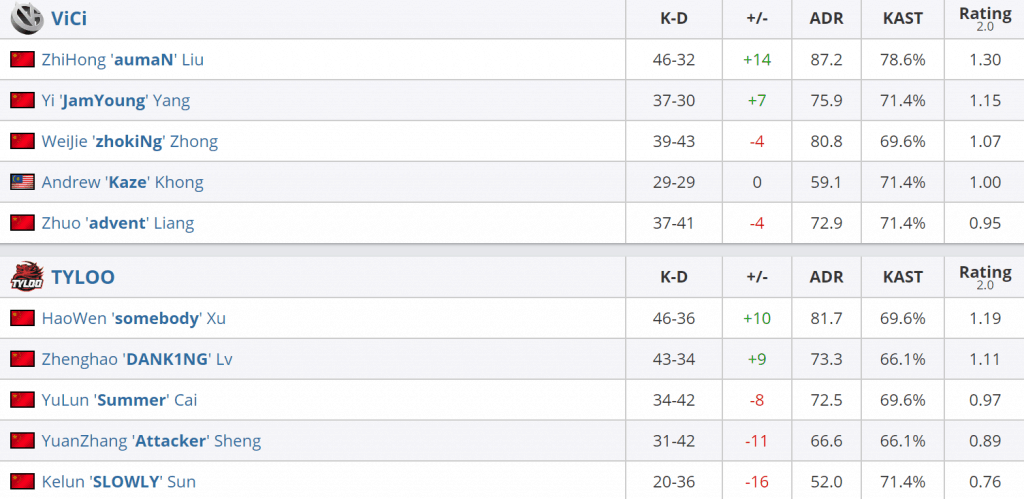 The final results for IEM Beijing-Haidian – Asia 2020 are as follows:
---
For more insights on the Asian CS:GO scene and upcoming content like this, be sure to subscribe to our newsletter. Don't forget to follow CSGO2ASIA on Facebook, Twitter & YouTube. 
---