Funspark ULTI 2021 – Asian Playoffs #1 is set to take place this week from the 19th to the 25th of August, and will see eight of Asia's finest squads battle for a share of the US$25,000 prize pool.
Funspark ULTI 2021 – Asian Playoffs #1 is a series of Funspark's all-year-long league that will be hosted until the end of the year and includes four Regional Series and two Playoffs. With little to no competition to play other than Funspark ULTI and ESEA League, the former seems to reflect closely with the current Asian team rankings in the top level.
The first season saw TYLOO lift the trophy by knocking out their Chinese rival Lynn Vision Gaming (LVG) in the grand final. Meanwhile, the second season was the higher-high moment for Team NKT after months of struggle to establish their footing against the elites of Asian CS:GO, as they were able to overcome Wings Up Gaming to win the second season title.
Funspark ULTI 2021 – Asian Playoffs #1 will feature eight of the Funspark circuit's top-ranked contestants. Team NKT currently holds the top spot, followed by TYLOO, who did not participate in the second Regional Series at all, and LVG with 20 points each. China took the largest portion of total participants with a total of four teams, followed by Mongolia with two. Hailing from the Middle East region, Camel Riders are set to participate after placing 3rd-4th in the second Regional Series.
Teams will fight it out in a double-elimination bracket with best-of-three series across all matches. The champions will be crowned upon the conclusion of the grand final on Wednesday, August 25, kicking off at 17.00 SGT (UTC+8).
Below are all eight participants:
| | |
| --- | --- |
| 🇨🇳 TYLOO | 🇲🇳 Renewal |
| 🇨🇳 LVG | 🇲🇳 Checkmate |
| 🇨🇳 Wings Up Gaming | 🌎 Team NKT |
| 🇨🇳 Invictus Gaming | 🇦🇪 Camel Riders |
ALSO READ: D13 Esports begin bootcamp in Turkey
Ahead of the tournament, Team NKT have signed Krit "Kntz" Chaiprasit, a former Beyond Esports player who shifted to VALORANT for a five-month stint with Renatus VALORANT before resuming his CS:GO career.
LVG took the opportunity to try out former Invictus Gaming player LiZhi "Starry" Ye during Jiajin "Kayo" Xu's injury recovery period. With Starry's departure from Invictus Gaming, the team has also acquired Hao "rage" Yu from Reece to fill in the void
Below is the bracket for Funspark ULTI 2021 – Asian Playoffs #1: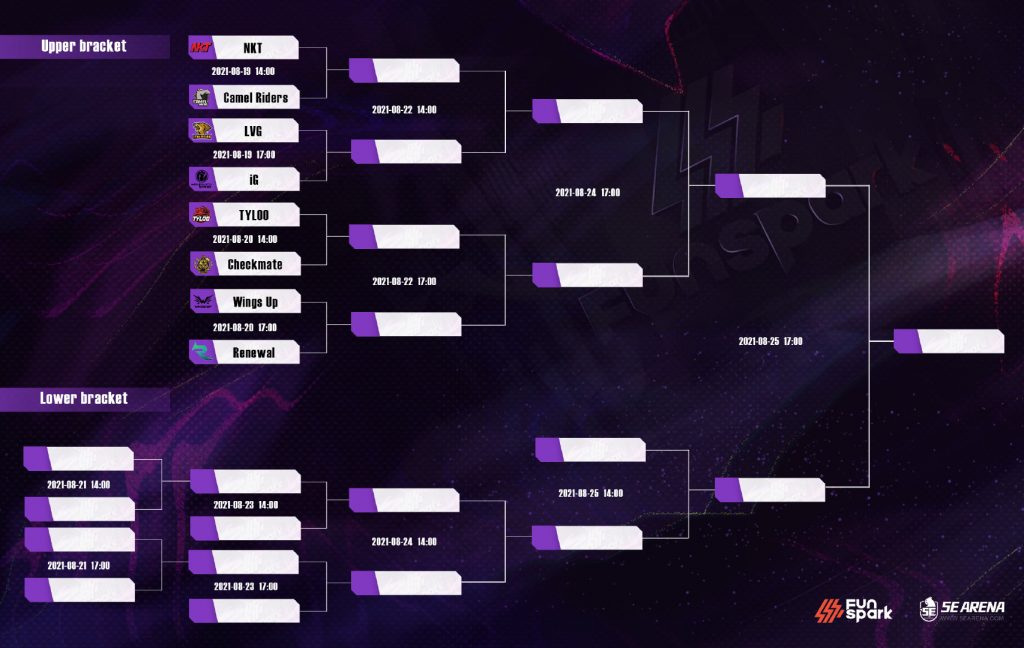 Lastly, here is how the US$25,000 prize pool will be distributed:
| | | |
| --- | --- | --- |
| Place | Prize | Points |
| 🥇 1st | US$12,500 | 40 |
| 🥈 2nd | US$5,000 | 30 |
| 🥉 3rd | US$3,500 | 16 |
| 🏅 4th | US$2,000 | 16 |
| 🏅 5th-6th | US$500 | 12 |
| 🏅 7th-8th | US$500 | 8 |
---
For more insights on the Asian CS:GO scene and upcoming content like this, be sure to subscribe to our newsletter. Don't forget to follow CSGO2ASIA on Facebook, Twitter & YouTube.
Cover photo courtesy of Funspark
---