TYLOO has emerged as the winner of Funspark ULTI Asia Regional Series 1 after defeating Lynn Vision Gaming (LVG) in the grand final (Overpass 19-17, Inferno 16-6). The Chinese giant claimed a US$7,500 first-place prize as well as 20 circuit points heading into the playoffs of the event.
TYLOO managed to come out on top of Funspark ULTI Asia Regional Series 1 despite a shaky run in the event. Facing LVG in the grand final after losing to them in the group stage match 2-1 (Train 16-11, Dust2 16-19, Inferno 7-16), the YuLun "Summer" Cai-led team also beat out several top teams such as Renewal, ZIGMA, and Invictus Gaming.
Funspark ULTI Asia Regional Series Season 1 saw the 16 strongest Asian teams duke it out for the start of the US$630,000 all-year-long event, which is divided into 4 seasons and 2 playoffs. One season offers US$15,000 and circuit points which determine the top eight teams which will move on to the playoffs. TYLOO, Wings Up Gaming, and NG Esports are some of the names that are present.
In the first season, a number of noteworthy teams exited the event long before the playoffs, most notably HuatZai and ZIGMA, who could not get a single win against their respective group members. ZIGMA were knocked out by TYLOO after a disappointing 0-2 record, and After Gaming (1-2), while HuatZai were crushed by Renewal (0-2) and TeamLZ (1-2).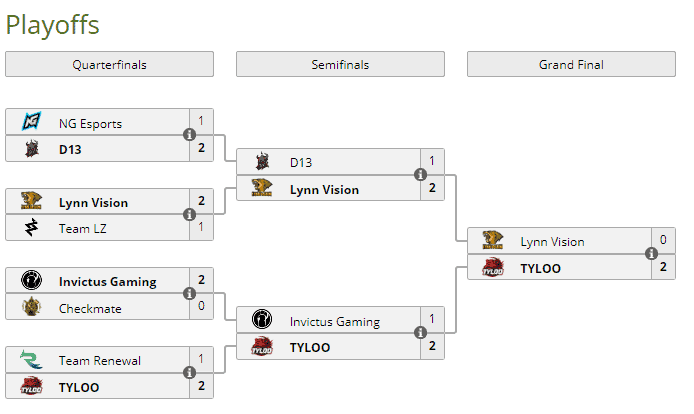 The Grand Final – TYLOO vs LVG
LVG opened the series on TYLOO's map pick, Overpass, taking an early 4-0 lead on the T side. However, TYLOO managed to turn it around by winning six rounds in a row. Another series of back and forth rounds saw LVG have a slight advantage at the end of the first half (8-7). The tide changed when sides switched with TYLOO finding the second pistol round and a further six-round win streak. The game was expected to go in TYLOO's favor. However, at match point, after Zhen "Aree" Long and Zhe "Xg" Niu's monstrous performance, LVG found themselves winning 6 rounds in a row, pushing the game to overtime. Despite the momentum LVG had, they could not close out the match as HaoWen "somebody" Xu & co. secured the game in overtime, 19-17.
Inferno was a much more straightforward affair for TYLOO once they had the money to buy up. While LVG captured the first two rounds by winning the pistol round, TYLOO took control of the next eighth rounds on their CT side, only giving the Heng "EXPRO" Yanga-led side a small space to breathe in the first half. LVG struggled to find answers, only winning four rounds in the first half of their map pick, with the struggle to continue in the second half. Their preferred CT side could not help much, with TYLOO dominating the whole way, ending the match with a score of 16-6.
SEE MORE: ARTiSAN Esports unveil lineup; backed by Thai celebrity
TYLOO's AWPer Zhenghao "DANK1NG" Lyu, has been named the Most Valuable Player (MVP) of Funspark ULTI Asia Regional Series 1 by CSGO2ASIA, capping off an impressive performance with a 1.41 HLTV rating.
Funspark ULTI Asia Regional Series 1 final standings:
| | | |
| --- | --- | --- |
| Place | Team | Prize |
| 1st | 🇨🇳 TYLOO | US$7,500 + 20P + S2 |
| 2nd | 🇨🇳 LVG | US$3,500 + 15P + S2 |
| 3rd-4th | 🇲🇳 D13 Esports | US$1,000 + 8P + S2 |
| 3rd-4th | 🇨🇳 Invictus Gaming | US$1,000 + 8P + S2 |
| 5th-8th | 🌍 NG Esports | US$500 + S2 |
| 5th-8th | 🇹🇭 Team LZ | US$500 + S2 |
| 5th-8th | 🇲🇳 Checkmate | US$500 + S2 |
| 5th-8th | 🇲🇳 Renewal | US$500 + S2 |
| 9th-12th | 🇨🇳 Newhappy | S2 CQ |
| 9th-12th | 🇨🇳 After Gaming | S2 CQ |
| 9th-12th | 🇨🇳 Wings Up | S2 CQ |
| 9th-12th | 🇨🇳 TaiChangGui | S2 CQ |
| 13th-16th | 🇨🇳 Let's Quit | S2 CQ |
| 13th-16th | 🇹🇭 ZIGMA | S2 CQ |
| 13th-16th | 🇨🇳 Reece | S2 CQ |
| 13th-16th | 🇸🇬 HZ | S2 CQ |
*P = Points
S2 = Season 2
S2 CQ = Season 2 Closed Qualifier
---
For more insights on the Asian CS:GO scene and upcoming content like this, be sure to subscribe to our newsletter. Don't forget to follow CSGO2ASIA on Facebook, Twitter & YouTube.
---