The Asian CS:GO community recently saw a wave of prominent players receiving VAC BANs simultaneously. However, this was not without cause. They all had something in common, that is, they often play a third party matchmaking service from China, 5EPlay.
In early October, several players were greeted with the nightmare of every aspiring professional, a VAC Ban. The affected players included Singapore's HZ players, Nigel "spielz" Aw, Marcus "nephh" Tan, Bren Esports player Patrick "Derek" Lacson, and Thailand's, Kritthee "Geniuss" Sawatmuang. These are just a few of the players more commonly known to our readers, but CSGO2ASIA has learned that many more from China including streamers, CSGO personalities and more were affected.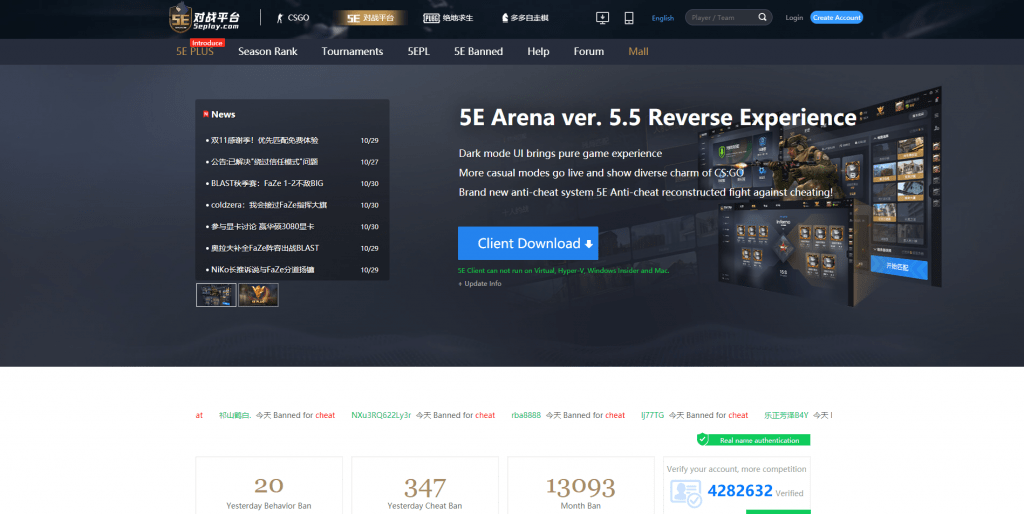 One week after the accident, in a rare occurence, the official CS:GO team stepped into the discussion and responded on the matter via Twitter.
As the responsible party, 5EPlay also issued an official statement through their website on October 16. They stated that 5E has maintained close communication and contact with Valve officials in all aspects of the issue, and immediately contacted Valve officials for assistance. They found that some modules have conflicts and compatibility issues with the CS:GO trusted mode.
"At present playing CS:GO on 5EArena is safe. We have temporarily closed trusted mode and VAC detection, to make sure 5E users can play games safely without occurring new compatibility problems or VAC problems until the problem is repaired.

At the same time, we are working with Valve to fix the current potential problems of the 5E client; and it currently entered the testing stage. After Valve confirms the new client repairs the existing problems, Valve will roll back bans. We will make an announcement as soon as possible to users and restart trust mode as well as VAC detection. "

5EPlay official statement, October 16 2020
5E also ensures that this will not happen again. Until now, almost all of these false ban has been handled by both 5E and Valve as the developer of CS:GO.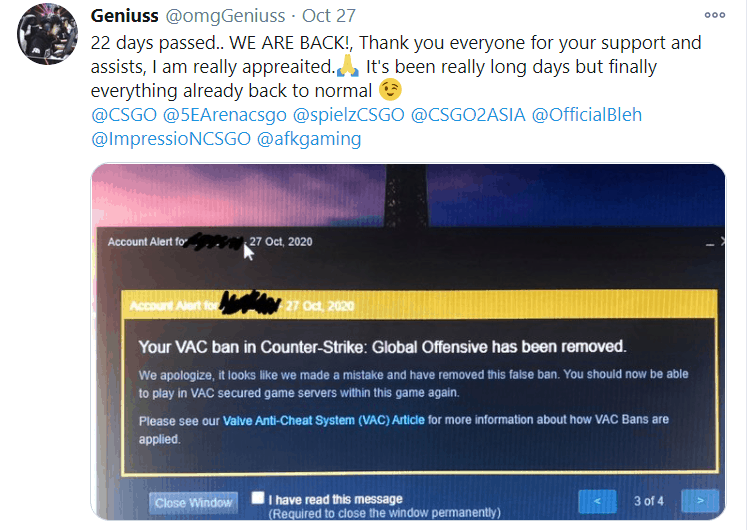 For now, the 5E client is safe to play. 5EPlay has already made a further statement about the safety of its services. They will ensure the safety of their services with Valve.
"Currently playing games on the 5E battle platform absolutely Safe. At the same time, all matches played on the 5E battle platform will not enter the official OW supervision scope, and it is also impossible to cause any OW ban. All CS:GO players, please rest assured to play on the 5E platform, don't believe it, don't spread rumors.

After a week of testing and joint debugging with Valve, we have fixed the 5E client "bypassing" the Valve trust mode issue. The new version will be released in the near future, and Valve will roll back users of the VAC ban caused by this incident. At the same time, in order to continue to protect the security of player accounts, we will continue to close the VAC state for a period of time until the incident is resolved. Closing VAC will not have any impact on the anti-cheating capabilities and efficiency independently developed by the 5E platform. At the same time, players banned by VAC will still be prohibited from logging in to the 5E battle platform. Please rest assured that we will continue to strengthen anti-cheating capabilities for players."

5EPlay official statement, 24 October 2020
If you are one of the players affected by 5E's false ban, you can directly contact 5Eplay through their support team. However, this process can take anywhere from, several days to several weeks to be addressed.
If you encounter the a pop-up window during your game on the 5E platform, don't worry. This happens because the 5E platform will turn off VAC by default when the game is launched. The client reminds the player that the VAC is currently turned off, and the prompt does not present any security issues. If you want to join other community servers or official matches, please restart CS:GO through Steam.
READ ALSO: What is the best CS:GO platform in Asia? (2017)
---
For more insights on the Asian CS:GO scene and upcoming content like this, be sure to subscribe to our newsletter. Don't forget to follow CSGO2ASIA on Facebook, Twitter & YouTube.
---