With ROG Masters 2021 APAC Finals kicking off on Thursday, CSGO2ASIA.com has prepared a comprehensive guide regarding the US$31,700 event just for you.
The last ROG Masters was held in 2017, which featured more than 500 registered teams across 13 country-based qualifiers. The CS:GO APAC final was won by 5POWER Gaming, who was able to beat Australia's Grayhound Gaming at SMX Convention Center, Philippines. The return of ROG Masters in the last three years has been long-awaited by many CS enthusiasts across Asia despite the controversy that has been going around regarding the nationality limitation.
The qualifying process has involved 15 countries across Asia-Pacific since late March. The open qualifier held by each country gave big opportunities for the local and upcoming talent to participate in the playoffs, representing their own country.
SEE MORE: D13, Wings Up, New Happy, Checkmate secure spots at PWL CS:GO Season 1 Playoffs
The playoffs will feature various teams from 15 Southeast Asian countries. Some prominent names in the competition including Huat Zai, who will represent Singapore. Furthermore, ZIGMA, Expendables (ex-Bren), 2ez Gaming, and Absolute Vatreni are among the teams to compete. Australia will put up two teams, Trident Esports and Paradox Esports, with the latter are ranked in the top four of HLTV's Oceania Regional Rankings.
The participants' list for ROG Masters 2021 APAC Finals looks as follows:
| | |
| --- | --- |
| 🇦🇺 Paradox Esports | 🇦🇺 Trident Esports |
| 🇧🇩 Red ViperZ | 🇧🇩 MCM Light |
| 🇰🇭 AG Esports | 🇰🇭 Team A Point |
| 🇭🇰 100P | 🇭🇰 Teletubbies |
| 🇭🇰 Do Not Disturb La | 🇮🇳 Wicked Gaming |
| 🇮🇳 2ez Gaming | 🇮🇳 Headshot Esports |
| 🇮🇳 Wasted Potential | 🇮🇩 4Sehat 5Sempurna |
| 🇮🇩 Team ForteZ | 🇮🇩 Vatreni |
| 🇯🇵 5Entry | 🇲🇾 Team LZ |
| 🇲🇾 Expired Esports | 🇵🇭 Expendables |
| 🇵🇭 Team Kwak | 🇸🇬 Huat Zai |
| 🇸🇬 Random5 | 🇸🇬 Alpha Black |
| 🇰🇷 4Seasons Gaming | 🇱🇰 ZeGg Esports |
| 🇹🇭 ZIGMA | 🇹🇭 ALERNATIVE.FXII |
| 🇹🇭 ZUl0o | 🇻🇳 Revolution Y |
| 🇻🇳 ilovefifa | 🇻🇳 5Hunters |
The playoffs themselves will be hosted on Thursday, with each match being a best-of-three all the way to the grand final. 32 contestants will duke it out for US$31,700 in prize money, split between the top three finishes, with the winner to take home a giant US$10,000 first-place prize. Nevertheless, all teams will grab up a fraction of the prize pool as the winner of its own Regional Event.
Following is the full bracket for the four days of play:
According to the official, the event will be live-streamed live on ASUS ROG's Twitch Channel. So far, there is no further information for the broadcast talent.
Concluding the viewer's guide is the ROG Masters 2021 APAC Finals prize pool breakdown, which looks as follows:
US$10,000
US$3,500
US$1,500
Regional (Country Qualifier) Prize Breakdown:
US$800
US$400
US$200
US$100
Keep Track of ROG Masters 2021 APAC Finals' Upcoming Matches on CSGO2ASIA.com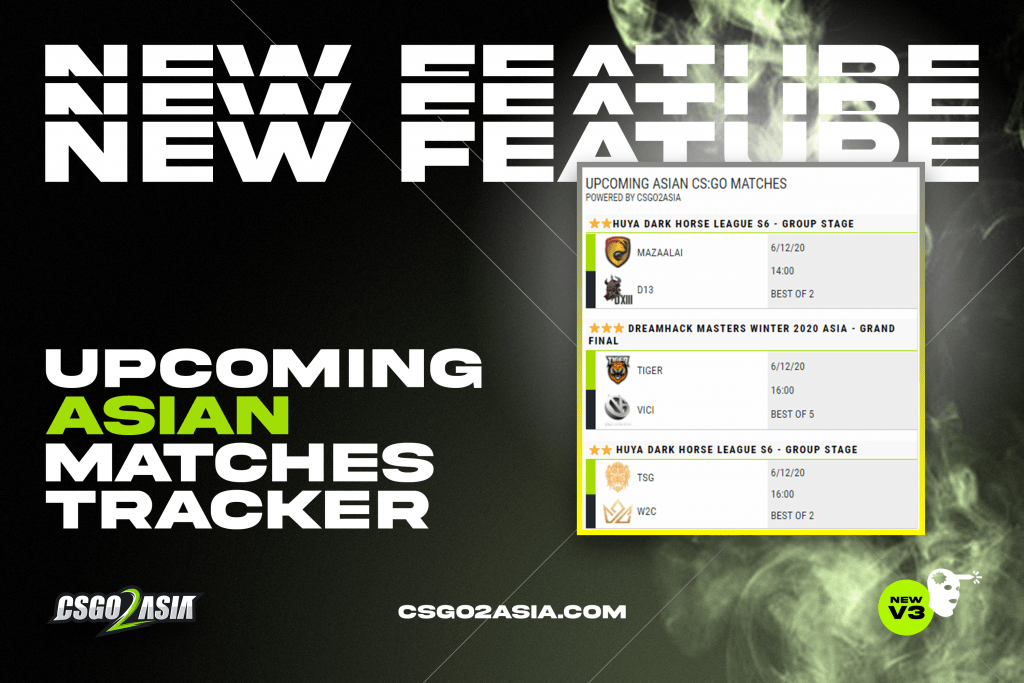 CSGO2ASIA.com offers a real-time match ticker, updated daily across all major matches to watch. We categorize the match from one to three stars according to both team's lineup, tournament rounds, and the tournament's prestige. You can always join the euphoria and watch your favorite team play by clicking on the match, and you will be directed to the live stream of the match. Just to remember that we use Singaporean Time (UTC+8) for all of the schedules. Check it out right now on the right side of our website for Desktop, or below if you are using Mobile!
---
For more insights on the Asian CS:GO scene and upcoming content like this, be sure to subscribe to our newsletter. Don't forget to follow CSGO2ASIA on Facebook, Twitter & YouTube. 
---