Asking Questions have revealed the official signing of its roster as the three-month trial period has ended. The Singaporean organization will also add Azim "Chapman" Shaharudin on trial to replace Kiran "Rossi" R, who joined ARTiSAN Esports a few weeks ago.
Since the start of this year, Asking Questions had been testing out several players for their roster in the last three months before they made the final decision. The results saw Asking Questions to proceed with the same squad that was representing them in the past three months, consisting of Yong "HSK" Sheng Koh, Daryl "insanity" Chua, Muhammad "chauuklet" Zaimie, Norbu "Karam1L" Tsering, excluding Kiran "Rossi" R. The ex-BL4ZE Esports player has decided to pursue another opportunity with the newly-launched Thai-Macau-based organization, ARTiSAN Esports.
During the trial period, Asking Questions successfully displayed some notable results against some teams in the region with two trophies under their belt – Rise of Legion: March 2021, and Logitech Esports League India. However, in the Asian stage, YSK and co. have struggled to perform against other top Asian teams, resulting in last place finishes in both ESEA Season 36 Open APAC Playoffs and 5E Arena Open Southeast Asia Season 1.
SEE MORE: Asking Questions Announces CS:GO Roster
With Rossi's departure from Asking Questions, Azim "Chapman" Shaharudin will fill the void as a trial player. He was last seen playing professionally under FrostFire, who disbanded in late-2018. Chapman has helped the Malaysian squad finish 3rd-4th in WESG 2018 Southeast Asia and 5th-8th place at eXTREMESLAND Asia 2018.
The arrival of Chapman will mark the third Malaysian professional player that is still actively playing internationally, together with Andrew "kaze" Khong and Ramona "GFi" Azween under ViCi Gaming and TYLOO Female banners, respectively,
Other than that, Lukas "yb" Gröning has revealed that he will stay in charge of the team moving forward, with Cedrik "Cedii" Köhler who will provide assistance to the team as the assistant coach.
With Chapman's addition, AskingQuestions now have:
🇲🇾 Muhammad "chauuklet" Zaimie
🇩🇪 Lukas "yb" Gröning (coach)
🇩🇪 Cedrik "Cedii" Köhler (assistant coach)
How to Keep Track of AQ's Upcoming Matches?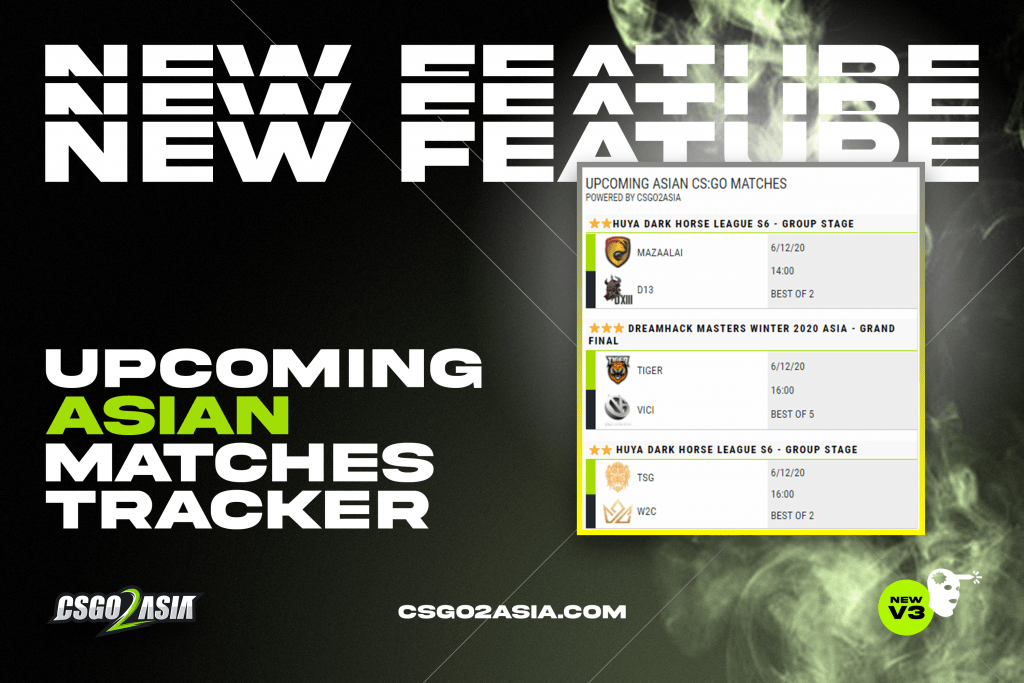 CSGO2ASIA.com offers a real-time match ticker, updated daily across all major matches to watch. We categorize the match from one to three stars according to both team's lineup, tournament rounds, and the tournament's prestige. You can always join the euphoria and watch your favorite team play by clicking on the match, and you will be directed to the live stream of the match. Just to remember that we use Singaporean Time (UTC+8) for all of the schedules. Check it out right now on the right side of our website!
---
For more insights on the Asian CS:GO scene and upcoming content like this, be sure to subscribe to our newsletter. Don't forget to follow CSGO2ASIA on Facebook, Twitter & YouTube.