Sangal Esports are the champions of eXTREMESLAND CS:GO Festival 2020 Middle East following a 2-1 victory (16-14 on Mirage, 10-16 on Dust2, and 16-13 on Nuke) over NASR Esports in the grand final.
The eXTREMESLAND CS:GO Festival 2020 Middle East Asia event saw eight of the best teams in the region compete in the playoffs, featuring several noteworthy teams such as Sangal Esports, NASR, YaLLA Esports, and others to net the $1,500 USD prize pool. The open qualifier saw a field of 74 teams vying for four spots in last weekend's event.
The first round of the playoffs bracket saw ForGlory and YaLLa Esports eliminated by the two open qualifier teams, BlindTappers and Lets Go, respectively. NASR Esports' run through the playoffs saw them on a smooth road as they were able to overcome Corrupted 2-0 (16-0 on Train, 16-7 on Nuke), but later found themselves securing victory against BlindTappers despite some close halves and overtime affair in the third map. Sangal Esports climbed to the grand final by defeating Imaginative 2-0 (16-7 on Nuke, 16-3 on Inferno), and Lets Go (16-7 on Dust2, 16-10 on Nuke).
ALSO READ: Lenovo Rise of Legion March 2021 – Registration begins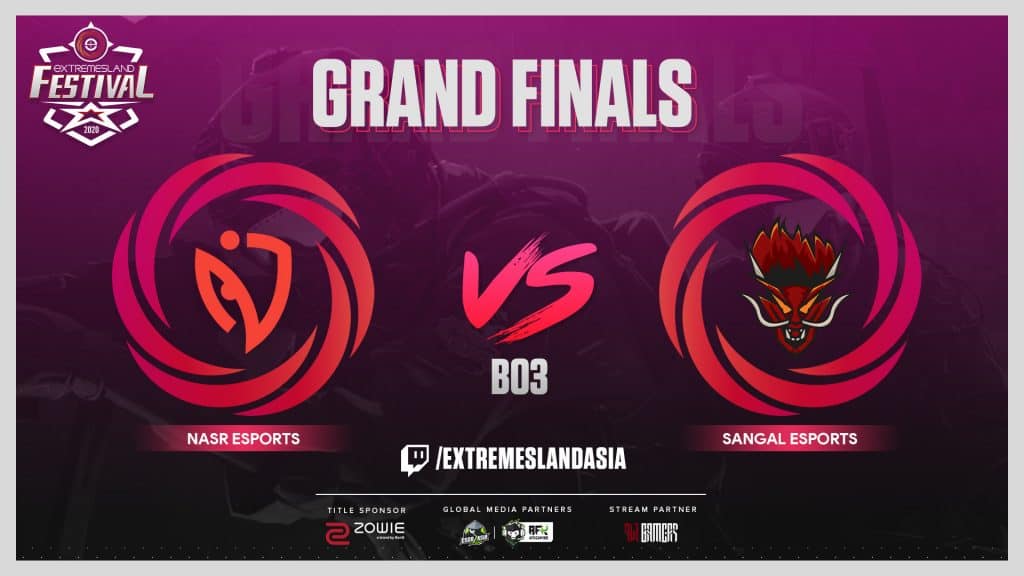 EXTREMESLAND EXCLUSIVE INTERVIEW: Wings Up – "Of Course We're in the Top 5 Asia Rankings"
The first map of the Middle Eastern grand final saw Sangal Esports snatch away NASR Esports' map pick on Mirage, starting relatively one-sided with them winning various crucial rounds. However, NASR Esports were able to reduce the round difference to 6-9. The second half saw NASR kick their performance up a gear and overtake Sangal Esports 14-12 but failed to secure the map as Engin "MAJ3R" Küpeli's troops take the map over the line 16-14.
The second map was a clean sweep for NASR after they got ten rounds in the first half and closed out the map 16-10 after Sangal Esports' failed revenge in the second half. The action then moved to the decider map, Nuke, which unfolded similarly with the second map as Sangal Esports were able to show a potent force on their defence to pull ahead 10-5 in the first half. The switch to the CT side gave NASR another hope to rebound, which started in round 22. Mohammad "BOROS" Malhas and co. were able to hold back Sangal by winning rounds back-to-back from 6-15, but the Turkish refused to let things get more out of hand and finalized the score at 16-13 to claim the eXTREMESLAND CS:GO Fesitval 2020 Middle East Asia title.
eXTREMESLAND CS:GO Festival 2020 Middle East Playoffs final standings:
| | | |
| --- | --- | --- |
| Place | Team | Prize |
| 1st | 🇹🇷 Sangal Esports | US$1,000 |
| 2nd | 🌎 NASR Esports | US$500 |
| 3rd-4th | 🌎 BlindTappers | – |
| 5th-8th | 🌎 Lets Go | – |
| 5th-8th | 🇮🇷 ForGlory | – |
| 5th-8th | 🌎 Corrupted | – |
| 5th-8th | 🇱🇧 YaLLa Esports | – |
| 5th-8th | 🇹🇷 Imaginative | – |
---
CSGO2ASIA is an official Global Media Partner for the ZOWIE eXTREMESLAND CS:GO Festival 2020.
For more insights on the Asian CS:GO scene and upcoming content like this, be sure to subscribe to our newsletter. Don't forget to follow CSGO2ASIA on Facebook, Twitter & YouTube.
Cover photo courtesy of HLTV.org
---