Beyond Esports have been crowned the 188Esports Thailand Championship 2020 after taking down NG Esports in a best-of-three series (8-16 on Nuke, 16-12 on Mirage and 16-5 on Train). In addition, Anupong "stk" Mueangngam's side will also bring home prize money of ฿50,000 (~US$1,608).
The top Thai team added the second event title to their wins of the year and proved that they are capable of fighting a newly formed team with high hype around the CS:GO community, NG Esports. Beyond Esports managed to beat all teams through the process, taking down SEA.ANY1 (16-12, 16-9) and hadtro (16-3, 16-7).
However for this tournament, the multinational super team couldn't show their full potential, as the organization has still not confirmed the signing of xccurate after our previous announcement. Until they secure the last piece of the puzzle, they will be using their coach, Piyangoon "MYM" Kitisin to fill in the void.
The series began on Nuke with NG Esports wiping the floor with Beyond in the first seven rounds until the Thai team managed to overcome them by 7-8 in the first half. But Beyond couldn't close out the game after Hyun-Pyo "XigN" Lee crushed them with a 2.01 HLTV rating until the end of the game for a score of 16-8.
Next up was Mirage, which saw Beyond take the pistol round to gain the momentum until winning 5-0. NG Esports quickly recovered after winning an eco round with erkaSt and cbbk got two kills each. The first half was almost a straight copy from Nuke as Phoomphat "qqGOD" Phodjanat and friends finalized the half with a 7-8 scoreline.
After switching over to the CT side, NG Esports successfully picked up the pistol round. However, Beyond responded with another three winning points. They continued their momentum to 15-11. Thotsaphon "cbbk" Suphatthanaphalaphon and co. still gave NG Esports' fans some hope with winning the 27th round, but they couldn't chase the overtime with Beyond locked down the map at 16-12 and tie things up.
READ ALSO: D13 Beat Wings Up for IEM Beijing-Haidian 2020 Asia
Train as the decider map began with NG Esports taking the pistol round and the next 2 points. After giving up both eco rounds, Beyond Esports upped the pace and took six straight rounds as the newly formed international team were constantly outplayed. They successfully extended their winning to a 10-5 lead in the first half.
NG Esports were nowhere to be seen for the vast majority of their CT side, with Beyond refused to slow down and continued the onslaught, until Krit "Kntz" Chaiprasit's squad emerged victorious at 16-5, 2-1. For the whole best-of-three matchup, Maitri "MAIROLLS" Sukrob successfully deliver the team averaged a 1.18 HLTV rating, followed by Anupong "stk" Mueangngam.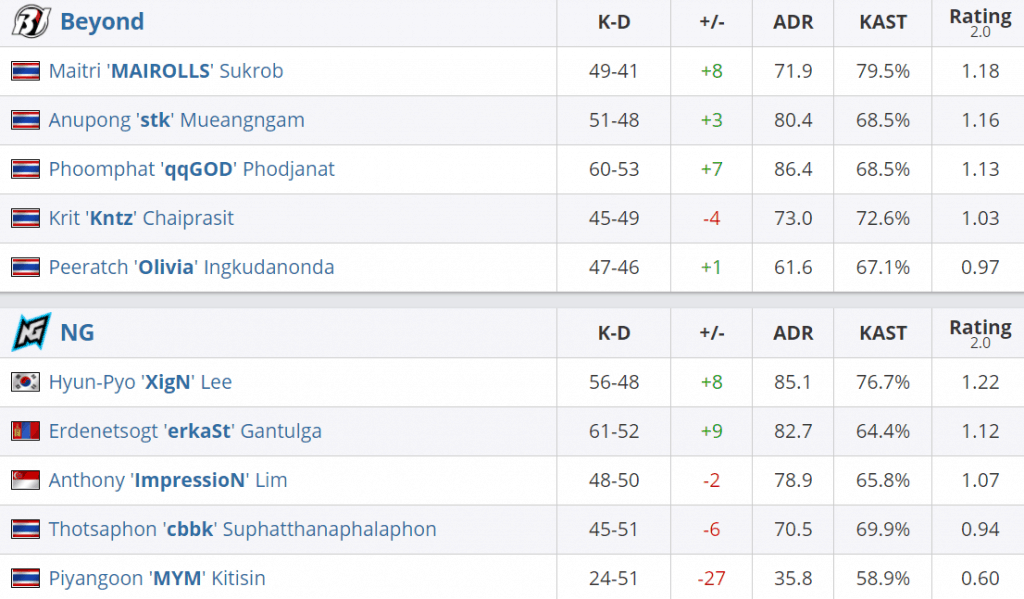 188Esports Thailand Championship 2020 final standings:
| | | |
| --- | --- | --- |
| Place | Team | Winning |
| 1st | 🇹🇭 Beyond Esports | ฿50,000 (~US$1,608) |
| 2nd | 🌏 NG Esports | ฿30,000 (~US$964) |
| 3rd-4th | 🇹🇭 hadtro | ฿10,000 (~US$321) |
| 3rd-4th | 🇱🇦 Nine Esports | ฿10,000 (~US$321) |
| 5th-7th | 🇹🇭 SEA.ANY1 | – |
| 5th-7th | 🇹🇭 Team ZABB | – |
| 5th-7th | 🇹🇭 Mad Army 2.0 | – |
For more insights on the Asian CS:GO scene and upcoming content like this, be sure to subscribe to our newsletter. Don't forget to follow CSGO2ASIA on Facebook, Twitter & YouTube. 
---
Cover photo courtesy of HLTV.ORG