The World Cyber Arena (WCA) 2017 APAC Qualifiers has come to a close, and the first two teams to qualify for the main event has been determined: Singapore's B.O.O.T-dream[S]cape and Australia's Chiefs.
The online closed qualifier for the Asia-Pacific region kicked off on July 24th, with a nine-team round-robin BO1 group stage featuring seven invited teams and two from the open qualifiers, held in early July.
In a surprising turn of events, Korean powerhouse MVP Project disbanded mid-way through the qualifiers, forfeiting their remaining games. To further complicate matters, Thailand's 7642 also dropped out mid-way, leaving just seven teams to contest for the two qualifying spots.
Following the group stage playoffs, four teams topped the table to progress to the double-elimination, best of three playoffs: Chiefs, The MongolZ, Signature and B.O.O.T-d[S].
The first match-up between Chiefs and The MongolZ ended up being a tight one, but Chiefs managed to close out the series 2–1 despite dropping their map pick, Train. On the other side of the bracket, B.O.O.T-d[S] dealt with Signature comfortably, securing a spot in the upper bracket game against the Aussies.
In the first upper bracket finals, the Singaporeans fell short to Chiefs in an exciting series, giving the boys from down under a guaranteed qualifying spot. The lower bracket finals saw The MongolZ progress past Signature ready to face B.O.O.T-d[S] in the consolidation finals. However, it was the squad from the little red dot that pulled through, in the end, ready for a rematch against the Chiefs.
The two teams then rematched in the grand final, but this time it was a cleaner win for Tyler 'tucks' Reilly and his men, who closed out the series with a score of 16–5 on Mirage and a 16–14 on Train. A summary of the final match and standings can be seen below.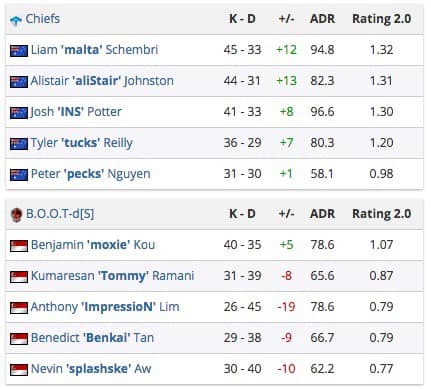 The two APAC finalists will earn themselves the majority share of the prize pool and an all-expenses paid trip for the WCA 2017 grand finals happening later this year.
READ HERE: Dream[S]cape at the Masters
---
For the biggest news & insights on the Asian CS:GO scene and upcoming content like this, be sure to subscribe to our newsletter.