A word about CAL Masters Division by Harley "dsn" Orwall. What is the history of Masters division, where is it heading, and how do you join in the coming months?
When CAL (previously APL) launched in October of 2018, we catered to the best players in the region through our Masters Division – an invite-only hub with the best players and the highest prize money. Our mission was to provide the best Asian CS:GO players a platform to compete and improve, similar to that of FPL in EU and NA.
For the first few seasons, Masters (formerly Pro Division) was healthy and the pros were supporting the project by being active and queueing. But, around the fifth season, the activity started to dwindle. In an attempt to raise the level of activity, we changed from monthly to biweekly leaderboards. The same amount of cash prizes were offered, but the distribution was slightly altered. The idea was that it would be easier for players with busy team schedules to play and feel like they had a chance to win if the seasons were shorter. After a brief success, in just a few short weeks, this did not result in the activity boost that we had hoped for and things were back to square one.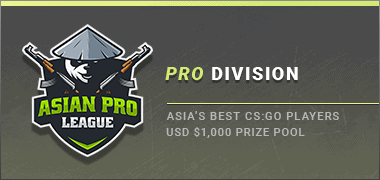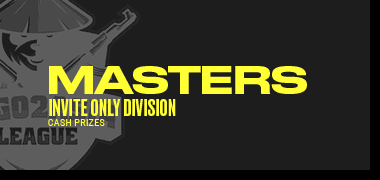 Ultimately, we decided to close down Pro Division in October of 2019, a year after its inception. The league then took a different direction, with the focus for CAL shifting to improving our offering for less established players in the lower divisions. The league was re-branded to the CSGO2ASIA League, moving away from the "pro" moniker. Asian Pro League just didn't feel like it was living up to it's name, and we re-branded the Pro Division to "Masters".
The idea was to keep the Master's division as a placeholder for our future plans, and, for the bulk of 2019, we did not invite anyone new nor did we host any leaderboards. We told ourselves that we would work on identifying the true "Masters" of Asian CS:GO, prospective players for new teams, up-and-coming talents, and rebuild Masters later.
The Return
In the wake of the 2020 epidemic and lack of events in Asia, many pro players reached out to us asking if we would ever consider bringing it back. At first, we were reluctant, given our previous experience. But, after months of careful consideration, and with a returning sponsor on board in ZOWIE generously supporting the league, we felt that it made sense to give Masters one last shot. We knew that if it didn't work out this time around, we would probably never attempt to revive it again. 
Surprisingly, the activity since bringing Masters back in October 2020 has by far exceeded our expectations. The players have been queuing up, many new pro players have joined and overall it has been a great environment to play in. We have seen professionals from teams like TYLOO, ViCi and Invictus compete against the sharp Mongolian players from TIGER, D13, and Checkmate. This, together with some previous Division 1 winners has made for a very exciting past few months.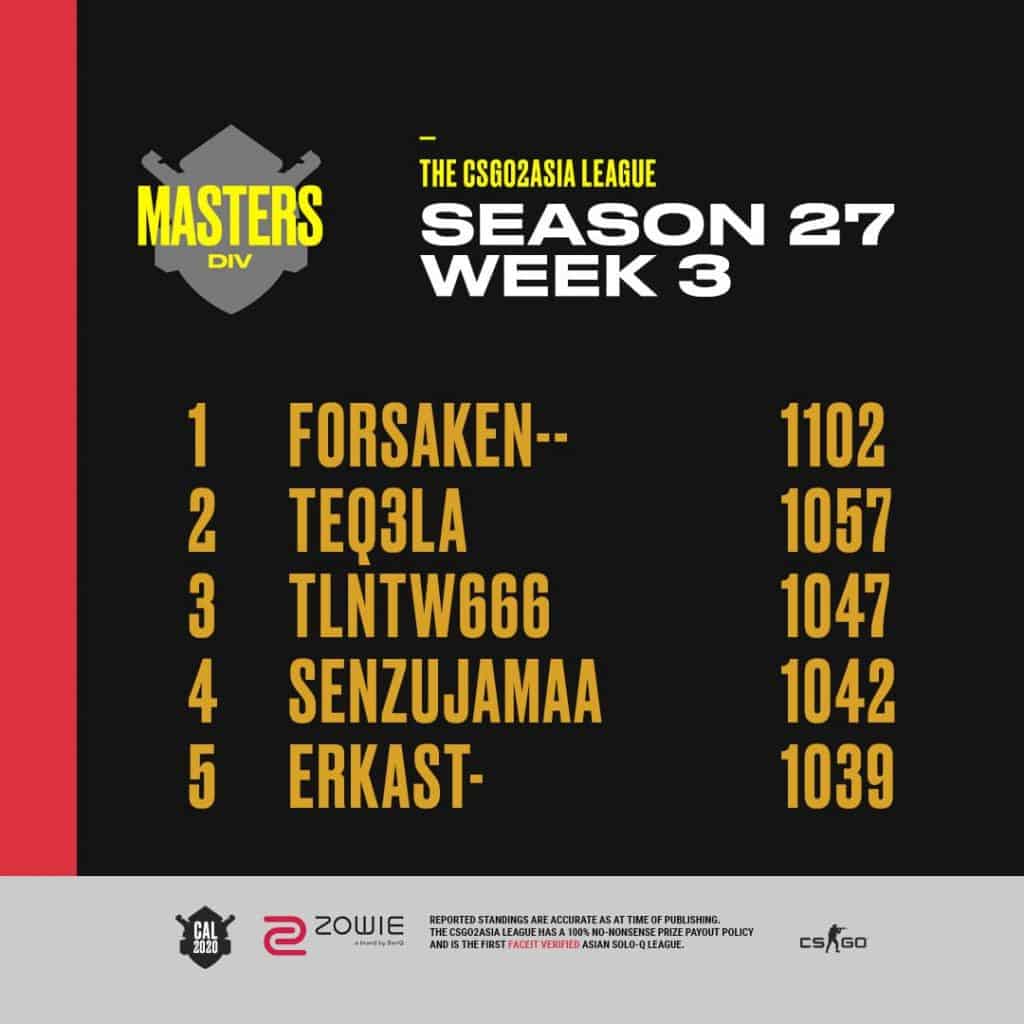 So…How Do I Join Masters?
Since bringing Masters out of its idle state, we have been getting daily messages from players wanting to join our most prestigious division. So far, the invitation process has been ambiguous and we have not really specified publicly who we are inviting. While we do not have any intention to have an entry procedure cloaked in mystery, our role as curators of the league means that we have to make sure that the players we invite are skilled enough to cut it. Today, we will unveil our reasons and logic for our invitation-only system:
We have mainly been inviting players from Asia's best teams. We are actively working to update the player list as quite a few players that previously played CAL during 2019 have made the switch to Valorant, or left CS:GO for other reasons. This process will take time, for us to clear out the "crop" and replenish the pool with new, hungry players.
We have invited certain individuals who recently left teams, or are prominent streamers in their region (example: China), and have been vouched for by more than 4-5 individuals.
At this point in time, the only guaranteed way to get into Masters as a player who is not on a top team is to qualify from Division 1. Each season we will allocate two invites into Masters, for 1st and 2nd place in Division 1.
In summary, we feel that entry into CAL Masters is a privilege. This isn't just another hub. CSGO2ASIA is committed to getting the league right for everyone, not just the professionals, and not just the "casuals". These things take time and will continue to adapt. Moving forward into 2021, we will continue to monitor the activity, make invitations public and find new and innovative ways to highlight players getting into Masters, providing them the honor they deserve!
---
A Word About Our Sponsor – ZOWIE
ZOWIE was founded at the end of 2008. It is a brand dedicated to the development of professional esports equipment. At the time of its debut, there were only three hardworking employees and one product. As there was no "esports" back then, ZOWIE had spent a lot of time gathering, listening, and engaging with competitive gamers/players on the internet, forums, and gaming communities worldwide. That got them into the world of esports.
Fast forward to today, and the BenQ ZOWIE XL series monitors are the most popular gaming monitors to professional gamers around and adopted by world-class tournament organizers globally. It's not because of the latest technology, or the cheapest price. It was all because of the product's meticulous design approach, with real player's insight, development, and testing.
Learn more about ZOWIE here: https://bit.ly/3dbcRuF
---