We interviewed VERTEX's in-game leader Toby "BRACE" Barnes after his team beat Bizarre 2-1 in the grand final of eXTREMESLAND CS:GO Festival 2020 – Oceania to be crowned champions
VERTEX won eXTREMESLAND CS:GO Festival 2020 Oceania after taking down the open qualifier winner, Bizarre, and justified their position as favorites in the playoffs. After the match, we caught up with BRACE as the brain behind VERTEX success and get his post-match impressions. We talked about VERTEX exceeding their expectations in just three months playing together, preparations before Oceania playoffs, and what the team has its sights on after their victory, especially for 2021.
---
CSGO2ASIA: Coming into this tournament, did you expect your team to win the playoffs? Considering you're the favorites here. What is on your mind?
BRACE: We definitely had the internal expectation of winning this tournament. Saying that, this tournament was 2 weeks into our player break so we tried to have some fun with it and play loose.
CSGO2ASIA: I'd like to go back to the upper bracket final versus R!OT. It was an extremely close affair that saw you guys win 16-14. Talk me through that series – how intense was it?
BRACE: That was a pretty interesting game as we had to sub in kayoh for pz. It's always really enjoyable playing with up-and-coming players who get genuinely excited at chance of playing official matches, and he was a huge part of our comeback from 11-14. I think we all have this problem in the team where we "auto-pilot" in BO1's and only wake up when it feels losable. However that isn't to discredit R!OT, Fiend was very annoying to play against on their CT side.
ALSO READ: CAL Masters Division – A Brief Overview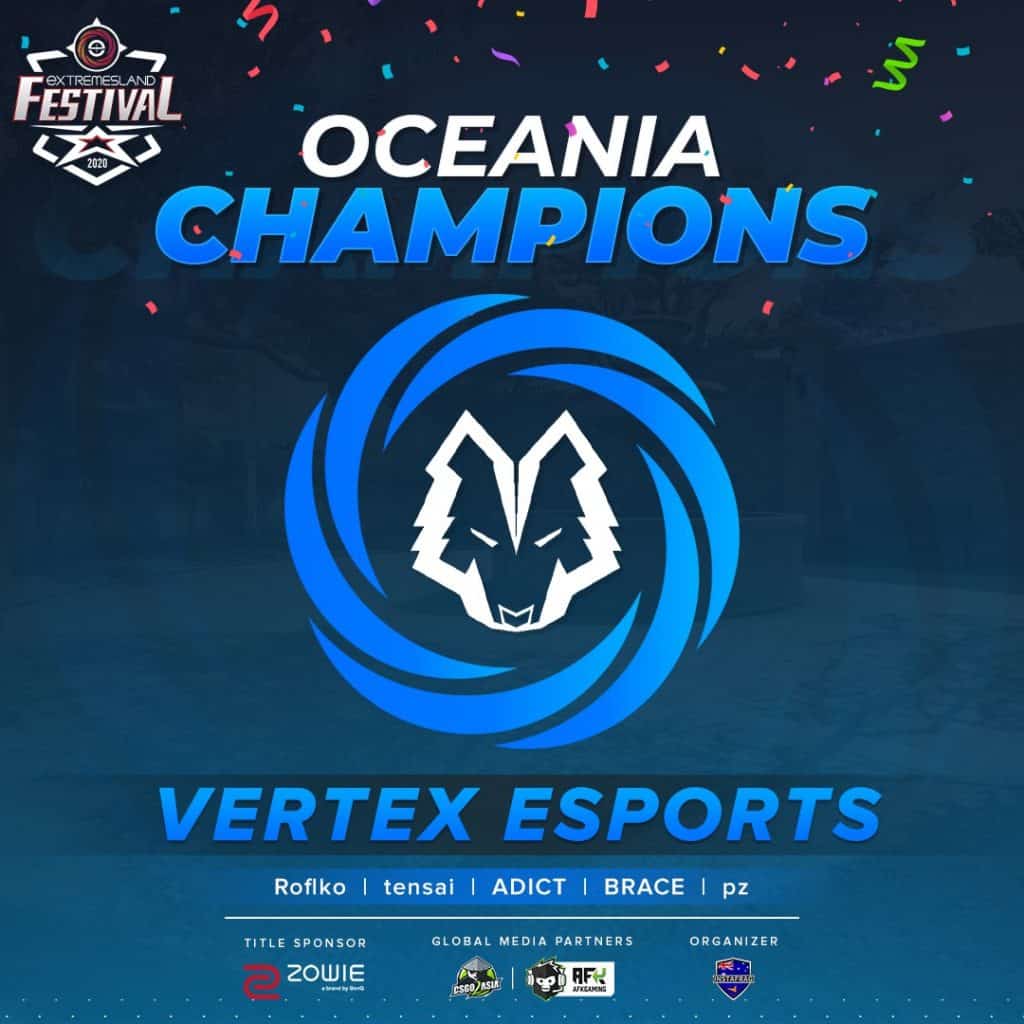 CSGO2ASIA: The grand final ended up being very close, but you guys seemed to be able to deal with them. Do you feel that Bizarre is a stronger team in Nuke compared to your team? and did you expect them to pick that map?
BRACE: We didn't know 100% that they would pick nuke, however in the past mizzy was a pretty strong caller on Nuke, Train and Inferno so we didn't get completely blindsided by it. Their game plan on the T-side was pretty successful in exploiting our upper with a lot of variation and Liki played really well as usual. Although they took Nuke off us this time, I think we are undoubtedly the stronger team because we do not rely on high variance solo aggression and gamble stacks to win CT rounds. It feels like a band-aid solution to a specific individual's inability to make good mid-round decisions and understand rotations.
CSGO2ASIA: How's the atmosphere in VERTEX? Since you guys are considered a new team in the Oceanic scene but managed to be in the top five HLTV Oceania rankings.
BRACE: If you told any of us 3 months ago that we would have progressed this fast we would have been very happy. Me, Roflko and pz have been playing together on and off for roughly 2 years now, so it feels really good to find the final pieces of the puzzle. I think tensai has been the catalyst for our improvement, he is very vocal in the mid-round and challenges a lot of the assumptions we operate under. Although everyone in the team was proud of our results last season, we are motivated by our rate of progression not our current ranking and are excited to carry our momentum into 2021.
"If you told any of us 3 months ago that we would have progressed this fast we would have been very happy. Me, Roflko and pz have been playing together on and off for roughly 2 years now, so it feels really good to find the final pieces of the puzzle."

Toby "BRACE" Barnes
CSGO2ASIA: Considering your recent success, what are the team's expectations and ambitions heading into the next year?
BRACE: Our biggest goal going into next year is beginning to properly contend with the top 3. Last year we really struggled against teams like Rooster and Avant who heavily exploited us individually, so we brought in soju_j as a coach. His experience as a player gives him a good understanding of how to push players to optimise different areas of their game and identify our individual gaps. We have a pretty strong emphasis on improving individual decision making, so we play a very default-heavy style in practice to ensure we maximise our exposure to mid-round situations. I feel like we are improving at a faster rate than a lot of other teams because we hold each other accountable to playing percentage CS 24/7, so we are hopeful that we can close the gap between us and the top teams over the course of 2021.
CSGO2ASIA: With so many rumors going around about LAN in 2021, how do you think next year is going to look? Is it going to be the same as 2020 for CS:GO or there will be a chance for you guys to show up on LAN in Australia?
BRACE: If you asked me two weeks ago I would have been optimistic but I'm not holding my breath for a domestic LAN next year. However, if there is a domestic LAN it would instantly become our number one priority as a team. It would be awesome to finally have everyone on the team in person, and it would be the first time any of us actually got to play team CS on LAN.
CSGO2ASIA: Is there anything else you'd like us to know?
BRACE: I'd like to say thank you to all my teammates, pz, tensai, ADDICT and soju and give a special shoutout to our organisation Vertex and the owner Jamie (AWOOO).
---
CSGO2ASIA is an official Global Media Partner for the ZOWIE eXTREMESLAND CS:GO Festival 2020.
For more insights on the Asian CS:GO scene and upcoming content like this, be sure to subscribe to our newsletter. Don't forget to follow CSGO2ASIA on Facebook, Twitter & YouTube.
---