With the third iteration of eXTREMESLAND CS:GO Festival 2020 set to kick off on Friday for East Asia region, CSGO2ASIA.com has prepared a comprehensive viewer's guide which contains all the information you need to know regarding the event.
eXTREMESLAND CS:GO Festival 2020 will continue on Thursday with the third regional playoffs, where eight of the best East Asian teams will battle it out for the exclusive trophy and to take home five units of the ZOWIE XL2546K first place prize. eXTREMESLAND CS:GO Festival 2020 East Asia will be held on January 22-24, featuring a total of eight teams from two of the most dominant countries in terms of their contribution to the CSGO2ASIA's top ten team rankings. China still comes out on top in producing some of the best Asian teams out there, as well as Mongolia with one of the most developed CS scene in entire Asia.
The team list was determined with four invited teams and four qualified teams. The playoffs involve some of the best Chinese and Mongolian teams such as TIGER and the winners of Huya DarkHorse League Season 5 & 6, Lynn Vision Gaming (LVG). Ahead of the tournament, the former Mazaalai squad have signed for a new organization, The Black Company, while LVG will field in their all-new six-man roster with the return of ZhuXing "XinKoiNg" Cai to the squad.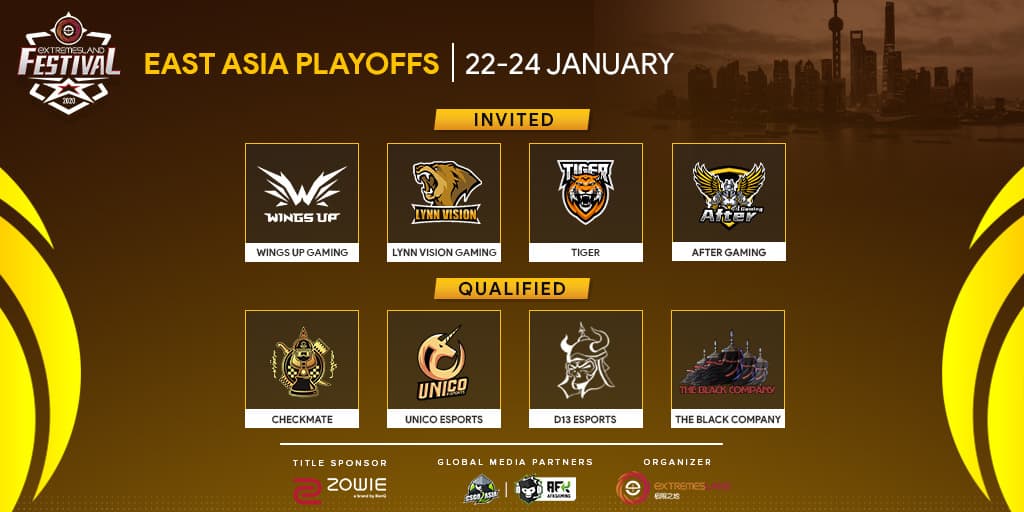 Teams for the eXTREMESLAND CS:GO Festival 2020 East Asia Playoffs can be found below:
The tournament will feature a best-of-three (BO3) single-elimination system for the playoffs and will culminate with a best-of-three (BO3) grand final on Sunday. Matches will kick off on Friday, December 22. All times are displayed in SGT (UTC +8):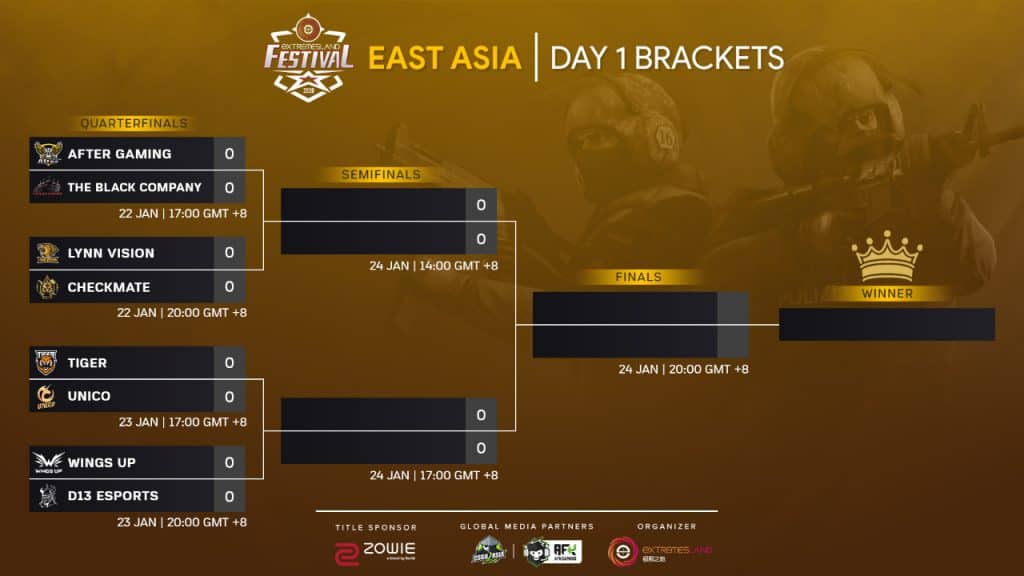 Friday, January 22
17.00 – 🇨🇳 After Gaming vs 🇲🇳 The Black Company
20.00 – 🇨🇳 LVG vs 🇲🇳 Checkmate
Saturday, January 23
17.00 – 🇲🇳 TIGER vs 🇨🇳 UNICO
20.00 – 🇨🇳 Wings Up vs 🇲🇳 D13
Sunday, January 24
14.00 – After Gaming/TBC vs LVG/Checkmate
17.00 – TIGER/UNICO vs Wings Up/D13
20.00 – Grand Final
Viewers will see familiar faces on the broadcast, with the same five talents from the previous Southeast Asian playoffs back on the desk. The on-air talent for the East Asian event will be headed by Jordan "Elfishguy" Mays, with two Australian commentator duos joining over the course of the event.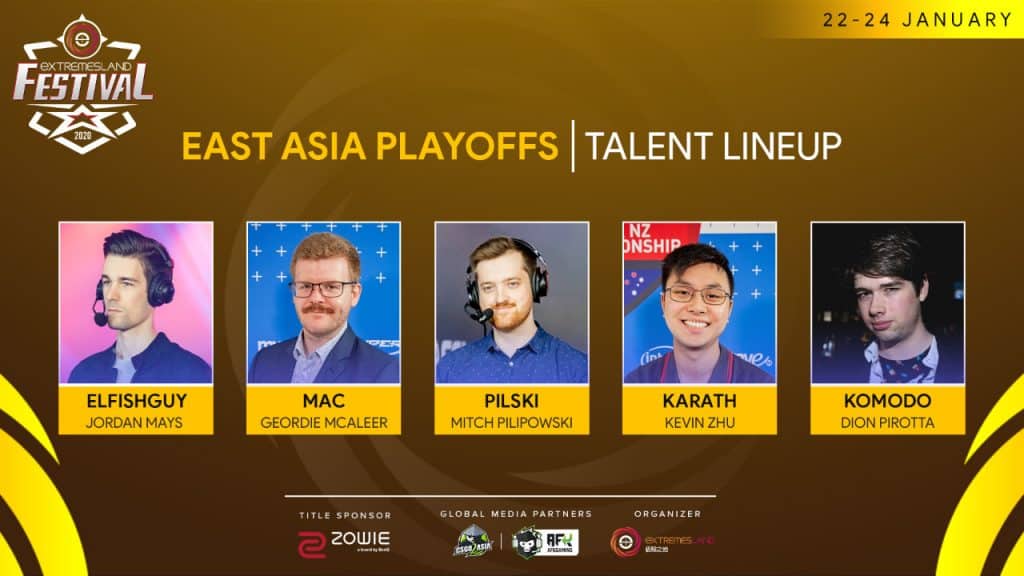 The full talent lineup is as follows:
Concluding the guide is the prize pool for eXTREMESLAND CS:GO Festival 2020 East Asia, which will be distributed in the following way:
5x ZOWIE XL2546K
5x ZOWIE XL2540KE
---
CSGO2ASIA is an official Global Media Partner for the ZOWIE eXTREMESLAND CS:GO Festival 2020.
For more insights on the Asian CS:GO scene and upcoming content like this, be sure to subscribe to our newsletter. Don't forget to follow CSGO2ASIA on Facebook, Twitter & YouTube.
---