The first RMR event for 2021 presented by Perfect World will take place from April 14 to May 3. The 8-team tournament will bring together the best teams across Asia to compete for a lion's share of US$100,000 prize pool and 4,800 RMR points.
PWL CS:GO Season 1 will be hosted by Perfect World, a Chinese-based game publisher that distributes CS:GO in the Mainland China area. Their most recent big event, Perfect World Asia League (PAL) Fall 2020, took place in September last year and saw ViCi best TIGER (now Renewal) in the finals to take home the similar US$100,000 prize pool.
It is confirmed that TYLOO, ViCi Gaming, Renewal, and Invictus Gaming have accepted direct invites to the event – with the last four slots to be determined by two open qualifiers scheduled from April 14 to May 3. Other than the US$100,000 prize pool on the table, the top four finishers will receive RMR Points that will count towards their chances to represent Asia at PGL Major Stockholm 2021, which is scheduled for October 23-November 7 later this year.
SEE MORE: Registration for ESEA Season 37 Open APAC goes live
PWL CS:GO Season 1 will be the first out of the three iterations to be held in order to determine the best team to represent Asia. At the time of writing, there is no clear information regarding the second and third circuits.
Perfect World have opened the registration for the first circuit of the Asian RMR event until April 12, 15:00 (UTC+8), with the first match set to start on April 14-17. TYLOO, the highest-placed team in the 2020 RMR circuit have gained a spot as compensation. They will be joined by ViCi Gaming, Renewal, and Invictus Gaming.
As such, the team list for the first Asian RMR event of the year is currently:
| | |
| --- | --- |
| 🇨🇳 TYLOO | 🇲🇳 Renewal |
| 🇨🇳 ViCi Gaming | 🇨🇳 Invictus Gaming |
| 🌏 Open Qualifier | 🌏 Open Qualifier |
| 🌏 Open Qualifier | 🌏 Open Qualifier |
Below you can find the schedule for the event:
Open Qualifier Registration: April 9 – April 12
Open Qualifiers: April 14-17
Group Stage: April 20-25
Second Stage: April 28-30
Final Stage: May 2-3
Lastly, the prize pool, consisting of cash prizes and RMR points, will be distributed in the following way:
1. $30,000 + 1600 RMR points
2. $25,000 + 1500 RMR points
3. $15,000 + 1400 RMR points
4. $10,000 + 1300 RMR points
5-8. $5,000
How to Keep Track of the RMR Event Matches?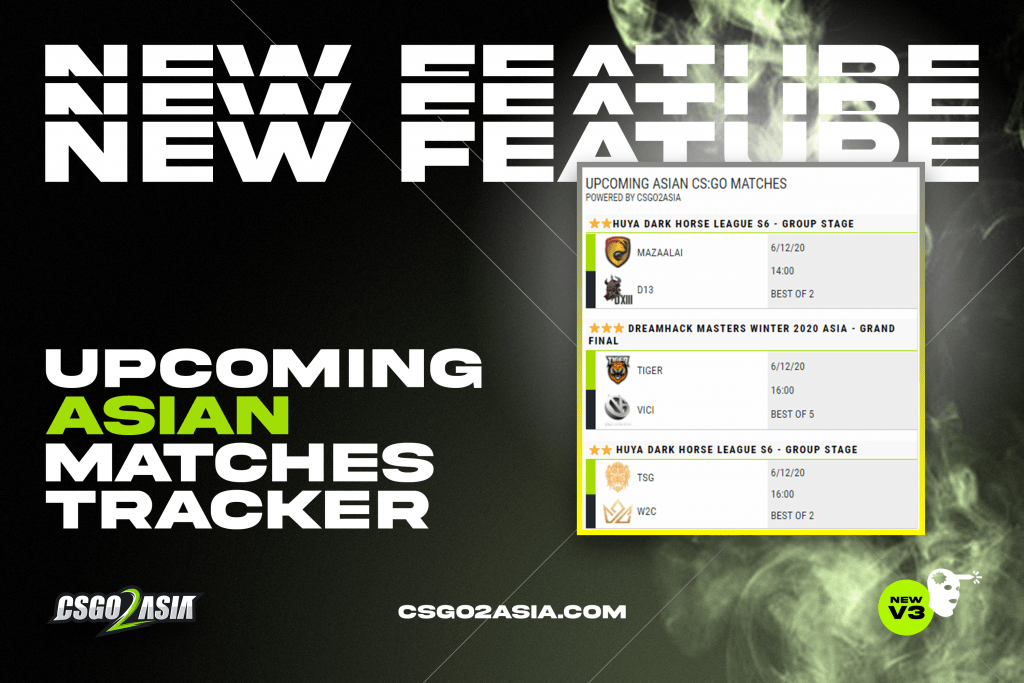 CSGO2ASIA.com offers a real-time match ticker, updated daily across all major matches to watch. We categorize the match from one to three stars according to both team's lineup, tournament rounds, and the tournament's prestige. You can always join the euphoria and watch your favorite team play by clicking on the match, and you will be directed to the live stream of the match. Just to remember that we use Singaporean Time (UTC+8) for all of the schedules. Check it out right now on the right side of our website!
---
For more insights on the Asian CS:GO scene and upcoming content like this, be sure to subscribe to our newsletter. Don't forget to follow CSGO2ASIA on Facebook, Twitter & YouTube.