As we approach the starting time of eXTREMESLAND CS:GO Festival 2020 – Southeast Asia in just a few days, CSGO2ASIA.com have put together a viewer's guide which contains all the information you need to know regarding the event, including the groups, schedule, and talent.
The second phase of eXTREMESLAND CS:GO Festival 2020 will be held for Southeast Asia where the eight-team competition headlined by the top Asia teams such as ZIGMA and Bren Esports. The event will take place on January 8-10 with US$1,500 on the line. The current top teams across Southeast Asia will square off over the next three days starting from January 8, with a best-of-three (BO3) single-elimination system.
READ MORE: 6 Asian CS:GO Teams That You Should Watch in 2021
The team list was determined with four invited teams, and four teams from the open qualifier. The multi-national team Paper Rex will be joined by Bren Esports from the Philippines, followed by Beyond Esports from Thailand, and ZIGMA who just won the Asian Legend Challenge League last December.
The enthusiasm from the Southeast Asia community is astounding with more than 80 teams registered for one of the most prestigious events in Asia. Joining from the open qualifier will be Nevin "splashke" Aw's Huat Zai (HZ), TeamLZ from Malaysia, followed by nomoney4haircut from Singapore, as well as ORG LESS from Indonesia which is filled by four ex-TEAMnxl members.
Teams for the eXTREMESLAND CS:GO Festival 2020 Southeast Asia Playoffs can be found below: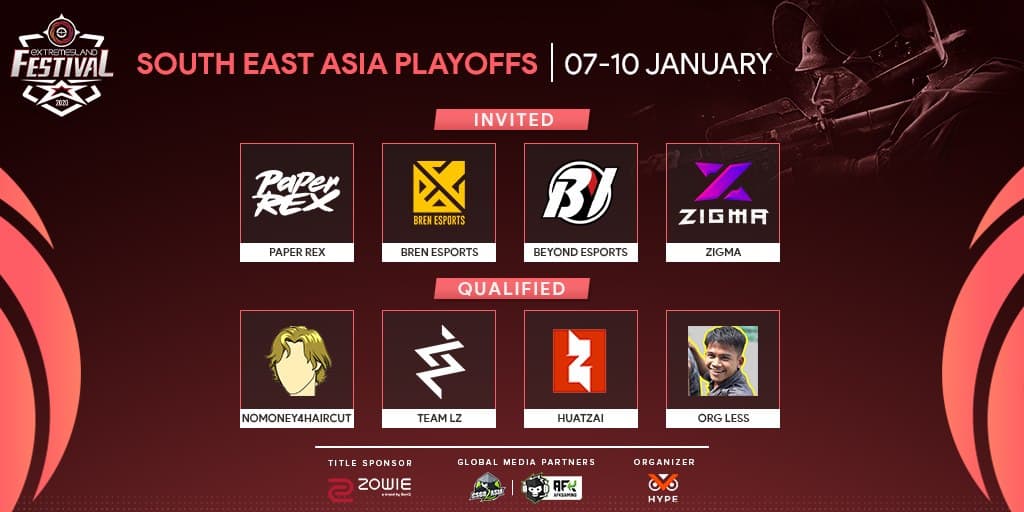 The Southeast Asia playoffs will run its course over the weekend from late Friday to the late hours of Sunday (January 8-10). It will feature a best-of-three (BO3) single-elimination system for all of the matches. The final standings of the open qualifier which will commence on January 7 will determine the rest of the matchups. All times are displayed in SGT (UTC +8):
Friday, January 8
19.30 – 🇹🇭 Beyond Esports vs 🇸🇬 nomoney4haircut
21.00 – 🌏 Paper Rex vs 🇸🇬 HuatZai
Saturday, January 9
18.00 – 🇹🇭 ZIGMA vs 🇮🇩 ORG LESS
21.00 – 🇵🇭 Bren Esports vs 🇲🇾 TeamLZ
Sunday, January 10
13.00 – TBD vs TBD
16.00 – TBD vs TBD
19.00 – TBD vs TBD (Grand Final)
eXTREMESLAND CS:GO Festival 2020 Southeast Asia will provide live commentary over the course of the event. Southeast Asia viewers will see familiar faces on the broadcast, with all matches being broadcasted live via eXTREMESLAND's official Twitch channel here.
The full talent lineup is as follows: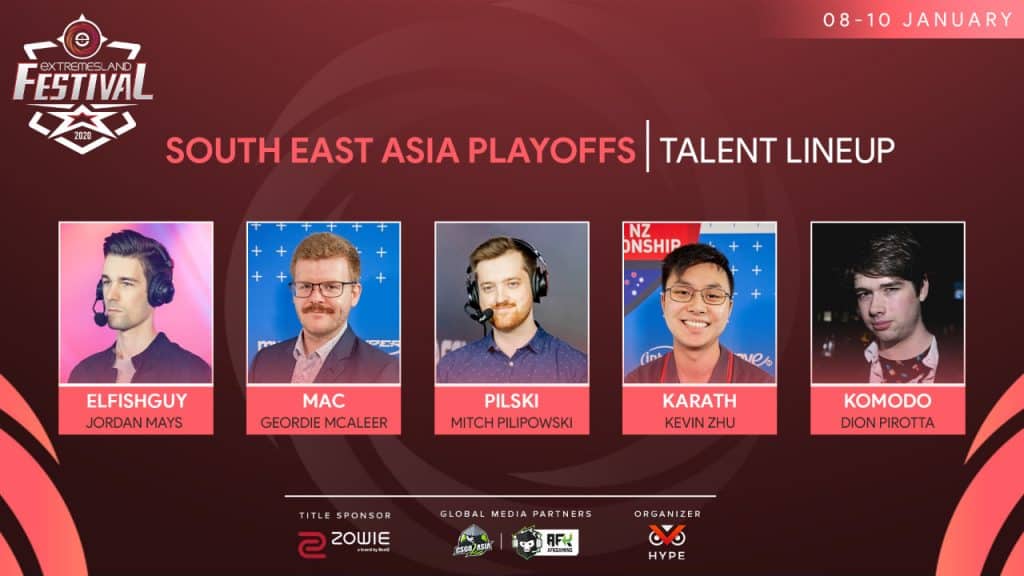 The prize pool for eXTREMESLAND CS:GO Festival 2020 Oceania will be distributed in the following way:
US$1,000
US$500
---
CSGO2ASIA is an official Global Media Partner for the ZOWIE eXTREMESLAND CS:GO Festival 2020.
For more insights on the Asian CS:GO scene and upcoming content like this, be sure to subscribe to our newsletter. Don't forget to follow CSGO2ASIA on Facebook, Twitter & YouTube.
---