Team NKT were crowned the ZOWIE eXTREMESLAND CS:GO Festival 2021 champions after taking down Checkmate 2-1 (Vertigo 19-15, Inferno 11-16, Mirage 16-9) in a best-of-three grand final series. 
The Asian FaZe capped off its first tournament of 2022 with a new trophy after taking down Checkmate in an action-packed best-of-three series that went back and forth the whole time. Team NKT were yet to beat Checkmate after three attempts on three different occasions. But for the first time in three months, they passed the real test with flying colors, defeating a long-standing adversary who had thwarted their campaign multiple times. And with the conclusion of the event, Checkmate just lost its absolute bragging rights to Team NKT this time around. 
ZOWIE eXTREMESLAND CS:GO Festival 2021 is the sixth edition of the annual eXTREMESLAND competition, which takes place across Asia-Pacific. And with the pandemic situation in China stabilizing, eXTREMESLAND brought back the LAN environment for the Chinese Qualifiers with a strict safety protocol, staging a combination of online and offline qualifiers in sixteen major cities across China for three playoff berths.
ALSO READ: ZOWIE eXTREMESLAND CS:GO Festival 2021 – Everything you need to know
Eight teams of three invited and five from multiple qualifiers across Asia got to compete to make a name for themselves. Below are the eight competing teams and the results: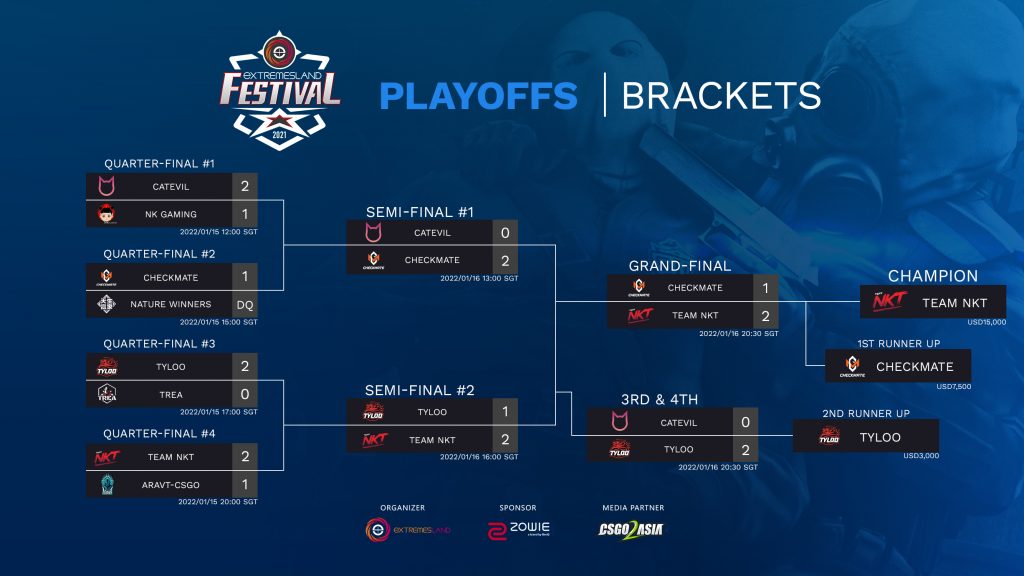 Three months after winning ESEA Open Season 38 APAC, Team NKT taste glory once again and are looking in prime position to start the new season on an upward trajectory. Kevin "xccurate" Susanto and co. came back from a map down to both ARAVT (Vertigo 14-16, Nuke 16-8, Inferno 16-3) and TYLOO (Mirage 13-16, Inferno 16-11, Vertigo 16-11) on their way in the playoffs to face Checkmate from the other side of the bracket.
The Grand Final – Team NKT vs. Checkmate – ZOWIE eXTREMESLAND CS:GO Festival 2021
Team NKT made an early statement of intent when they stole Vertigo, a map rife with love-hate relationships for the Asian super team, from Checkmate in a tight contest to take a 19-15 win in the series. Inferno, on the other hand, took an entirely different trajectory. Checkmate dominated the first half of the game, smashing Team NKT's defense with every tool available to make it even. Anthony "ImpressioN" Lim and co. would regain control little by little only in the second half, but it was too late as Checkmate continued to fire on all cylinders to finish out the second map 16-11.
Team NKT got off to a flying start, seizing control of the proceedings from the outset on Mirage. The Mongolians lacked control over the bombsite and were unable to exert any pressure or exploit any weaknesses on the offense. NKT took a 13-2 lead, thanks to a watertight defense early on, only to face a frightening comeback attempt from Checkmate, who held the Terrorist at bay time and time again. However, Team NKT was able to grab just three rounds in the second half to secure the victory and bring the curtain down on their reign as eXTREMESLAND CS:GO Festival 2021 champions.
ZOWIE eXTREMESLAND CS:GO Festival 2021 final standings:
| | | |
| --- | --- | --- |
| Place | Team | Prize |
| 1st | 🌏 Team NKT | CN¥100,000 |
| 2nd | 🇲🇳 Checkmate | CN¥50,000 |
| 3rd | 🇨🇳 TYLOO | CN¥20,000 |
| 4th-8th | 🇨🇳 CatEvil | ZOWIE Mouse Fitting Kit |
| 4th-8th | 🇨🇳 NKG | ZOWIE Mouse Fitting Kit |
| 4th-8th | 🇨🇳 TREA | ZOWIE Mouse Fitting Kit |
| 4th-8th | 🇲🇳 ARAVT | ZOWIE Mouse Fitting Kit |
| DQ | 🇨🇳 Nature Winners | |
CSGO2ASIA is proud to be back as a global media partner once again and will bring you all the relevant updates and essential information, as well as exclusive interviews, highlights, and content around the event.
---
For more insights on the Asian CS:GO scene and upcoming content like this, be sure to subscribe to our newsletter. Don't forget to follow CSGO2ASIA on Facebook, Twitter & YouTube.
---