NG Esports, Huat Zai, Team LZ, and ZIGMA have all secured themselves spots in the first season of the US$60,000 Funspark ULTI 2021 Regional Series. They became the latest teams to qualify after finishing in the top four standings of the 5E Arena Open Season 1 Southeast Asia Playoffs.
The Southeast Asian CS:GO scene in the past months saw several organizations pull out for various reasons, including Paper Rex, Bren Esports, and Beyond Esports. However, the presence of Funspark ULTI in the Southeast Asia region just gave a second wind for the scene to once again recover to the level where players' regeneration is a thing and the number of professional teams competing is acceptable for a region to be called competitive enough.
ALSO READ: Renewal, Checkmate, After & D13 advanced to Funspark ULTI 2021 Season 1
The playoffs of 5E Arena Open Season 1 Southeast Asia took place between March 25-26 featured many exciting teams, including NG Esports, ZIGMA, and Huat Zai. The event offered 4 spots in the Funspark ULTI 2021 Regional Series Asia Season 1 and a total of US$5,000 prize pool divided for all of the teams competing.
NG Esports continued to dominate Southeast Asia
On their way to the final, NG Esports overcame Sherma (Vertigo 16-2, Inferno 19-16), and ZIGMA (Nuke 16-11, Mirage 16-11), while Huat Zai took down darkside and survived a close series against TeamLZ in the semi-finals. Asking Questions got knocked off by Team LZ (formerly known as Beyond Esports), while ZIGMA took down Expendables (formerly known as Bren Esports) in the process to make it to the semi-finals.
The playoffs became another proving ground for all teams competing, especially Huat Zai, Expendables, and ZIGMA, who have undergone player changes since eXTREMESLAND CS:GO Festival 2020 Southeast Asia Playoffs. There was not much competition between January to March outside of the ESEA Season 36 Open APAC league. The "Asian FaZe" squad were crowned champions of the qualifier after defeating Huat Zai in the grand final 2-1 (Vertigo 9-16, Nuke 16-13, Mirage 16-5). Hyun-Pyo "XigN" Lee and Anthony "ImpressioN" Lim were able to deliver a 1.22 average rating across three maps in the grand final.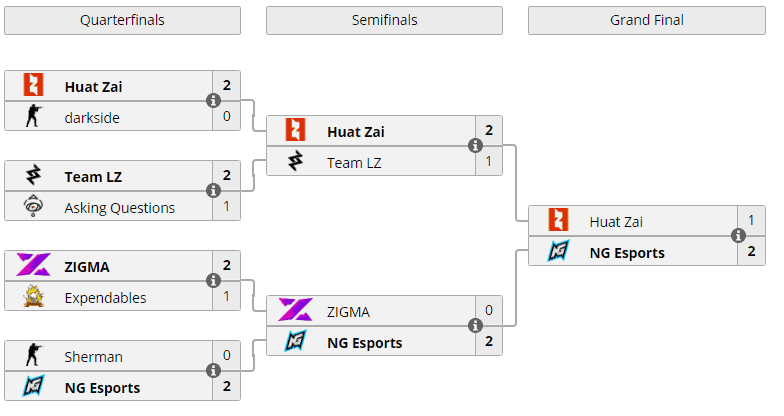 With 5E Arena Open Season 1 Southeast Asia behind us, here is how the team list for Funspark ULTI 2021 Regional Series Season 1 looks:
| | |
| --- | --- |
| 🇨🇳 Wings Up | 🇨🇳 After Gaming |
| 🇨🇳 Invictus Gaming | 🇲🇳 Checkmate |
| 🇨🇳 LVG | 🇲🇳 Renewal |
| 🇨🇳 Let's Quit | 🇲🇳 D13 |
| 🇨🇳 TaiChangGui | 🌍 NG Esports |
| 🇨🇳 TYLOO | 🇹🇭 ZIGMA |
| 🇨🇳 Newhappy | 🇸🇬 HZ |
| 🇨🇳 Reece | 🇹🇭 Team LZ |
5E Arena Open Season 1 East Asia final standings:
| | | |
| --- | --- | --- |
| Place | Team | Prize |
| 1st | 🌍 NG Esports | US$2,000 + Spot |
| 2nd | 🇸🇬 HZ | US$1,000 + Spot |
| 3rd-4th | 🇹🇭 Team LZ | US$600 + Spot |
| 3rd-4th | 🇹🇭 ZIGMA | US$600 + Spot |
| 5th-8th | 🌍 darkside | US$200 |
| 5th-8th | 🇸🇬 Asking Questions | US$200 |
| 5th-8th | 🇵🇭 Expendables | US$200 |
| 5th-8th | 🇹🇭 Sherman | US$200 |
* Spot = Qualified for Funspark ULTI 2021 Regional Series Asia Season 1
---
How to Keep Updated With All of the Upcoming Matches?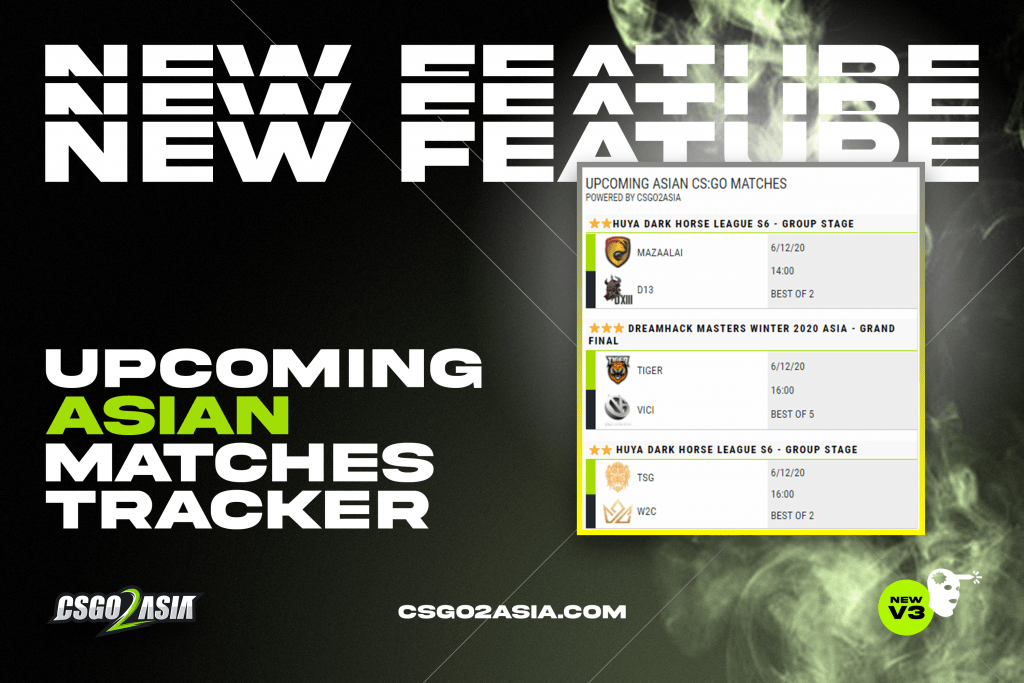 CSGO2ASIA.com offers a real-time match ticker, updated daily across all major matches to watch. We categorize the match from one to three stars according to both team's lineup, tournament rounds, and the tournament's prestige. You can always join the euphoria and watch your favorite team play by clicking on the match, and you will be directed to the live stream of the match. Just to remember that we use Singaporean Time (UTC+8) for all of the schedules. Check it out right now on the right side of our website!
---
For more insights on the Asian CS:GO scene and upcoming content like this, be sure to subscribe to our newsletter. Don't forget to follow CSGO2ASIA on Facebook, Twitter & YouTube.
---