The Asian Pro League enters its 12th Season – activity is up, subscribers are up, and we're setting the stage for a whole new experience.
Here we are, a year in with the APL! As we enter Season 12 we have some significant learnings to revitalize the league and provide the best overall playing experience for all our subscribers.
Ladders are now open as of September 1st, 2019 at 00:00 (SGT), and players from Division 1 and Division 2 will continue to duke it out for their share of the monthly prize pool including FACEIT points and cash. What follows will be a longer than usual post, aiming to dissect the knowledge we've gained and share our learning journey with everyone.
Covering Asia as a Continent is Hard, Hard Work
Right from the start, we expected that covering an entire continent with only two server locations would be a difficult task, but we underestimated truly how difficult it would be.
At launch, the APL had servers in Singapore as well as Hong Kong. The inclusion of the Hong Kong servers drew a lot of attention from the Chinese player base, and they subscribed in the thousands. Unfortunately, this meant that a large majority of our player base was actually not English speaking but rather Chinese speaking.
Couple this with a lack of support and admins that could handle the non-English speakers and we quickly lost this large majority in the follow-up seasons.
Furthermore, the reality is that many cities in Asia are still prone to bad routing. Even if we still had the two server locations, it isn't sufficient. To further add complexity, cultures, language barriers and large variations in playstyles and religious holidays make planning a universal Asian monthly season very unlike other regions. Unlike leagues in Europe and North America, the complexities in Asia mean that running an English-only league narrows the focus by default, and therefore player base, even further.
For now, we want to build a supreme product and a better experience, even if that is at the expense of a smaller league than what should be expected in such a vast continent. This is why the decision was made to focus our efforts on the Singapore server location and build the audience up to maximum capacity in this area first.
We welcome any and all suggestions to improve this – but for now, there will be no further server locations. Experiments surrounding the infrastructure and methodology of the 'SoloQ' league will continue to evolve into year two, specifically around making the reporting system more efficient, and integration of various platforms like Discord & Twitch with our main portal, apl.gg.
Queue Times vs Fair Competition
With the sudden decrease in players from Season 3 onwards, queue times went up significantly. Although we still had relatively healthy numbers, the increased queue times meant that we had to yet again come up with new ways to solve this issue. The first issue to tackle was the division splits. Having three divisions meant that some divisions, particularly the lower levels, had almost no games occurring.
In an effort to solve this, a merger had to happen. This was necessary despite widening the skill gap, as the priority here was for matches to occur versus having "the fairest matchups".
As the APL and its successor continue to evolve, this is an area we are closely monitoring. The reality is, there is no easy solution. The only way that we can properly break down divisions is at the point when the player base is large enough that all divisions will have sufficient activity. At current levels, 2-3 concurrent games may happen on any given day in both divisions. However, for us to split the divisions even further, this number has to double, 4-6 concurrent games for a period of at least 2 weeks before we can consider splitting.

For the most part, based on our Season 11 survey, it seems that a vast majority of people do understand this: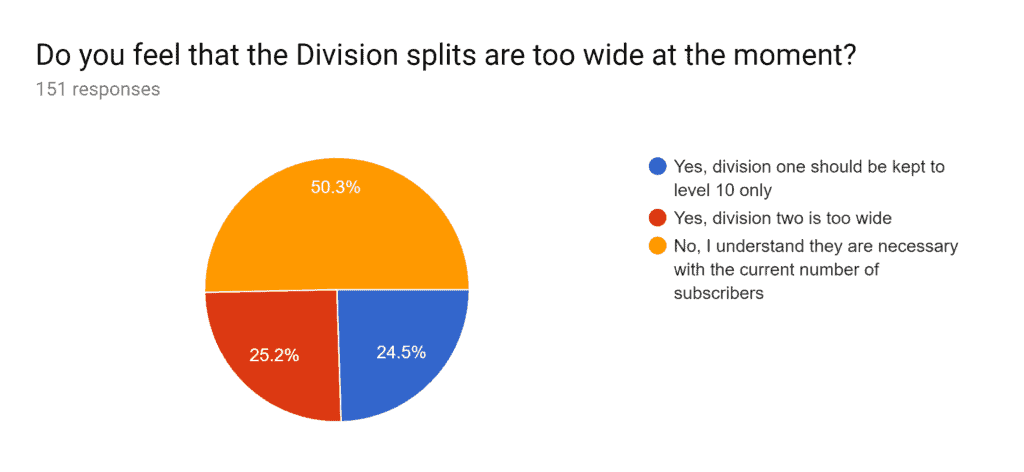 We are aware that players in Division 1 aren't thrilled with the prospect of playing with lower-skilled players. We are also hyper-aware of the large difference in skill in Division 2, where some newer players absolutely cannot keep up with those who are level 6-7.
It should be noted, however, that the goal of the APL has been evolving over time. This is also clear to us with how many subscribers claimed what their individual goal of playing here is: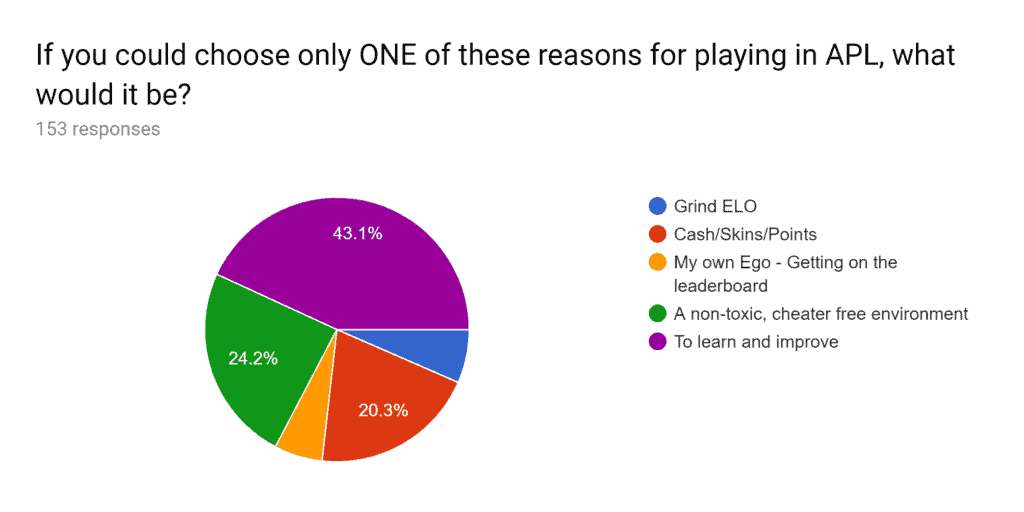 A large majority of players play in the APL for the experience overall. This is contrary to what we initially sought out to achieve which was to find the best talent in Asia. While prizes and getting on the leaderboard also play a factor, the reality is, subscribing to the APL should mean you have an environment where you can make friends, learn to improve and enjoy your time playing CS, rather than getting frustrated that you lost purely because of terrible teammates.
This isn't to say that the APL doesn't have its fair share of bad apples. With any community there will always be black sheep that continue to test the system and patience of the wider community.
To date, we have processed over 400 reports and banned a few dozen people. This is a relatively low amount if you consider that the peak of the APL had over 2500 active subscribers playing. In some instances, there were even cases where Pro Division players had to be removed due to intolerant behavior.
The Evolution of a "Pro" League to Something More
With this in mind, it was time to close the Pro Division. Earlier in Season 11, we announced the closure of the coveted "Pro" Division. There were plenty of reasons behind this, but in summary, it can be drawn down to these few reasons:
A serious lack of activity among the Pro Players
Prize money was not sustainable with the lower subscriber base
Asia has a long way to go to compete with the Pro scene in NA/EU
The APL Pro Div was seen as a pre-cursor an official FACEIT FPL Asia. However, the lack of activity had no impact on the confidence levels for FACEIT to make that decision
Personally, I feel like its a waste of a great opportunity. But keeping my personal feelings aside, the right move forward is to take these lessons and re-work the APL for the betterment of the community.
Stay tuned as we roll out some significant changes in the near future. Thank you to everyone who has seen us through this iconic first year.
---
Winners of Season 11
Pro Division (Last Winners)
Week #1-2
🇧🇳 ThaddeusT – US$ 300
🇸🇬 SoulReaper – US$ 150
🇵🇭 KellyS- – US$ 50
🇵🇭 HansG – US$ 200
🇨🇦 iamshaz – US$ 125
🇮🇩 Lexierna – US$ 75
🇸🇬 skyeSG – US$ 50
🇸🇬 Deryeon – US$ 50
---
Prizes for Season 12
Division 1: Total = US$ 500 + 200,000 FACEIT Points

1st - US$ 200 
2nd - US$ 125
3rd - US$ 75 
4th - US$ 50 
5th - US$ 50 

1st - 40th: FACEIT Points totaling 200,000!

Division 2: Total = S$80 worth of skins + 100,000 FACEIT Points 
 
1st - 5th:  Skins
1st - 40th: FACEIT Points totalling 100,000!

See the leaderboards for more details.
---
A full changelog for Season 12 can be found below:
APL Season 12 Updates

General
- Updated 'Hall of Shame'
- Major changes to the rule set of APL

Division 1
- Updated auto-ban cooldowns, users leaving the game now get a 24hr cooldown

Division 2
- Updated auto-ban cooldowns, users leaving the game now get a 24hr cooldown 
Leaderboards are now LIVE! Be sure to subscribe and get queuing today! bit.ly/31uXrKq