The Asian Pro League enters Season 6 by increasing the prize pool for Division 2! Over S$100 worth of skins and FACEIT points to be won!
The Asian Pro League is celebrating the end of five seasons! As we enter season 6 we celebrate by increasing the prize pool for Division 2. Ladders are now open as of March 1st, 2019 at 00:00 (SGT), and players from the Invite only Pro Division, Division 1 and Division 2 will continue to duke it out for their share of the monthly prize pool. Below is a summary of the new prize pool for the APL and a full change-log can be found further below.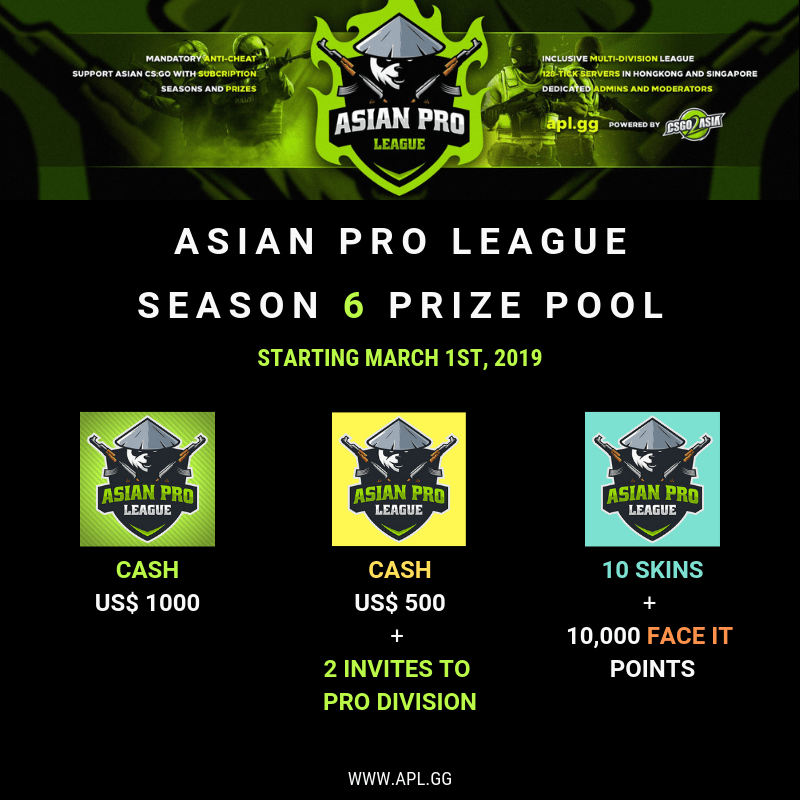 New Ways to Try the APL
Last season, we announced two active discount codes that are available for use across the Asian Pro League at any given time. Both these codes apply only to the 'monthly' subscription plan and can be redeemed at any time, so use them wisely!
Use code: 'APL3' for a 3-day free trial

Use code: 'APLGG2EZ' for 50% off your first month subscription
A Word on Where We Are Today
It is no secret that the APL is currently experiencing lower activity. This isn't just a by-product of lower subscribers, but a net effect of the initial 'hype' in decline – both working in tandem. As always, we continue to work behind the scenes to make improvements and one of the first steps in this direction is the increase in a prize pool for Division 2. In addition to that, we will be announcing some exciting new sponsors in the coming few weeks, and we are we are really thrilled to share those with you. The introduction of sponsors will allow us to roll out new content such as streams, frag highlights of division winners and more.
To build on this, we will have open applications for our moderation and admin team – an exciting opportunity for people who want to get more deeply involved in the community run league.
As always, we are always looking for feedback too, so please be sure to join our Discord server to ensure your voice is heard and to keep up to date with what's happening.
See Also: APL SEASON 5 BEGINS – NEW PRO DIVISION FORMAT & FREE TRIAL SYSTEM
---
Winners of Season 5
Pro Division
Week #1-2
🇵🇭 DubsteP– – US$ 300
🇹🇭 qqGod – US$ 150
🇮🇩 f0rsakeN – US$ 50
Week #3-4
🇸🇬 lenne – US$ 300
🇹🇭 qqGod – US$ 150
🇮🇩 fl1pzjder – US$ 50
Division 1
🇮🇩 -SA – US$ 200 + APL Pro Invite
🇮🇩 RimboinG – US$ 125 + APL Pro Invite
🇹🇭 CHASERRRR- – US$ 75
🇧🇳 shadder2k_ – US$ 50
🇹🇭 fluke0137 – US$ 50
Prizes for Season 5
Pro Division Total - US$1,000  
1st - US$ 300 x2
2nd - US$ 150 x2
3rd - US$ 50  x2

Division 1 (SG)  Total - US$ 500 
1st - US$ 200 
2nd - US$ 125 
3rd - US$ 75 
4th - US$ 50 
5th - US$ 50 

Division 2 (SG)  Total - S$100 worth of skins + 10,000 FACEIT Points  
1st-10th -  Skins totalling S$100++
11th-20th - FACEIT Points totalling 10,000

See the leaderboard for more details.
A full change log for Season 6 can be found below:
APL Season 6 Updates

General
- Updated 'Hall of Shame' for public viewing of succesfully reported/banned players.
- Added new 'LIVE' feature for the Hall of Shame, updates happen in real-time now.

Pro Division
- Removed some inactive players
- Added a select few invites from various countries (more details to follow).

Division 2
- Increased prize pool. The top 20 now have a chance of winning something.
---