We sat down with Erdenetsogt "erkaSt" Gantulga for an interview about his experience so far in NG Esports, the reason behind his departure from TIGER, and his sentiments towards the Mongolian CS:GO scene.
The Asian CS:GO scene was abuzz earlier this year with the formation of a new team consisting of four players of four different nationalities. Made up of the some of the most talented players this side of the World, this team holds very high expectations from the Asian audience. But one of the surprise moves comes from the arrival of Mongolia's Erdenetsogt "erkaSt" Gantulga.
READ ALSO: erkaSt – "I'm just trying to focus on what I have right now and to be happy with it."
We had erkaSt walk us through the decision of him choosing the international team over staying in TIGER, and his beliefs that the Mongolian scene can go much further without him playing domestically. He also expressed how NG Esports' leadership comes into play as three out of five members of the team have experience on the strategic side.
---
CSGO2ASIA: Hi erkaSt! It's been almost a year since we did an interview with you in the 2019 edition of eXTREMESLAND. How are you feeling right now?
erkaSt: Hello long time no see. I am feeling great at the moment, we are in a lockdown in Mongolia currently and hoping for the best about this situation in this world.
CSGO2ASIA: You've spent exactly one year in Mongolia teams after leaving Grayhound at the end of 2019. How was the transition going back home has been for you?
erkaSt: In Grayhound, it was pretty chill for me because I was a rifler whose duty was to just kill. But in the Mongolian team, I was the captain so I had this responsibility to lead my team and share my experiences with my fellow Mongolian team. I didn't reach my goal with my Mongolian team but this one year was not bad as well.
CSGO2ASIA: Since 2015, you've been always playing for Australian teams. With transitioning to Mongolian teams, are you feeling that you need to adjust to the Asian playstyle or the opposite to get better results?
erkaSt: Yes, in the beginning, it wasn't easy because my transition was from rifler to captain (in-game leader). I had previous experience in IGLing, but there was some character that was missing being a captain of the team, and my in-game tactics most likely didn't work against Asian teams because it is highly aim-duel-based here in Asia.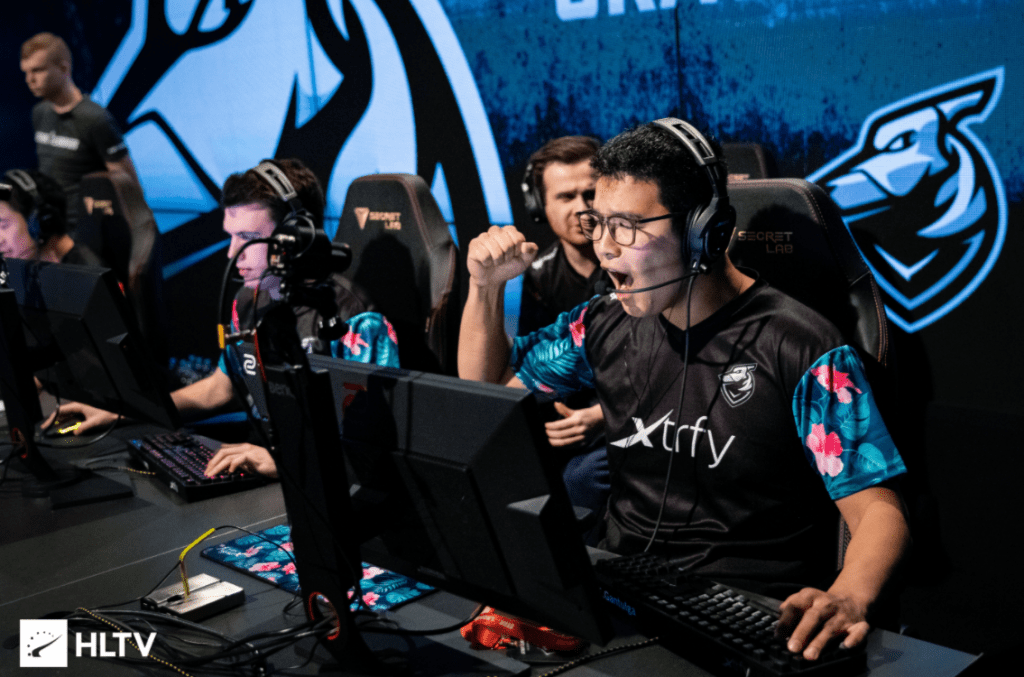 CSGO2ASIA: Now let's move on to your current team, NG Esports. It comes as a surprise for most people in the scene honestly since TIGER was constantly delivering good results. Are you feeling that playing for NG would give you a higher chance to play at the highest level possible or is it something else?
erkaSt: First of all I need to address that my goal is to play in the highest level of CS, we were improving every time with TIGER since we're established, and the reason why I left the team is that I lost the "fun" part of the game. As a captain, you always have to look up for mistakes and fix them, repeat your game theory, update the strategy, come up with a new plan, etc. When I got the offer (from NG) firstly I was happy with the roster and also with an IGL (ImpressioN) that can cover up my duties from TIGER. That gives me chance to be a rifler once more so I can enjoy the game and get some HeadSHOTS.
CSGO2ASIA: Can you talk to me about leadership in the team since you also have ImpressioN who's an IGL, including you and the coach? Are you feeling it does make the team have too much input at one point or it's better because you have more perspective to look at?
erkaSt: Anthony (ImpressioN) is the captain/IGL of the team and as I mentioned in the previous question I want to become the rifler, obviously I will input my experience and knowledge for this team but the main duty for me in this new team is to be a good member both in-game and outside of the game – that is my part that I can give to my teammates, and the rest will matter from our practice and hard work. MYM is a good coach so far because we only worked for a month right now, he helps us to develop our game really simple way so we can understand it easily.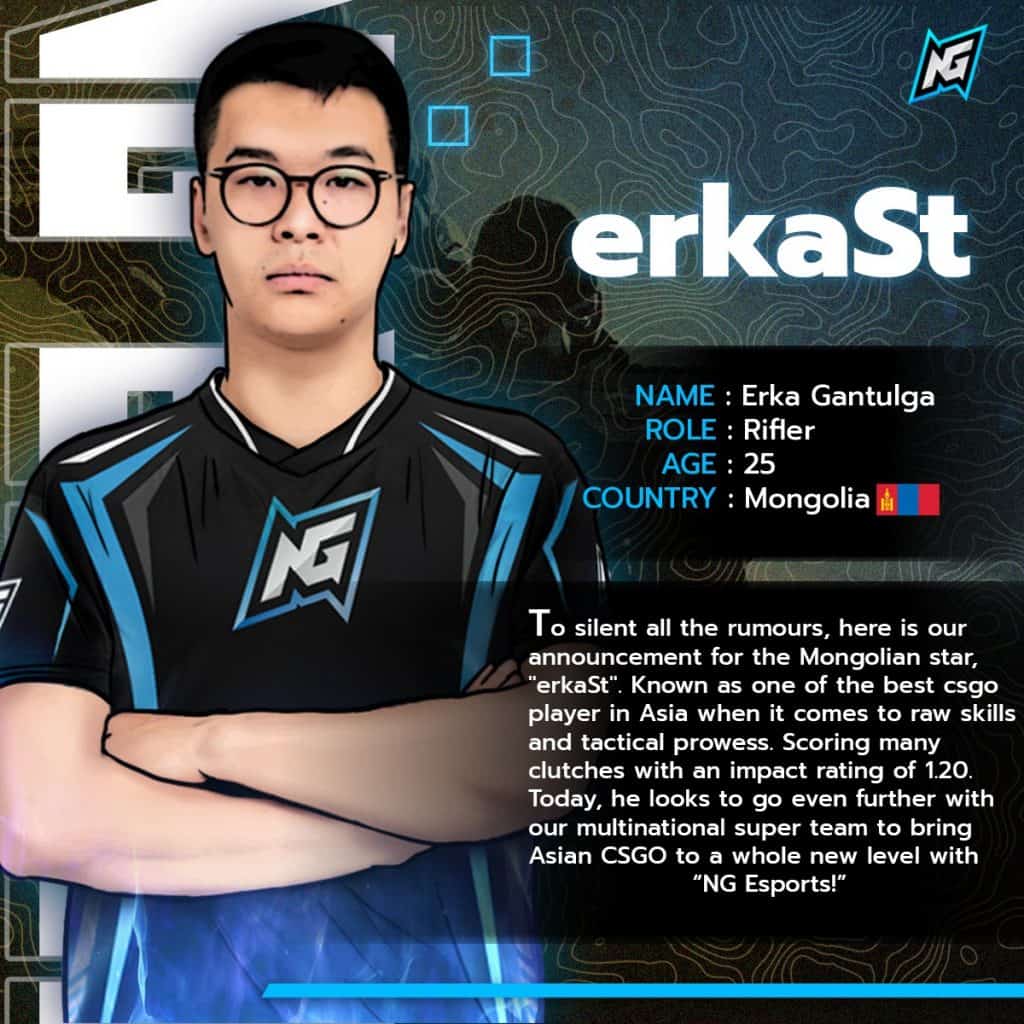 CSGO2ASIA: Are you guys planning to live together in a gaming house after the pandemic settles down or it will be just boot camps if necessary?
erkaSt: Once the pandemic finishes or if I will be able to travel, we will move to Thailand. We are aiming to move in together in January. Can't wait for that to happen to be honest, as I want to see my teammates.
CSGO2ASIA: Are there any difficulties playing with NG Esports? Since the players are spread across East & South East Asia and probably the language barrier is a thing?
erkaSt: Right now, communication is the main problem in this team. It is expected that we have this issue in the beginning because CS:GO is a heavy communication-based game when you play at the highest level, but we are getting better at it every day so I am not worried as it is just a matter of a time.
CSGO2ASIA: How are you feeling with more appearances of Mongolian teams in the scene? One example is the 6 teams competing at ESEA S35, with all of them making it to the playoffs! Is it a good sign that Mongolian teams/players can go further, or even pursue their career outside Asia?
erkaSt: Another reason why I left comfortably from TIGER is that there are so many up and coming young players from Mongolia. I think I have done my part in the Mongolian scene for the past one year. I believe this move is good for both TIGER and me. Dobu is a trustworthy player that I can leave the captain role to him; plus we have so many young players that will be good in the near future, so I believe that the scene will be even better. I want to be an example for those kids that you should focus on English as much as you focus on CS to get the chance to play for not just the Mongolian team but also internationally.
CSGO2ASIA: Is there anything that you want to express/say to your fans across Mongolia & Asia?
erkaSt: Thanks for supporting guys and you will see from us soon in 2021!
---
For more insights on the Asian CS:GO scene and upcoming content like this, be sure to subscribe to our newsletter. Don't forget to follow CSGO2ASIA on Facebook, Twitter & YouTube.
Cover photo courtesy of HLTV.ORG
---