Day 2 of PLG Grand Slam 2018 saw the playoff teams finalized after catching up on yesterday's unfinished games. However, due to rampant technical issues, PLG still wasn't able to stream any games.
After yesterday's 6 hour delay which ran into the early hours, there were still group stage matches to be played at the PLG Grand Slam. While the group stage's decider matches were indeed supposed to be played on day 2, the day began with the outstanding elimination and winners' matches.
See also: Our recap of day 1
By day 2, most of the technical issues were fixed by the tournament's hard-working admins. This meant they could jump straight into the games, although some games were interrupted briefly by problems like Teamspeak, server configs and other minor grievances.
Unfortunately, the production team was not able to get everything in place, and couldn't stream any of the day's matches. Because of this, we once again are not able to comment about every game, and will instead provide general insight into the proceedings of the day.
Elimination matches
To start of day 2, the remaining elimination matches were played:
🇯🇴 Chosen5 vs 🇧🇷 INTZ – 0:2
🇿🇦 eNergy vs 🇨🇳 5POWER – 0:2
The elimination matches didn't see any surprises, with INTZ being clear favorites over the Jordanians from Chosen5, taking the series with scores of 16-8 on Cache, and 16-9 on Mirage.
In the other elimination match, 5POWER seemed to dominate eNergy, shutting them down 16-3 on both Mirage and Inferno. With these results, Chosen5 and eNergy were sent home, while 5POWER and INTZ advanced to the decider matches.
Decider matches
With the elimination matches played, we moved onto the decider matches:
🇦🇺 Grayhound vs 🇪🇺 ECL – 0:2
🇸🇬 BOOT-d[S] vs 🇧🇷 INTZ – 0:2
🇧🇷 Sharks vs 🇨🇳 5POWER – 2:1
🇰🇿 AVANGAR vs 🇫🇷 G2 – 1:2
The decider matches were teams' last chance to make it to the playoffs. The first decider match saw Grayhound take on ECL, the European mix team. Even though ECL is a mix, their raw aim was too much for the Aussies, taking them down 2-0, although the games were close with Mirage ending 16-13 and Inferno ending 16-12.
In the opening match on day 1, Singapore's BOOT-d[S] managed to beat INTZ 16-7, and the Singaporean's were looking to repeat this success on Day 2. However, INTZ was on form, simply hitting the shots they were missing yesterday. The Brazilians ended up taking group D's last playoff spot by winning Dust 2 with a score of 16-10 and Train with 16-4.
See also: Our interview with alecks from BOOT-d[S]
As for the Sharks vs 5POWER match, the first map, Inferno, was back and forth, with 5POWER ultimately taking the map 16-13. Map 2, Cache, was also a nail-biter with Sharks outlasting the Chinese/Mongolian mix in OT, ending the map 19-15. On Train 5POWER, who most certainly aren't known to be a strong Train team, couldn't compete with the more experienced Sharks who were clearly better prepared, finishing the series 16-5 in favor of Sharks.
We all expected G2 to ease their group, but they've had some difficulties. First, they lost the opening match against forZe, then they scraped by ShotCallers in the elimination. The decider match wasn't much different, with their opponent, AVANGAR, putting up a fight and making it another close one. The Kazakhs made the Frenchmen sweat, winning the first map, Cache, 16-4. Fortunately for the French side, they decided to wake up on map 2, winning Inferno with a score of 16-9, and following it up with a 16-12 win on Dust 2. With that, G2 claimed their spot in the playoffs, sending AVANGAR home.
Playoffs
With the group stage completed, the teams were seeded into the quarter-finals which saw the following match-ups.
Quarter-finals
🇫🇷 G2 vs 🇪🇺 HellRaisers – 2:0
🇨🇳 TYLOO vs 🇧🇷 Sharks – 0:2
🇸🇪 fnatic vs 🇪🇺 ECL – 2:0
🇷🇺 forZe vs 🇧🇷 INTZ – 2:0
The first quarter-final saw G2 take on HellRaisers. Even though G2's performance was lackluster throughout the group stage, out of nowhere they started hitting their shots, regaining their form and unexpectedly beating HellRaisers, who had otherwise been playing well this tournament. Alexandre "bodyy" Pianaro and co took the first map, Dust 2, with a score of 16-9, and finished HellRaisers in a tight 16-14 on Mirage.
Sharks, in another unexpected turn of events, took down TYLOO in a straight 2-0. On the first map, Cache, TYLOO started well, taking a commanding 13-4 lead. Slowly but surely, Sharks started making a comeback until they ultimately closed it out 16-14. On the next map, Mirage, we saw a completely different TYLOO, suddenly not able to string together any rounds, with the map going to Sharks with a one-sided score of 16-6.
In the third quarter-final between forZe and INTZ, forZe continued to surprise us all. They literally dominated INTZ, winning Dust 2 with a score of 16-4 and closed out the series 16-3 on Overpass. They seem the be the tournament's dark horse, taking out teams no-one expected them to.
In the last quarter-final of the day, fnatic faced off against ECL. ECL put forwards a promising performance in the group stage, considering they're a mix team. Nonetheless, the mix team couldn't hold their ground against the Swedish giants, losing the first map, Cache, with a quick 16-6. There was a flicker of hope on the Mirage, the second map, but fnatic closed the series out with a score of 16-10.
After completing all the quarter-final matches, the playoff bracket is as follows: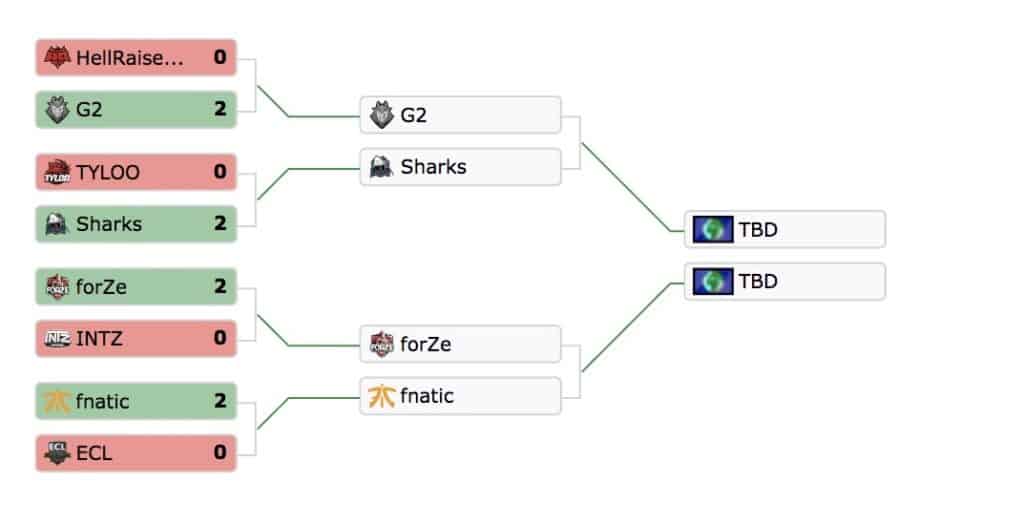 On day 3, the semi-finals and grand finals will be played out. The day's schedule, although it should be taken with a grain of salt, is shown below:
PLG Grand Slam 2018 – Day 3
15:00 – G2 vs Sharks | BO3
17:30 – forZe vs fnatic | BO3
20:30 – Grand Final | BO3
---
CSGO2ASIA will continue to update the schedule as soon as we know more, so do check back periodically for updates. For live updates on scores, behind the scenes and more, do follow us on Twitter and Instagram.