Finally breaking their second place curse
The final day of the Asia Minor Championship held in Beijing, China, was nowhere shy of great storylines.
Starting off with an all-Chinese matchup between TYLOO and Flash (the only two Chinese teams in the tournament), the reining champions put in a great performance, overturning a 9–6 deficit on Mirage to win the map 16–12 before crushing Flash 16–4 on Train.
TYLOO moved on to face Immunity in the consolidation final, with a spot at the Major qualifier at stake. Earlier in the tournament, TYLOO had decimated Immunity. The consolidation final was no different, with Immunity giving up just three rounds in total, losing 16–1 on mirage and 16–2 on Overpass.
As with the previous three minor championships, we found ourselves with both spots at the offline qualifier going to Renegades and TYLOO. All that was left to determine was who would have the bragging rights and a first place prize of US$30,000.
The Grand Final
The first map of the series was TYLOO's pick, Mirage. In a highly contested battle for early dominance, TYLOO came out victorious with a 16–13 win. Renegades went on to show resolve despite the setback, taking the second map (Cache) away from TYLOO and even the odds, 16–11 to Renegades.
It all came down to Cobblestone, a nail biting game that seemed like it could be anyone's to win. TYLOO took a 9–6 lead at the end of the first half, but with Justin "jks" Savage in great form, Renegades turned the game around and eventually reached match point. The Chinese fought back and miraculously took the game to overtime. Ultimately, Renegades showed us how much this win meant them, winning two rounds in both halves and ending the series as the new champions.
Final scores and standings highlighted below: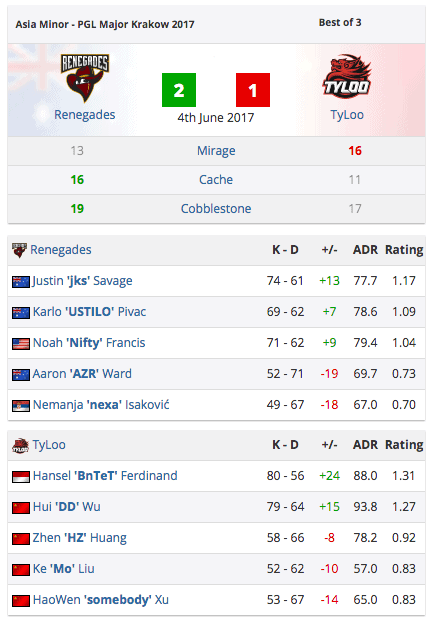 The final standings:
Renegades (US$50,000 + Offline Qualifier Spot)
TYLOO (US$15,000 + Offline Qualifier Spot)
Immunity (US$5,000)
Flash Gaming
5–6. Signature
5–6. The Mongolz
7–8. 7642
7–8. Spotnet
---
Cover photo courtesy of DreamHack
For the biggest news & insights on the Asian CS:GO scene and upcoming content like this, be sure to subscribe to our newsletter.