TYLOO picked up the first IEM Winter 2021 spot up for grabs in the qualifier as they made short work of Team NKT in the best-of-three grand final.
TYLOO became the first team to qualify for the 2021 IEM Winter after winning the Asian Qualifier by beating Team NKT 2-0 in the grand final (Overpass 16-8, Vertigo 16-8). IEM Winter 2021 will take place from December 2-12 at an as-yet-undisclosed location and will have US$250,000 on offer.
IEM Winter 2021 is the last event of the Intel Grand Slam circuit this year, scheduled to take place on December 2-1 in Europe. Among the teams are Astralis, G2 Esports, NiP, FaZe, Gambit, and others. Asia and North America each have one spot up for grabs, while Europe has three. The team list for IEM Winter 2021 currently looks as follows:
| | |
| --- | --- |
| 🇩🇰 Astralis | 🇩🇰 Heroic |
| 🇩🇪 BIG | 🇪🇺 FaZe Clan |
| 🇪🇺 G2 Esports | 🇷🇺 Gambit Esports |
| 🇺🇸 Team Liquid | 🇸🇪 Ninjas in Pyjamas |
| 🇪🇺 OG | 🇫🇷 Team Vitality |
| 🌍 Virtus.pro | 🌍 European Qualifier #3 |
| 🌍 European Qualifier #1 | 🌍 North American Qualifier |
| 🌍 European Qualifier #2 | 🇨🇳 TYLOO |
The qualifying for IEM Winter 2021 is a significant lift for TYLOO, who have been experiencing a three-month decline in terms of performance. One of Asia's most consistent representatives on the international scene made it following a dramatic playoff series against Wings Up Gaming and Team NKT — particularly the match against NKT in the upper bracket final, which stretched to a full 30 rounds on the second map and second overtime on the following map.
ALSO READ: ESL announces IEM Winter 2021 – Asia Qualifiers
TYLOO and Team NKT chose the same three maps as their first meeting but in a different sequence. Team NKT was unable to bring the first map, Overpass, as close as the last time. The Chinese side played a clean defense, denying Team NKT any opportunity to break their 11-round winning run. While they attempted to close the deficit in the second half, it proved impossible for them to hold TYLOO for much longer, particularly with YuLun "Summer" Cai's monstrous performance throughout the map, finishing with a 2.43 HLTV rating and ending the map 16-8.
The second map was no different. A four-round spree helmed by strong showings of Anthony "ImpressioN" Lim and Tengis "sk0R" Batjargal put the international team well ahead before TYLOO were able to respond and close out their pick in fast fashion with a 16-8 scoreline to qualify for IEM Winter 2021.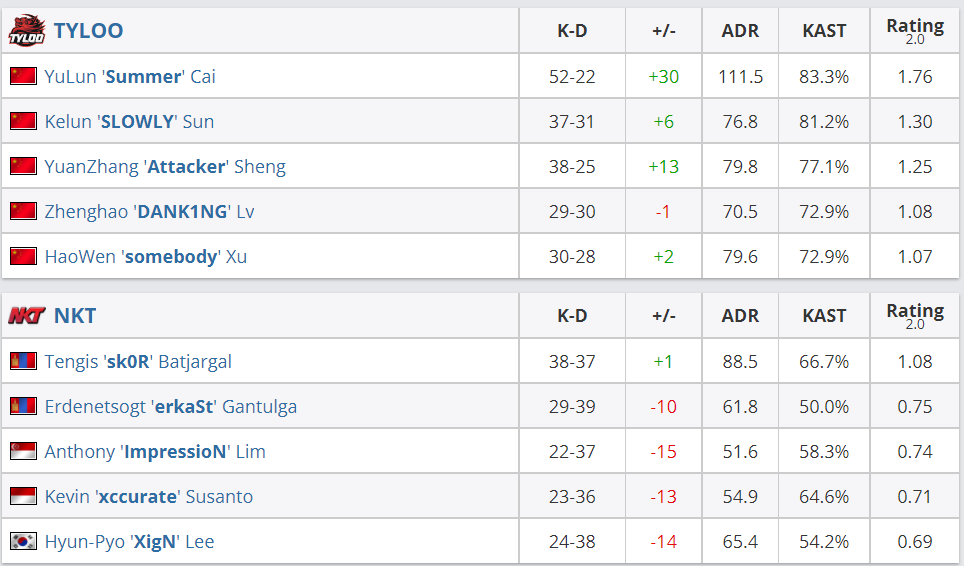 ---
For more insights on the Asian CS:GO scene and upcoming content like this, be sure to subscribe to our newsletter. Don't forget to follow CSGO2ASIA on Facebook, Twitter & YouTube. 
---
Cover photo courtesy of ESL