We had a long talk with Ramona "GFi" Azween about how she's been doing for the past one year after she attended the ZOWIE DIVINA Women's Asia CS:GO Championship 2019. Ramona comments on her transition to the Chinese giant TYLOO Female, the language barrier, and last but not least, words of advice to other female players that want to join in the professional esports scene.
As we already knew, the female CS:GO scene in Asia has always been a challenge, but it has a special place in our scene, with player new upcoming talent despite many switching their careers to Riot's VALORANT. However, for some people like Ramona "GFi" Azween, choosing to stay with their passions is the reason she's been actively competing for the past 16 years.
TYLOO.fe's in-game leader shared her insights playing under the TYLOO/HSG banner, and how the pandemic has affected many of her opportunities to attend events and test how prepared her squad is.
---
CSGO2ASIA: It's been over a year since your last interview with us! Could you tell us exactly what has changed since then?
GFi: After our last interview in DIVINA China, I was playing for Orange.Sphynx for quite some time until Dreamhack Spain, I got the offer to play for the Chinese powerhouse TYLOO.fe. Since then, a lot has changed for me. This organization (HSG) has given me a lot of opportunities to work on myself to excel fully as an esports athlete. They have been very supportive in helping me to develop as a player. Moreover, our coach helped the team progress tremendously, and our boss is very involved in supporting us throughout this progress.
CSGO2ASIA: For the year of 2020 as a whole, what has your team been up to?
GFi: We had a few roster changes, as the organization is trying to build the best female team. Other than that, we have been taking a part in the male pro tournament/leagues, as we don't limit ourselves only to all-female tournaments. Currently, all of my teammates are in the boot camp in Shenzen, China while I'm playing from home in Malaysia due to the pandemic. That being said, it's been more than one year since I saw my whole team and my boss.
CSGO2ASIA: How was the experience competing in the Huya Dark Horse League Season 5? It was a surprise to us all that your team decided to participate in this tournament!
GFi: We have been trying to participate in as many tournaments as possible so we could grab as much experience as we can from other professional teams. Due to the pandemic, we as a team think that it's best to take this opportunity to prepare ourselves for the world tournaments that will come in the near future once the COVID-19 situation gets better.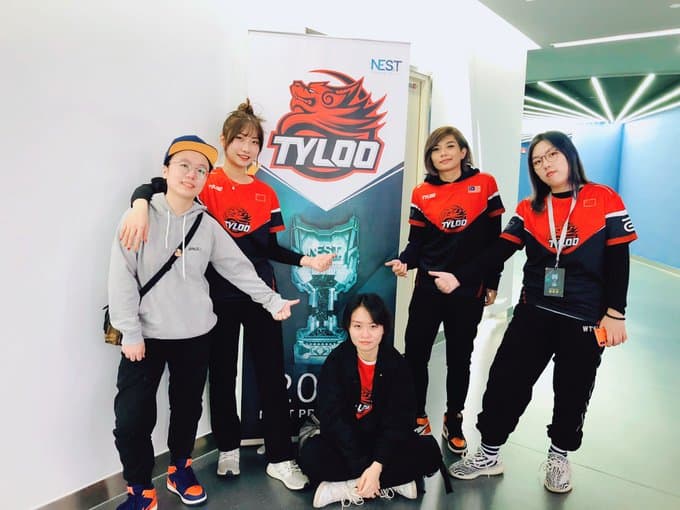 CSGO2ASIA: How's the communication within the team? Since we know that all of your teammate's first language is Mandarin (Chinese). Do you understand the language, or is there any specific approach to it?
GFi: It has been both sides' initiative on me taking up Mandarin and my teammates picking up English simultaneously. We struggled a little at the start, but for me, I never really let the language be a set of obstacles. I think there is no limitation when it comes to communication in CS as there are many ways you can overcome all the language barriers by having pre-game talks, setups, and the chemistry between players.
CSGO2ASIA: What have been some of the biggest obstacles in the scene for you right now? Considering the Asian scene has always been behind, and moreover, WESG Female and some female tournaments got postponed this year. Does this also make exposure for female esports harder?
GFi: It has been tough even before the pandemic as female esports is still developing. From an experienced esports prfoessional view, I wouldn't say this is the worst year but it's very sad to not be able to participate in the WESG Female world finals as it's supposed to be my very first world finals with TYLOO.HSG . However, the female esports scene is still developing and I do think this pandemic has affected the male CS:GO scene a lot more (than the female scene).
CSGO2ASIA: After the VALORANT release in Asia, some female teams decided to leave CS:GO and pursue a new career in Riot's game. Do you have any intention of switching your career to VALORANT at a point?

GFi: No, my passion has always been with CS and this is the game I have been playing for many years. It has never been my intention to make this a career. Before esports existed, everyone played it because they loved doing so. I am still one of those people. As esports grows today, there are many job opportunities and everyone has a different point of view on why they choose to switch.
"Before esports existed, everyone played because they loved doing so. I am still one of those people."

Ramona "GFi" Azween
CSGO2ASIA: How's the local domestic scene in China doing? Do you guys attend more tournaments compared to your time with Orange.Sphynx?
GFi: Yes, I believe we participate in a lot more tournaments compared to Orange.Sphynx time because there are more tournaments in China. This month alone (December 2020), we will be participating in 3 events.
CSGO2ASIA: Who do you think is the strongest female team in Asia besides your team? And why?
GFi: NG.MadArmy from Thailand finished second place in the previous tournament we played, and they gave us a hard time!
CSGO2ASIA: What's your preparation ahead of 2021?
GFi: I am very blessed and lucky that my boss is very supportive of me being part of the team no matter what the situation is. The plan is to stay safe till the COVID-19 situation gets better and to travel to China and join my team for the boot camp, so I could prepare my team even more for the big tournaments that will come in the near future, and hopefully, some LAN tournaments too.
ALSO READ: erkaSt on leaving TIGER: "I have done my part in the Mongolian scene"
CSGO2ASIA: We're inclined to ask you this since many female players really want a taste of the professional scene. Still, they have doubts, especially in Asia. Do you have words of advice for aspiring female players?
GFi: When I first started gaming, I did not know that I would come this far, in a proper organization with a proper working schedule and a career. I was just like everyone else, in doubt and not knowing what good gaming would have given me. However, I did not care about anything above, I did it because I simply wanted to do it. Because I love playing games, be it with my late brother or my friends and now with my current team. I also never neglected my responsibilities as a daughter, throughout this journey, I had a job and I also juggled it with CS before I went full time as I was supporting my family. I think what matters most here is, that you don't forget your responsibilities in life and balance them while you chase your dream. I hope there will be more female gamers out there, that would work hard and stand with what they believe in.
---
For more insights on the Asian CS:GO scene and upcoming content like this, be sure to subscribe to our newsletter. Don't forget to follow CSGO2ASIA on Facebook, Twitter & YouTube.
Cover photo courtesy of ZOWIE DIVINA
---