Two of Southeast Asia's giant squads will compete in the DreamHack Open June Closed Qualifier in order to advance for the US$30,000 playoffs.
It is expected to be Team NKT's first appearance with Tengis "sk0R" Batjargal, who joined Team NKT's ESEA roster on June 8. According to several close sources to the team, the 19-year-old is anticipated to compete for the international roster at this tournament. Until then, there is no information on who will be replaced to make space on the active roster for sk0R.
Meanwhile, it will be Jorell "Retla" Teo's maiden journey into the top competition with the Singaporean squad Huat Zai. Retla took the place of Leslie "Bobosaur" Soen, who was moved to the bench last month.
ALSO READ: sk0R to play for Team NKT (ex-NG) in ESEA Season 37 Open APAC
Yesterday, DreamHack Open June has also announced that it will feature two invited teams from Asia's most competitive nations to date, with Lynn Vision Gaming (LVG) representing China and D13 Esports representing Mongolia, respectively.
For Asia, DreamHack Open 45 June will be split into three parts. It will begin with a set of qualifiers held in two phases, commencing with two open qualifiers on June 10-11 and June 12-13, respectively, and culminating with a closed qualifier comprised of the winners of each open qualifier and the two invited teams of Team NKT and HZ. The top two finishers will then qualify for the main event, where they will battle for a US$30,000 prize pool and a spot at IEM Fall 2021.
Except for the grand final match, all playoff matches will be played in a double-elimination bracket using the best-of-three (BO3) system. On July 3, the grand final will begin with a best-of-five (BO5) format, with the upper-bracket team earning a map advantage.
The DreamHack Open June Asia Closed Qualifier team list can be found below:
| | |
| --- | --- |
| 🌎 Team NKT | 🇸🇬 Huat Zai |
| 🌎 DreamHack Open June Open Qualifier 1 | 🌎 DreamHack Open June Open Qualifier 2 |
The DreamHack Open June Asia Playoffs team list can be found below:
| | |
| --- | --- |
| 🇨🇳 LVG | 🇲🇳 D13 Esports |
| 🌎 DreamHack Open June Closed Qualifier #1 | 🌎 DreamHack Open June Closed Qualifier #2 |
How to Keep Updated With All of the DreamHack Open June matches?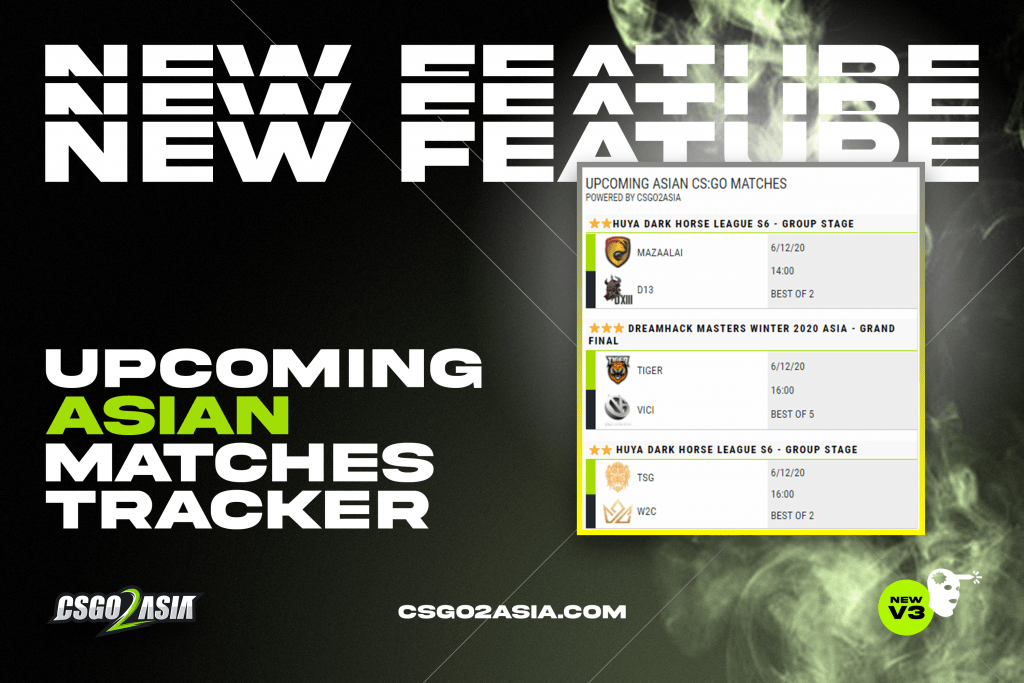 CSGO2ASIA.com offers a real-time match ticker, updated daily across all major matches to watch. We categorize the match from one to three stars according to both team's lineup, tournament rounds, and the tournament's prestige. You can always join the euphoria and watch your favorite team play by clicking on the match, and you will be directed to the live stream of the match. Just to remember that we use Singaporean Time (UTC+8) for all of the schedules. Check it out right now on the right side of our website!
---
For more insights on the Asian CS:GO scene and upcoming content like this, be sure to subscribe to our newsletter. Don't forget to follow CSGO2ASIA on Facebook, Twitter & YouTube.
Cover photo courtesy of DreamHack/Flickr
---