TIGER continues to dominate, beating Invictus Gaming 2-0 in the Weibo Cup 2020. Claims top prize of ¥160,000.
This year's Weibo Cup was the first of its kind. Weibo has been pushing for CS:GO this year, with reports suggesting the formation of its own CS:GO team. The Weibo cup competition brought together 16 teams with a prize pool approximating USD$45,000.

Notable teams like Lucid Dream, Beyond Esports, and ViCi gaming featured in the Weibo Cup. TYLOO also made a presence with its revised line-up featuring an all-Chinese roster. The swiss-style group stages saw TYLOO and OneThree come out on top, with eventual winners TIGER and runners-up Invictus Gaming dropping one series each.
Both Thai teams, Beyond, and Lucid Dream suffered from a disappointing showing. Lucid Dream was on the brink of a roster fallout, while Beyond struggled against OneThree and TIGER. The top eight teams moved on to the playoffs, which featured a best-of-three single-elimination bracket.
A summary of the swiss-system group stages can be seen below: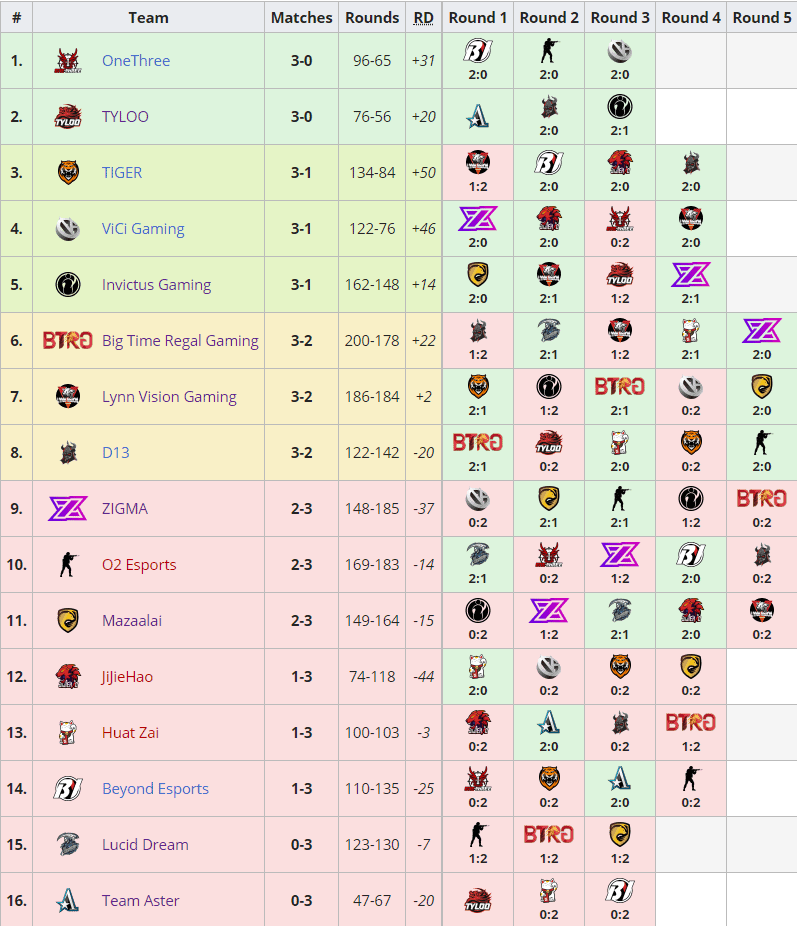 Playoffs
The playoffs started off with a series of upsets. Anthony "ImpressioN" Lim and his men from BTRG took down TYLOO 2-1. Mongolia's D13 and TIGER both secured victories against China's OneThree and ViCi respectively.
BTRG went on to face D13 in the 3rd place match after a 2-0 defeat against TIGER. The Mongolian side of D13 was unable to counter the sheer determination on BTRG, however, and ended up losing the 3rd-4th matchup 2-0.

In the grand finals, TIGER got off to an early lead on the T side of Nuke. Invictus was determined to fend off the Mongolians, mounting a slow comeback on their T-side. However, the Mongolian team led by Erdenetsogt "erkaSt" Gantulga closed out the map 16-13, taking it to Mirage. After a dominant CT-side on Mirage, TIGER was ahead 11-4. Once again, Invictus powered through, with Peiqi "flying" Song registering an impressive 1.27 rating. It wasn't enough for the Chinese, and they dropped the map 12-16, giving TIGER the 2-0 win and first place spot at the Weibo Cup 2020 Asia Professional Championship.
READ HERE: Lynn Vision Gaming Wins the ThunderFire Asia Championships
The final results for the Weibo Cup 2020 are as follows:
1st – 🇲🇳 TIGER – ¥160,000
2nd – 🇨🇳 Invictus Gaming – ¥80,000
3rd – 🇨🇳 BTRG – ¥40,000
4th – 🇲🇳 D13 – ¥20,000
5th – 8th – 🇨🇳 TYLOO – ¥5,000
5th – 8th – 🇨🇳 ViCi Gaming – ¥5,000
5th – 8th – 🇨🇳 Lynn Vision Gaming – ¥5,000
5th – 8th – 🇨🇳 OneThree – ¥5,000
9th – 11th – 🇲🇳 Mazaalai
9th – 11th – 🇨🇳 O2 Esports
9th – 11th – 🇹🇭 ZIGMA
12th – 14th – 🇸🇬 Huat Zai
12th – 14th – 🇹🇭 Beyond Esports
12th – 14th – 🇨🇳 JiJieHao
15th – 16th – 🇨🇳 Team Aster
15th – 16th – 🇹🇭 Lucid Dream